DIET CHART FOR ASCITES
INTRODUCTION
Ascites is the accumulation of fluid in the peritoneal cavity, causing abdominal swelling and rapid weight gain. Ascites causes body to retain sodium, which in turns leads to fluid retention. A low-sodium, low-fat, and high-fiber diet that focuses on eating fresh vegetables and fruits, lean proteins and legumes, may help prevent a body from retaining extra fluid. A high sodium diet, baked products, red meat, high-fat, refined carbohydrates, sugar beverages, junk food and fried food prepared in hydrogenated oil increases problem by causing body to retain water.  Reducing table salt intake is also important to treat ascites as salt leads to accumulation.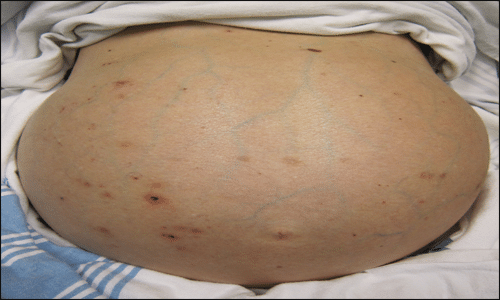 DAILY DIET SCHEDULE
EARLY MORNING
1 tsp Fenugreek seeds / Garlic juice
BREAKFAST
Broken wheat porridge (Veg Dalia) / Veg Semolina (veg upma) / Veg Vermicelli (Sewian) / Veg poha (Rice flakes) / Veg Oats / Semolina pancake / Stuffed Chapatti / Chapatti with veg or Dal / 1- egg's white part only
MID-MORNING
Fruits / Steamed Salad / Dandelion tea
LUNCH
Plain chapatti / Boiled Rice / Veg / Dal + Steamed salad    
EVENING
Herbal Tea / Green tea / Ginger tea / Roasted Rice flakes
PRE DINNER
Soups (Home-made)
DINNER
Plain chapatti / Boiled Rice / Veg khichri / Veg Dalia / Veg + Dal
DIET INSTRUCTIONS
CEREALS
CEREALS TO BE CONSUMED
Whole wheat flour, Oats, Whole grains cereals, Porridge, Brown rice, Rice flakes, Puffed rice, Whole grain bread, Barley, Quinoa
CEREALS TO BE AVOIDED
White refined flour, Corns, White rice, White bread
PULSES
PULSES TO BE CONSUMED
Split with skin removed pulses
PULSES TO BE AVOIDED
Whole pulses, Soya products and Dried and frozen pulses,

FRUITS
FRUITS TO BE CONSUMED
Banana, Avocadoes, Apple, Pomegranate, Muskmelon, Papaya, Dates, Figs, Pears
FRUITS TO BE AVOIDED
All citrus fruits, Canned and packaged fruits, Coconut
VEGETABLES
VEGETABLES TO BE CONSUMED
Broccoli, Carrots, Onion, Garlic, Beans, Cabbage, Bottle gourd, Ridge gourd, Round gourd, Bitter gourd, Cauliflower, Bell peppers, Green peas, Potatoes, Radish, Turnip
VEGETABLES TO BE AVOIDED
Green leafy vegetables, Tomato, Mushroom, Olives, Celery, Red pepper, Yam, Sweet potatoes, Taro roots, Jackfruit, Dried beans and too much soy products
FLESH FOODS
FLESH FOODS TO BE CONSUMED (ONCE IN A 15 DAYS)
Eggs white part only, Roasted or Grilled, Lean meat, Fish and Skinless chicken
FLESH FOODS TO BE AVOIDED
Prawns, Lobster, Crab, Lean beef, Pork, Lamb, Ham, Very lean minced meat, Turkey, Veal, Rabbit, Egg yolk, Fish roe, Sausages, Mutton, Salami, Bacon, Duck, Goose, Meat pies, Visible fat on meat, Organ meat like  Liver, Kidney, Chest, Red meat, Smoked and canned fish, Marbled and fatty Meats

SPICES
SPICES TO BE CONSUMED
Fennel, Turmeric, Cumin, Thyme, Black pepper, Coriander, Rock Salt (limited), Cardamom, Cinnamon, Fenugreek
SPICES TO BE AVOIDED
Red chili, Table Salt, Garlic salt
DAIRY PRODUCTS
DAIRY PRODUCTS TO BE CONSUMED
Nil
DAIRY PRODUCTS TO BE AVOIDED
Whole milk and cream, Cream cheese, Condensed milk, Cocoa butter, Low-fat cheese, Low-fat milk, Tofu, Soya milk
DRY FRUITS AND SEEDS
DRY FRUITS AND SEEDS TO BE CONSUMED
Flax seeds, Pumpkin seeds, Walnuts, Almonds
DRY FRUITS AND SEEDS TO BE AVOIDED
Cashew nuts, Pistachio, Peanuts, Raisins
OIL
OIL TO BE CONSUMED
Canola oil, Cow ghee, Rice bran oil
OIL TO BE AVOIDED
Butter, Palm oil, Coconut oil, Hydrogenated oil, Olive oil
OTHER FOODS
OTHER FOODS TO BE CONSUMED
Jaggery (Homemade only)
OTHER FOODS TO BE AVOIDED
All bakery and processed products, Maggie, Pasta, Macaroni, Tomato Sauces, Fruit jellies, Jams, Mayonnaise, White sugar, Ice-cream, Cream soups, Dark chocolate, Butter scotch, Coconut bar, Chutneys, Pickles, Junk food, Deep fried foods, All Spicy foods, Too much salty food, Buttered popcorn, Soya sauce.
DRINKS
DRINKS TO BE CONSUMED
Coconut water, Buttermilk, Clear soups, Green tea, Herbal tea, Pomegranate juice, Carrot juice, Ginger tea, Dandelion tea, Radish juice, Garlic juice
DRINKS TO BE AVOIDED
Whole milk drinks, Cream based liqueurs, Canned soup and packaged soup, Alcohol, Sweetened drinks, Squashes, Hot chocolate drinks, Diet soda, Coffee, Tea
DIET TIPS
Walk for at least 30 min is recommended.
Whole fruit should be preferred to fruit juices.
Skipping of meals should be avoided, especially the breakfast
6 -Soaked Almond per day
Limit total liquid intake to 1.5 liter per day including teas, water, soups and juices
Cleanliness and hygiene should be maintained.
HOME REMEDIES
FENUGREEK SEEDS
Soak the fenugreek seeds overnight. Drink fenugreek water every day in the morning.
GARLIC JUICE
Drink half a tablespoon of garlic juice on an empty stomach.
GINGER TEA
Crush the ginger slightly and put it in the cup of hot water. Steep for five to seven minutes. Drink a cup of ginger tea thrice a day after every meal.
CARROT JUICE
Drink carrot juice once every day and add some ginger juice for flavor.
RADISH JUICE
Consuming a glass of radish juice once or twice a day can provide relief. Especially in cases due to liver problems.
PUNARNAVA HERB
Grind the herbal root to get a fine powder. Take about 3g of this powder with a glass of lukewarm water. Take this thrice a day.
DANDELION TEA
You can drink up to three cups of dandelion root tea in a day. Steep the dandelion root in hot water for 10 minutes. Strain the decoction and let it cool down.
HERBAL TEA
Boil ½ tsp each of fennel, coriander, cumin in cups of water till it's reduced to 2 cups.
Share On
MD (ALT. MEDICINE) View Profile
Reviewed By:
Dr. Vikram Chauhan
MD (AYURVEDA)
View Profile