DIET CHART FOR ASCITES
INTRODUCTION
Ascites is the accumulation of fluid in the peritoneal cavity, causing abdominal swelling and rapid weight gain. Ascites causes body to retain sodium, which in turns leads to fluid retention. A low-sodium, low-fat, and high-fiber diet that focuses on eating fresh vegetables and fruits, lean proteins and legumes, may help prevent a body from retaining extra fluid. A high sodium diet, baked products, red meat, high-fat, refined carbohydrates, sugar beverages, junk food and fried food prepared in hydrogenated oil increases problem by causing body to retain water.  Reducing table salt intake is also important to treat ascites as salt leads to accumulation.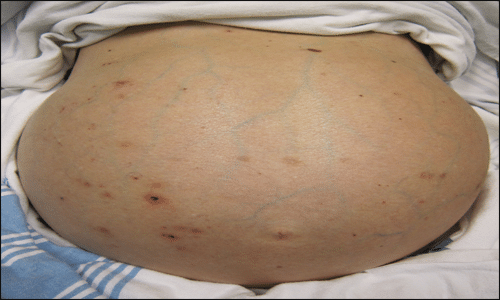 DAILY DIET SCHEDULE
EARLY MORNING
Barley water can be used in the morning empty stomach.
(Half tablespoon of Barley seeds are soaked in water overnight in one glass of water)
BREAKFAST
Broken wheat porridge (Veg Dalia) / Veg Semolina (veg upma) / Veg Vermicelli (Sewian) / Veg poha (Rice flakes) / Veg Oats / Semolina pancake / Stuffed Chapati / Chapati with veg or Dal / 1- egg's white part only
(A light breakfast is very beneficial in increasing digestive fire)
MID-MORNING
Fruits / Steamed Salad / Dandelion tea
(They are way best to provide nutrition and avoid remaining empty stomach for long hours)
LUNCH
Plain chapati / Boiled Rice / Veg / Dal + Steamed salad
(Light lunch helps in preventing weakness in case of ascites)
EVENING
Herbal Tea / Green tea / Ginger tea / Roasted Rice flakes
(They can be consumed as snacks to avoid cravings)
PRE DINNER
Soups (Home-made)
(Blackgram soup, kushmand soup (Ash gourd))
(These are best for body strengthening)
DINNER
Plain chapati / Boiled Rice / Veg khichdi / Veg Dalia / Veg + Dal
(Having light dinner avoids constipation and indigestion)
DIET INSTRUCTIONS
CEREALS
CEREALS TO BE CONSUMED
Whole wheat flour, Oats, Whole grains cereals, Porridge, Brown rice, Rice flakes, Puffed rice, Whole grain bread, Barley, Quinoa, Millets like pearl millets, foxtail millets, kodo millets, finger millets
(They are easy to digest and do not cause any kind of indigestion, gas or constipation)
CEREALS TO BE AVOIDED
White refined flour, Corns, White rice, White bread, corn flour, white rice
(These all suppress the already diminishing agni causing more complications)
PULSES
PULSES TO BE CONSUMED
Split with skin removed pulses like Green moong, Yellow moong, pink lentils, tuvar dal (pigeon peas)
(Pulses are the good source of nutrition and are really helpful in avoiding weakness and fatigue)
PULSES TO BE AVOIDED
Whole pulses, Soya products, dried pulses, frozen pulses, kidney beans, black gram, black lentils, chickpeas
(These pulses causes suppression of agni)
FRUITS
FRUITS TO BE CONSUMED
Banana, Avocadoes, Apple, Pomegranate, Muskmelon, Papaya, Dates, Figs, Pears
(Fruits are source of abundant vitamins and minerals which are also important for body)
FRUITS TO BE AVOIDED
All citrus fruits, Canned and packaged fruits, Coconut, watermelon, lichi, berries, strawberries
(These fruits are responsible for dosha vitiation and hence can increase the problem)
VEGETABLES
VEGETABLES TO BE CONSUMED
Broccoli, Carrots, Onion, Garlic, Beans, Cabbage, Bottle gourd, Ridge gourd, Round gourd, Bitter gourd, Cauliflower, Green peas, Potatoes, Radish, Turnip
(They help in enhancing the digestive fire due to their laghu property which means easy to digest property)
VEGETABLES TO BE AVOIDED
Green leafy vegetables, Tomato, Mushroom, Olives, Celery, Red pepper, Yam, Sweet potatoes, Taro roots, Jackfruit, Dried beans and too much soy products
(They are no easily digestible, vitiates dosha and hence result in accumulation of water in abdomen at faster level)
FLESH FOODS
FLESH FOODS TO BE CONSUMED (ONCE IN A 15 DAYS)
Eggs white part only, Roasted or Grilled, Lean meat, Fish and Skinless chicken
(White portion of egg is really helpful in balancing albumin levels. Albumin levels help in maintaining oncotic pressure thus reduces water accumulation in body)
FLESH FOODS TO BE AVOIDED
Prawns, Lobster, Crab, Lean beef, Pork, Lamb, Ham, Very lean minced meat, Turkey, Veal, Rabbit, Egg yolk, Fish roe, Sausages, Mutton, Salami, Bacon, Duck, Goose, Meat pies, Visible fat on meat, Organ meat like  Liver, Kidney, Chest, Red meat, Smoked and canned fish, Marbled and fatty Meats
(They aggravate kapha and have a very bad impact on agni. Their consumption can make situation more worse)
SPICES
SPICES TO BE CONSUMED
Fennel, Turmeric, Cumin, Thyme, Black pepper, Coriander, Rock Salt (limited), Cardamom, Cinnamon, Fenugreek, dry methi leaves, fresh coriander leaves
(These spices are very beneficial in enhancing digestive agni, maintains desirable digestive agni and improves all ver digestion)
SPICES TO BE AVOIDED
Red chili, Table Salt, ginger
(Chilli and ginger can increase the intensity of symptoms. On the other hand salt will help in water accumulation as it has high sodium levels which is responsible for water retention)
DAIRY PRODUCTS
DAIRY PRODUCTS TO BE CONSUMED
Nil
DAIRY PRODUCTS TO BE AVOIDED
Whole milk and cream, Cream cheese, Condensed milk, Cocoa butter, Low-fat cheese, Low-fat milk, Tofu, Soya milk, butter, flavoured yogurt
(They are responsible for agni mandya and thus makes situation more severe)
DRY FRUITS AND SEEDS
DRY FRUITS AND SEEDS TO BE CONSUMED
Flax seeds, Pumpkin seeds, Walnuts, Almonds
(Dry fruits are very essential as they are the source of micronutrients which are very essential for the body and its metabolism)
DRY FRUITS AND SEEDS TO BE AVOIDED
Cashew nuts, Pistachio, Peanuts, Raisins, peanuts
(They cause dosha aggravation)
OIL
OIL TO BE CONSUMED
Canola oil, Cow ghee, Rice bran oil
(They help in improving and igniting the agni)
OIL TO BE AVOIDED
Butter, Palm oil, Coconut oil, Hydrogenated oil, Olive oil
(They diminish the agni thus causing symptom aggravation)
OTHER FOODS
OTHER FOODS TO BE CONSUMED
Homemade articles including jaggery
(Homemade article are best in reducing the dosha accumulation, have no preservatives hence have only positive effect on body)
OTHER FOODS TO BE AVOIDED
All bakery and processed products, Maggie, Pasta, Macaroni, Tomato Sauces, Fruit jellies, Jams, Mayonnaise, White sugar, Ice-cream, Cream soups, Dark chocolate, Butterscotch, Coconut bar, Chutneys, Pickles, Junk food, Deep fried foods, All Spicy foods, Too much salty food, Buttered popcorn, Soya sauce.
(Above mentioned all food articles have negative effect on body and thus have negative impact on already weakened agni)
DRINKS
DRINKS TO BE CONSUMED
Coconut water, Buttermilk, Clear soups, Green tea, Herbal tea, Pomegranate juice, Carrot juice, Ginger tea, Dandelion tea, Radish juice, Garlic juice
(They are very potent in stabilizing body enzymes and tridosha)
DRINKS TO BE AVOIDED
Whole milk drinks, Cream based liqueurs, Canned soup and packaged soup, Alcohol, Sweetened drinks, Squashes, Hot chocolate drinks, Diet soda, Coffee, Tea
(These contains preservatives which do not have good impact on body and on its systems)
DIET TIPS
Walking for at least 30 min is recommended.
Whole fruit should be preferred to fruit juices.
Skipping of meals should be avoided, especially the breakfast
6 -Soaked Almond per day
Limit total liquid intake to 1.5 liter per day including teas, water, soups and juices
Cleanliness and hygiene should be maintained.
Low- sodium diet or no sodium diet is to be taken as per the amount of accumulation of fluid in abdomen
Avoid sitting while hanging your legs, it may cause water retention in feet resulting in swelling
Try to sleep early at night and avoid late night or post dinner eating
HOME REMEDIES
FENUGREEK SEEDS
Soak the fenugreek seeds overnight. Drink fenugreek water every day in the morning.
GARLIC JUICE
Drink half a tablespoon of garlic juice on an empty stomach.
GINGER TEA
Crush the ginger slightly and put it in the cup of hot water. Steep for five to seven minutes. Drink a cup of ginger tea thrice a day after every meal.
CARROT JUICE
Drink carrot juice once every day and add some ginger juice for flavor.
RADISH JUICE
Consuming a glass of radish juice once or twice a day can provide relief. Especially in cases due to liver problems.
PUNARNAVA HERB
Grind the herbal root to get a fine powder. Take about 3g of this powder with a glass of lukewarm water. Take this thrice a day.
DANDELION TEA
You can drink up to three cups of dandelion root tea in a day. Steep the dandelion root in hot water for 10 minutes. Strain the decoction and let it cool down.
HERBAL TEA
Boil ½ tsp each of fennel, coriander, cumin in cups of water till it's reduced to 2 cups.
(Above mentioned home remedies are really useful in enhancing digestive fire which in return balances dosha and thus gradual improvement in symptoms is noticed)
Share On