Diet Chart For Heart Diseases
Heart diseases is a broad term comprising the spectrum of diseases associated with disorders of circulation, heart muscle, and vessels of the heart. There are many types of heart diseases that affect different areas of the circulatory system. The common causes of heart disease are high cholesterol levels, obesity, diabetes, hereditary, smoking, and high-fat and high-sodium diets. So, the diet should be low in fat, especially saturated fat, and low in sodium in case of Heart problems.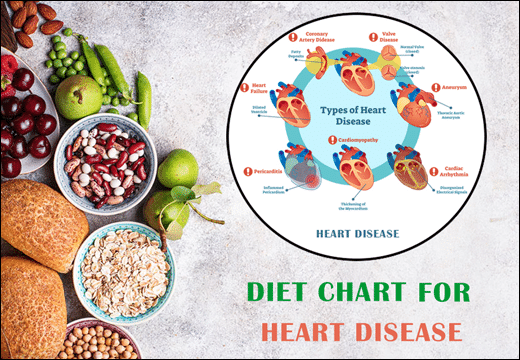 AVOID
ALLOWED TO TAKE

VEGETABLES

VEGETABLES

Canned & Frozen Vegetables, Raw Vegetables

Broccoli, Sweet potatoes, Spinach, Asparagus, Bell peppers, Onions, Garlic, Ginger, Beans, Pumpkin, Zucchini, Peas, Carrots, Potatoes, Cauliflower, Cabbage

FRUITS

FRUITS

Canned & Frozen Fruits

Pomegranate, Papaya, Apple, Cherry, Apricot, Avocado, Raspberry, Blackberry, Orange, Banana, Musk Melon, Black Grapes, Peach, Kiwi, Squash

PULSES

PULSES

All Heavy Lentils

Yellow Lentils, Green Lentils, Pigeon Peas, Split Grams

MILK PRODUCTS

MILK PRODUCTS

Full-fat milk, Cheese, Yogurt & Other Dairy Products

Low-fat Milk, Cow's Ghee, Plant-Based Milk Products like Almond Milk, Rice Milk, Oats Milk, Soya Milk

DRY FRUITS & SEEDS

DRY FRUITS & SEEDS

Peanuts, Cashew, Pistachio

Almonds, Walnuts, Raisins (Soaked in Water Overnight), Flax Seeds, Pumpkin Seeds, Chia Seeds, Sunflower Seeds

CEREALS

CEREALS

Refined Whole Grains, White Refined Flour and its Products, White Rice

Wheat, Brown Rice, Barley, All types of Millet

OILS

OILS

Unsaturated Fats, Refined Oil, Palm Oil, Coconut Oil, Mustard Oil

Olive Oil, Soyabean Oil

SPICES

SPICES

Excess Salt, Green & Red Chili

Note – Nearly all the Spices are to be Limited. Only Plain and Simple Food is to be Preferred.

Turmeric, Fenugreek, Cardamom, Cumin, Coriander, Cinnamon, Black Pepper, Dried Fenugreek Leaves, Thyme, Fennel

FLESH FOODS / NON-VEG

FLESH FOODS / NON-VEG

Avoid All other Non-Vegetarian Food

Egg white, Skinless Chicken Soup, Grilled Salmon, and Rohu

OTHER FOODS

OTHER FOODS

Packaged, Canned, Processed, Fried, Spicy, Junk and Bakery Products, Refined Sugar, Cream-based Liquors, Alcohol, Soft drinks, Squashes, Jams, Sauces, Pickles, Coffee, Tea, Chocolates

Homemade Food Only, Jaggery, Honey, Homemade Soup, Coconut Water, Arjun Tea, Beetroot Juice, Pomegranate Juice, Amla Juice, Missi Roti, Broken Wheat Porridge, Veg Semolina, Veg Vermicelli, Veg Rice Flakes, Veg Idli, Veg Oats, Gram Flour Pancake
OTHER TIPS / RECOMMENDATIONS FOR HEART PATIENTS
Do not skip any meal, especially Breakfast.
Increase Consumption of seasonal fruits and vegetables.
Must Drink 8- 10 Glasses of Water Daily, it detoxifies.
Maintain Ideal Body Weight.
Be Physically Active.
Consume a balanced adequate diet rich in calcium, chromium, iron, and zinc.
Reduction in intake of total fat, saturated fat, and cholesterol.
As per Ayurveda, all diseases are caused due to imbalance of the tridoshas. Heart Diseases occur due to an imbalance of Kapha Dosha, so it is better to avoid taking Sour (Amla), Salty (Lavan), and Sweet (Madhur) Tastes and Pungent (Katu), Bitter (Tikta), and Astringent (Kashaya) Tastes can be consumed in moderation.
Food items not mentioned in this diet chart can be consumed in moderation.
In General, all kinds of artificial, packed, industrial, and processed food items should be avoided.
Behavior plays an important role in preventing diseases, so keep yourself away from negative thoughts, anger, greed, and Ego.
Share On