Diet Chart For Psoriasis Patients
Psoriasis is a skin disease, which is non-contagious in nature. It is characterized by scaly patches, which are red in color. These patches appear on the scalp, elbows and knees. These lesions may vary from minor patches appearing at local points to the entire portion of the body. Dry skin, cracks in the skin, pink-colored lesions, bleeding skin, stiffened joints, inflammations, itching sensation, and burning in some places are the major symptoms of people suffering from psoriasis. It is highly advised that people suffering from this noncontagious skin infection must follow a strict diet regimen.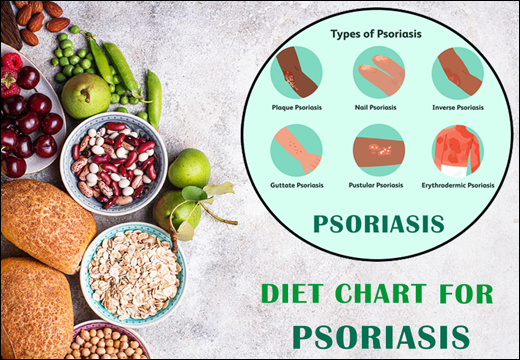 AVOID
ALLOWED TO TAKE

VEGETABLES

VEGETABLES

Canned & Frozen Vegetables, Raw Vegetables, Tomatoes, Eggplant, Taro Roots, Mustard Greens

Garlic, Onion, Ginger (In moderation)

Zucchini, Bottle Gourd, Bitter Gourd, Sweet Potato, Potato, Pumpkin, Coriander, Broccoli, Cabbage, Cauliflower, Spinach, Carrot, Peas, Fenugreek Leaves, Okra, Chicory Greens, Brussels Sprouts, Lettuce, Kale

FRUITS

FRUITS

Canned & Frozen Fruits, Coconut, Citrus Fruits like Orange, Mango, Strawberry, Lime, Lemon, Grapes, Blueberry, Pineapple, Kiwi, Sour Cherries, Blackcurrant

Banana, Watermelon, Muskmelon, Peaches, Pear, Pomegranate, Figs, Sapodilla, Apple, Papaya, Avocado

PULSES

PULSES

All other Heavy Lentils

Yellow Lentils, Green Lentils, Split Pigeon Peas, Split Grams

MILK PRODUCTS

MILK PRODUCTS

All Other Dairy Products

Low-fat Milk, Cow's Ghee

DRY FRUITS & SEEDS

DRY FRUITS & SEEDS

Flax Seeds, Chia Seeds, Sunflower Seeds

Almonds, Walnuts, Raisins (Soaked in Water Overnight)

CEREALS

CEREALS

Refined Whole Grains, White Refined Flour and its Products, White Rice

Whole Grains, Wheat, Brown rice, Sorghum, Amaranth, Finger Millet, Foxtail Millet, Pearl Millet, Buckwheat, Little Millet, Barley, Gram Flour, Soybean Flour

Note: Multi Grain Flour - Wheat Flour (50%) + Soybean Flour (20%) + Ragi Flour (20%) + Gram Flour (10%)

OILS

OILS

Unsaturated Fats, Refined Oil, Palm Oil, Coconut Oil

Olive Oil, Sunflower Oil, Canola Oil, Rice Bran Oil, Mustard Oil

SPICES

SPICES

Excess Salt, Green & Red Chili, Mustard Seeds, Rye, Nutmeg, Pimiento

Turmeric, Cumin, Coriander, Black Pepper, Thyme, Fennel, Dry Ginger, Mint, Basil

Note: Nearly all the Spices are to be Limited. Only Plain and Simple Food is to be Preferred

FLESH FOODS / NON-VEG

FLESH FOODS / NON-VEG

Avoid All other Non-Vegetarian Food

Egg white, Chicken - Once a Week

OTHER FOODS

OTHER FOODS

Packaged, Canned, Processed, Fried, Spicy, Junk, Cream-based and Bakery Products, Refined Sugar, Jaggery, Honey, Alcohol, Soft drinks, Squashes, Jams, Sauces, Pickles, Coffee, Tea, Chocolates, Vinegar, Ice-cream

Homemade Food Only, Homemade Soup, Coconut Water, Green Juice, Herbal Tea, Bitter Gourd Juice, Aloe Vera Juice, Carrot Juice, Tofu, Soy milk (Occasionally)
OTHER TIPS / RECOMMENDATIONS FOR PSORIASIS PATIENTS
Herbal Teas

Boil ½ tsp each of fennel, coriander, cumin in 3 cups of water till it's reduced to 1 cup, strain and drink.
Fresh Homemade Green Tea without Lemon.

Do not skip any meal, especially Breakfast.
Increase Consumption of seasonal fruits and vegetables.
Must Drink 8- 10 Glasses of Water Daily, it detoxifies.
Walking for at least 30-45 min is recommended.
Whole fruit should be preferred to fruit juices.
Avoid Smoking and Alcohol.
As per Ayurveda, all diseases are caused due to imbalance of the tridoshas. Psoriasis occur due to an imbalance of Pitta Dosha, so it is better to avoid taking Sour (Amla), Salty (Lavan), and Pungent (Katu) Tastes and Sweet (Madhur), Bitter (Tikta), and Astringent (Kashaya) Tastes can be consumed in moderation.
Food items not mentioned in this diet chart can be consumed in moderation.
In General, all kinds of artificial, packed, industrial, and processed food items should be avoided.
Behavior plays an important role in preventing diseases, so keep yourself away from negative thoughts, anger, greed, and Ego.
Things in this Diet Chart May Vary Patient to Patient due to the Associated Health Issues, so Better to Consult Our Ayurveda Experts for Better Results.
Share On