ITP (Idiopathic Thrombocytopenic Purpura)
Diet Chart For ITP - Idiopathic Thrombocytopenic Purpura
This diet, if strictly followed can work wonders for an ITP patient. Consume the below-mentioned food items as much as possible. It is a balanced diet that is enough to fuel the human body for proper functioning. It is a blood disorder in which platelets get destructed due to our unwholesome diet, lifestyle, hereditary factors and the involvement of our immune system. Platelets are formed in the bone marrow which are responsible for clotting. Healthy eating and a balanced diet are important for all patients. So, here's the required dietary recommendations that can help you to increase the platelet count and manage ITP.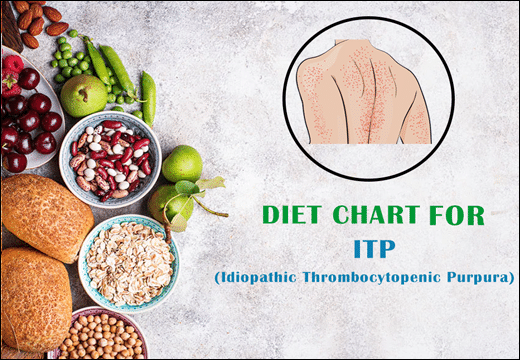 AVOID
ALLOWED TO TAKE

MILK PRODUCTS

MILK PRODUCTS

Milk and Milk Products should be Strictly Avoided.

---

FRUITS

FRUITS

Citrus Fruits - Lemon, Orange, Sweet Lime, etc., Pineapple, Mango, Figs, Plum

Apples, Pears, Banana, Papaya, Pomegranate, Bael, Kiwi, Watermelon, Muskmelon, Sapodilla

VEGETABLES

VEGETABLES

Onion, Garlic, Ginger, Tomato, Eggplant, Capsicum

Potatoes, Cauliflower, Cabbage, Bottle Gourd, Pumpkin, Round Gourd, Bitter Melon, Peas, Beans, Turnip, Broccoli, Beetroot, Carrot, and all Fresh Green Leafy Vegetables

CEREALS

CEREALS

White Refined Flour

Whole Wheat, Oatmeal, Brown Rice, Finger Millets, Pearl Millets and All Types of Millets

PULSES

PULSES

Black Gram / Horse Gram, Kidney Beans, Chickpeas

Green Gram, Split Grams (Moderate), Split Red Lentils

DRY FRUITS & SEEDS

DRY FRUITS & SEEDS

Pistachio, Cashew Nuts, Flax Seeds, Sunflower Seeds, Chia Seeds, and all types of Seeds

Almonds, Raisins, Walnuts (soaked one)

OILS

OILS

Unsaturated Fats, Palm Oil, Coconut Oil, Mustard Oil

Cow Ghee - 1 tablespoon twice daily can be taken), Olive Oil, Canola Oil, Rice Bran Oil

SPICES

SPICES

Red & Green Chili, Cinnamon, Clove, Excess Salt

Fenugreek, Coriander, Black Pepper, Cumin, Turmeric, Fennel

NON-VEG / FLESH FOODS

NON-VEG / FLESH FOODS

Egg Yolk, Chicken, Meat, Fish, Prawns, Lobster, Crab, Lean Beef, Pork, Lamb, Ham, Rabbit, Sausages, Salami, Bacon, Duck, Goose, Sea Food Fish, Processed Meat

2 Egg Whites, Chicken Soup - Occasionally

OTHERS

OTHERS

Packaged, Processed, Fried and Bakery Products, Refined Sugar, Alcohol

Coconut Water, Fresh Homemade Green Tea without Lemon, Sprouts - Green Lentils, Bengal Grams, Beans

Wheat Chapatti or Missi Roti - Fenugreek Leaves can be Mixed in the dough

JUICES (To be Consumed Everyday) -

Green Juice - 50 ml or 2tbsp, once or twice daily

Coriander leaves - 10 to 12
Mint leaves - 4 to 5
Spinach leaves - 2
Basil leaves - 2 to 3
Wheatgrass - 5 to 6
Long Grass - 6 to 7
Sheesham leaves - 2 to 3
Green Grapes - 2 to 4
Papaya Leaves - 2 to 3

Cap. Spirulina, Cap. Moringa, Cap. Green Essentials – 1 each can be added for Better Results.

Red Juice - 100 ml or 2tbsp, once or twice daily

Beetroot
Amla
Apple
Carrot
Pomegranate
Marigold Flower Petals - 9 to 10
Rose Petals - 5 to 6
Black or Red Grapes - 2 to 4

Aloe Vera Juice - 1 Cup daily

Pumpkin Juice - 1/2 Glass - Boil 4-5 leaves of Papaya in 2 cups of Water for a few mins. Allow it to Cool. Filter and Drink, two times a day.

HERBAL TEA (Not compulsory to take daily)

Boil 1/2tsp. each of Fennel, Dhaniya, Cumin in 3 cups of Water till it's reduced to 1 cup. Take this Herbal Concoction twice a day (If there is gas formation, it is to be preferred)
IMPORTANT TIPS
Food items not mentioned in this diet chart can be consumed in moderation.
As per Ayurveda, all diseases are caused due to imbalance of the tridoshas. ITP is due to an imbalance of Pitta Dosha, so it is better to avoid taking Sour (Amla), Salty (Lavan), and Pungent (Katu) Tastes and Sweet (Madhur), Bitter (Tikta), and Astringent (Kashaya) Tastes can be consumed in moderation.
As a General, all kinds of artificial, packed, industrial, and processed food items should be avoided.
Behavior plays an important role in preventing diseases, so keep yourself away from negative thoughts, anger, greed, and Ego.
Share On