Diet Plan for Renal Diabetic Patients
Diabetic kidney disease is a type of kidney failure caused by diabetes, a condition characterized by high glucose levels. A high blood sugar in the blood damages the millions of tiny filtering units of kidney leading to kidney failure. Diet is one of the important components in managing diabetes and kidney disease. In diabetic with CKD patients, control of blood sugar level is an important factor to slow down the progression of kidney disease. Low protein, low sodium, and low fat diet are prescribed for patients of diabetes with chronic renal failure. Avoid simple sugars and sweets, carbonated drinks, caffeine, alcohol, fried food, salty foods etc.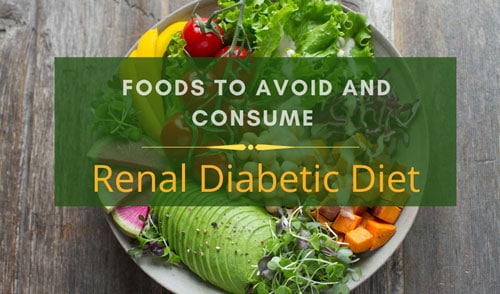 RENAL DIABETIC DIET CHART
EARLY-MORNING
Herbal tea
BREAKFAST
- Veg Dalia / Veg upma / Suji chila / Veg Sewian / Veg poha / Stuffed Chapatti / Chapatti with veg / Chapatti with veg or dal / 1 Egg white part only
MID-MORNING
Fruit (Steamed) / Salad (Steamed)
LUNCH
Wheat chapatti / Boiled Rice / Sago halwa / Khichri (sago rice) / Veg khichri / Veg Dalia + Veg + Dal
EVENING
Soup (Home-made) / Herbal tea / Rice flakes
DINNER
Plain chapatti / Boiled Rice / Veg khichri / Veg Dalia / Veg + Dal
DIET INSTRUCTIONS
CEREALS
Cereals to be consumed
Whole grains, Rice flakes, White rice, Semolina, Vermicelli, Puffed rice, Wheat flour.
Chapatti Ratio - Wheat flour 1 kg + Arrowroot flour 250 gm.
Cereals to be avoided
White refined flour, Brown rice, White pasta, Brown bread, Bakery products, Noodle, Pasta, Macaroni, Maggie.
FRUITS
Fruits to be consumed
Apple, Pear, Papaya, Pomegranate
Fruits to be avoided
All Citrus fruits Banana, Coconut, Dates, Kiwi, Orange, Lemon, Avocado, Apricot, Watermelon, Figs, Olive, Bamboo shoots, Bael, Pineapple, All canned and packaged fruits, Fruits with seeds
VEGETABLES
Vegetables to be consumed
Pumpkin, Carrot, Cabbage, Turnip, Peas, Bottle gourd, Bitter gourd, Ridge gourd, Potatoes, Cauliflower, Winter squash, Onion, Radish, Ginger, Lettuce,Asparagus, Broccoli
Vegetables to be avoided
Tomato, Eggplant, Beans, Garlic, Spinach, Brussels sprout, Peppermint leaves, Sweet potatoes, Swiss chard, Mushroom, Cucumber, Lotus stem, Taro roots, All green leafy vegetables, Beetroot, Soybean and its products, Coconut, Frozen vegetables, Raw salad
PULSES
Pulses to be consumed
Yellow lentil, Orange lentils, Split pigeon peas, Split chickpeas
Pulses to be avoided
All whole pulses-Black gram, Bengal gram, White chickpea, Kidney beans, Nutri-nuggets, Soybean, Green gram, Horse gram, Roasted grams, Dried and frozen pulses.
DAIRY PRODUCTS
Dairy Products to be consumed
Nil
Dairy Products to be avoided
Whole milk and Cream, Cottage cheese, Butter, Full-fat yogurt, Cream cheese, Condensed milk, Curd
SPICES
Spices to be consumed
Coriander, Mint, Black pepper, Cumin, Fennel, Carmon, Cardamom, Rock salt (limited)
Spices to be avoided
Excessive salt, Red and green Chilies, Salt
DRINKS
Drinks to be consumed
Homemade vegetable soup, Green tea, Herbal tea
Drinks to be avoided
Carbonated beverages, Soya milk, Coconut water, canned soup, packaged soup and canned fruit juices, caffeinated drinks, Alcohol, Tea or Coffee
FLESH FOODS
Flesh Foods to be consumed (once in a 15 days)
Egg white portion only
Flesh Foods to be avoided
Fried or Processed meats, Prawns, Lobster, Crab, Lean beef, Pork, Lamb, Ham, Turkey, Egg yolk, Sausages, Mutton, Salami, Bacon, Duck, Goose, Hot dogs, Hamburgers, Meat pies, Visible fat on meat, Red meat, Organ part Liver, Kidney and Chest
SEEDS AND DRY FRUITS
Dry Fruits to be consumed
5 almonds (soak in water overnight)
Dry Fruits to be avoided
Cashew nuts, Pistachio, Peanuts, Raisins, Prunes, Figs, Dried apricot, Flaxseed, Pumpkin seed, sunflower seed
OILS
Oils to be consumed
Mustard, Safflower, Sunflower, Ghee, Peanut, Sesame, Almonds, Coconut
Oils to be avoided
Cream, Palm oil
OTHER FOODS
Other Foods to be consumed
Homemade only
Other Foods to be avoided
All bakery products or processed, Jaggery, Fruit jellies, Jams, Mayonnaise, Ice-cream, Cream soups, Dark chocolate, Butter scotch, Coconut bar, Chutneys, Pickles, Junk food, Deep fried foods, Too salty and Spicy foods
LIFESTYLE AND DIETARY TIPS
Walk for at least 30 min is recommended.
Skipping of meals should be avoided, especially the breakfast
5 Soaked Almond per day
Regular exercise, Sleep well and stay positive
Herbal Tea - Boil ½ tsp each of fennel, coriander, cumin in 3 cups of water till it's reduced to 1 cup.
Note - Milk and milk products (Milk, Curd, Buttermilk, Cottage cheese, Butter to be avoided especially in Diabetes patients) a special diet can be helpful to control the excessive accumulation of waste products and fluid in the blood and thus lessen the workload of your kidneys.
Share On