DIET CHART FOR URINARY TRACT INFECTION
INTRODUCTION
Urinary tract infections are very common. They are caused by germs usually the bacteria E. Coli enter the urinary tract through the urethra and spread to the bladder causes infection and inflammation. A healthy diet of anti-inflammatory, antioxidant-rich foods and probiotic-rich foods is important and can help relieve a UTI by flushing out the toxins from the urinary tract.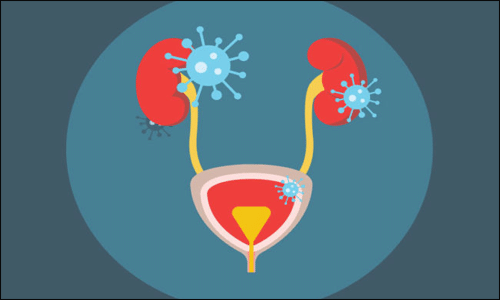 DAILY DIET SCHEDULE
EARLY-MORNING
Lukewarm water
After 15 min - Garlic water / Herbal tea / Green tea / Cinnamon tea
BREAKFAST
Veg Semolina (Veg upma) / Broken wheat porridge (Veg Dalia) / Veg Vermicelli (Sewian) / Veg poha (Rice flakes) / Veg Idli / Dhokla / Stuffed Chapatti / Chapatti with Veg or Dal + 1 Eggs white portion + Apple juice
MID-MORNING
Fruit / Buttermilk / Coconut water / Cranberry juice / Green juice
LUNCH
Plain chapatti / Veg pulao / Boiled rice / Vegetable + Dal + Curd
EVENING
Herbal tea / Green tea / Rice flakes snack / Pomegranate juice
PRE-DINNER
Soup (Home-made)
DINNER
Plain chapatti / Rice/ Vegetable + Dal
DIET INSTRUCTIONS
CEREALS
TO BE CONSUMED
Whole grains such as Oatmeal, Porridge, Brown rice, Finger millet flour, Quinoa, Puffed rice, Rice flakes
TO BE AVOIDED
Whole refined flour, White breads, White rice, Bakery, Noodle, Pasta, Macaroni, Maggie
PULSES
TO BE CONSUMED
Split pulses only
TO BE AVOIDED
Whole pulses, Soya products, Dried and frozen pulses
VEGETABLES
TO BE CONSUMED
Broccoli, Turnips, Carrot, Cabbage, Pumpkin, Sweet potatoes, Squash, Peas, Artichokes, Lettuce, Asparagus, Parsley, Green leafy vegetable, Turnip greens, Kale, Okra, Mustard greens, Mushroom, Spinach, Potatoes, Cucumber, Onion, Garlic, Ginger, Zucchini, Fenugreek leaves, Coriander leaves
TO BE AVOIDED
Tomato, Eggplant, Jackfruit, Taro root, Yam, Red chili, Green chili, Frozen vegetables, Raw Salad
FRUITS
TO BE CONSUMED
All fruits include Papaya, Banana, Apple, Raspberries, Muskmelon, Watermelon, Pear, Blueberries, Pomegranate, Avocado, Cranberries.
TO BE AVOIDED
Lemon, Oranges, Grapefruits, All canned and packaged fruits
DAIRY PRODUCTS
TO BE CONSUMED
Buttermilk, Low-fat curd, Low-fat yoghurt
TO BE AVOIDED
Whole milk and cream, Full-fat yoghurt, Cream cheese, Condensed milk
FLESH FOODS
TO BE CONSUMED
Egg white, Boiled egg, Roasted and Grilled chicken and Sea fish, Skinless, Lean meat
TO BE AVOIDED
Meat (can be taken in a limited amount), Fish fried, prawns, lobster, crab, lean beef, pork, lamb, ham, rabbit, Egg yolk, fish roe, sausages, mutton, salami, bacon, duck, goose, liver, kidney, chest.
SPICES
TO BE CONSUMED
Fennel, Turmeric, Mint, Cumin, Carom, Coriander, Fenugreek, Rock salt
TO BE AVOIDED
Red chili powder, Green chili, Peppers
FATS
TO BE CONSUMED
Cow ghee, Mustard oil, Olive oil, Canola oil, Rice bran oil
TO BE AVOIDED
Unsaturated fats, Cream, Palm oil, Butter
NUTS AND DRY FRUITS
TO BE CONSUMED
Flax seed, Pumpkin seed, Almond
TO BE AVOIDED
Cashew nuts, Peanuts, Dried apricots and dates
DRINKS
TO BE CONSUMED
Homemade soup, Buttermilk, Carrot juice, Unsweetened Cranberry juice, Pomegranate juice, Aloe Vera juice, Amla juice, Apple juice, Green tea, Herbal tea, Garlic Water
TO BE AVOIDED
Alcohol, Carbonated beverages, Canned soup, Packaged soup and Canned fruit juices, Coffee, Tea
OTHER FOODS
TO BE CONSUMED
Homemade only, Jaggery
TO BE AVOIDED
All bakery products or processed, Sauces, Fruit jellies, Jams, Mayonnaise, Ice-cream, Cream soups, Dark chocolate, Butter scotch, Coconut bar, Chutneys, Pickles, Junk food, Deep fried foods, Spicy foods, too much salty food
DIET TIPS
Walk for at least 30-45 min is recommended.
Whole fruit should be preferred to fruit juices.
Skipping of meals should be avoided, especially the breakfast
6 -Soaked Almondsper day
Water intake should be increased at least 8-10 glass regularly
Herbal Tea - Boil ½ tsp each of fennel, coriander and cumin in 3 cups of water till it's reduced to 1 cups.
Cleanliness and hygiene should be maintained.
Share On
Author Bio:
Dr. Meenakshi Chauhan
MD (ALT. MEDICINE)
View Profile
Reviewed By:
Dr. Vikram Chauhan
MD (AYURVEDA)
View Profile