Ulcerative Colitis, IBD & Crohn's Diseases
Diet Chart For Ulcerative Colitis, IBD & Crohn's Diseases
These are inflammatory bowel disorders which involving the mucosa and sub mucosa of the large intestine. Symptoms of ulcerative colitis, IBD, Crohn's are bleeding, mucous and difficulty in passing stools. Intake of an unbalanced diet and heredity play huge role to cause ulcerative colitis, IBD, Crohn's. Low – fat, Low – fiber diet is recommended for IBD patients because it prevents bleeding while passing stool. This diet is also helpful to prevent ailments like diarrhea, crohn's disease, and cramps. High – fiber diet can increase bowel movements, cramping and bloating. Food rich in fat can trigger symptoms of ulcerative colitis and it takes long time for digestion. Avoid raw fruits and vegetables as they are rich in fiber.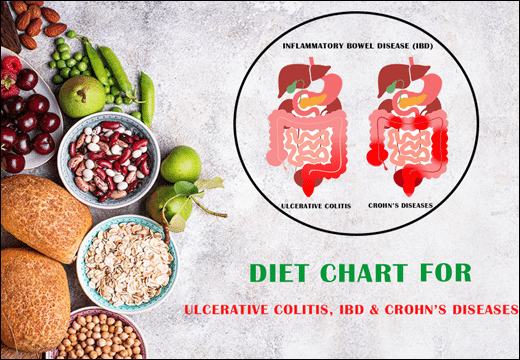 AVOID
ALLOWED TO TAKE

DAIRY PRODUCTS

DAIRY PRODUCTS

Milk, Cheese, Tea, Butter, Ice Cream and all others

Buttermilk can be consumed, if it suits you. It is preferred to take thick Fresh Curd than Buttermilk. Avoid Sour Curd / Yogurt

Low-fat milk (occasionally)

FRUITS

FRUITS

All Citrus Fruits like Lemon, Lime, Orange, Tomato, Pineapple, and Mango

Bananas can be consumed in more quantity (4-6 per day Prefer Steamed Fruits)

Apple, Sapodilla, Pear, Ripened Papaya (All in Moderate Qty.)

Bael fruit, Watermelon, Muskmelon (All in Small Qty.)

VEGETABLES

VEGETABLES

Peas, Beans, Cauliflower, Cucumber, Brinjal, Lady finger, Taro root, Garlic and Ginger

Potato, Bottle Gourd, Ridge Gourd, Ash Gourd, Sponge Gourd, Round Gourd, Turnip, Carrot

PULSES

PULSES

Kidney Beans, Black Eyed Beans, Chickpeas, Bengal Gram / Black Gram, Pearl Millet, Sorghum, Black Lentils, Red Lentils, Yellow Lentils

Split Moong dal with skin removed, All Types of Millets, Rice, Plain Dosa with Little Oil, Idli, Uttapam - Non-Spicy

DRY FRUITS

LEAVES

Dates, Raisins, Cashew Nuts, Almonds, Walnuts, Pistachio and Groundnuts

Fresh Coriander & Mint Leaves properly Cleansed and Washed - 5 to 10 leaves or 10ml juice per day

OILS

OILS

Hydrogenated Oil, Palm Oil, Soybean Oil, Coconut Oil, Sunflower Oil

Cow Ghee, Olive Oil, Mustard Oil, Rice bran Oil

SPICES

JUICES

Red Chilli, Cloves, Black Pepper, Turmeric and Asafetida

Fresh Pomegranate Juice – 50ml daily, Coconut Water, Rose Petals Juice, Marigold Flower Juice, Dalbergia / Sheesham Leaves juice, Coriander Leaves Juice

NON-VEG / FLESH FOODS

NON-VEG / FLESH FOODS

All Non-Vegetarian Food including Beef, Pork, Chicken, Fish, etc.

Only Egg White (limited qty.)

OTHERS

OTHERS

Triphala, Aloe Vera Juice, Pickles, Sweets, Tamarind and Psyllium Husk, Soft/Cold drinks, Junk/Fast foods, Savory, Packaged, Processed, Fried and Bakery Products, Alcohol

Corn Flour Bread, Wheat Chapati, Fox Tail with Kodo Millets Chapati, Decoction of Pomegranate peel, Decoction of Fennel seeds, Cumin seeds, and Coriander seeds, Overnight Soaked Almonds, Tragacanth Gum
IMPORTANT TIPS
Food items not mentioned in this diet chart can be consumed in moderation.
As per Ayurveda, all diseases are caused due to imbalance of the tridoshas. Ulcerative Colitis (UC) / IBD / Chron's Disease is due to an imbalance of Pitta Dosha, so it is better to avoid taking Sour (Amla), Salty (Lavan), and Pungent (Katu) Tastes and Sweet (Madhur), Bitter (Tikta), and Astringent (Kashaya) Tastes can be consumed in moderation.
As a General, all kinds of artificial, packed, industrial, and processed food items should be avoided.
Behavior plays an important role in preventing diseases, so keep yourself away from negative thoughts, anger, greed, and Ego.
Things in this Diet Chart May Vary Patient to Patient due to the Associated Health Issues, so Better to Consult Our Ayurveda Experts for Better Results.
Share On