Diet Chart for Allergy
Allergies are the most common in daily life. These are the active immune response of body towards any foreign body and are not so harmful. These foreign particles like pollens, certain food products, dust etc. are known as allergens. In this, we can consider both skin and respiratory allergies. These allergies and their associated symptoms can be managed very well by following a proper diet along with some lifestyle changes.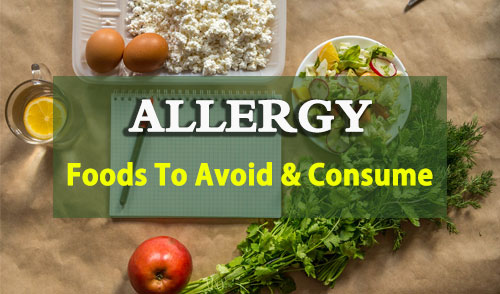 EARLY-MORNING
Herbal tea / Lukewarm water
BREAKFAST
Veg oats / Veg upma / Veg poha / Vermicelli / Chapatti with Veg+Dal
MID-MORNING
Fruit / Coconut water / Herbal tea / Green tea / Salad
LUNCH
Chapati / Boiled rice / Vegetable + Dal / Salad
EVENING
Green tea / Salad / Homemade soup
DINNER
Chapati / Boiled rice / Vegetable + Dal
DIET INSTRUCTIONS
CEREALS
Cereals to be consumed
Millets and oat meal may be taken
Cereals to be avoided
Barley, Broken wheat
FRUITS
Fruits to be consumed
Apple, Pear, Papaya, Indian gooseberry, Pomegranate
Fruits to be avoided
Banana, Coconut, Dates, Kiwi, Raisins, Olives, Pineapple, Bael, Green papaya, Mango, Plum, Apricot
VEGETABLES
Vegetables to be consumed
Broccoli, Coriander, Cauliflower, Bitter gourd, Bottle gourd, Fenugreek leaves, Lettuce, Spinach, Celery, Beetroot, Carrot, Radish (if suits), Ginger
Vegetables to be avoided
Tomatoes, Garlic, Green chili, Radish, onion, Eggplant, Cabbage, Capsicum
PULSES
Pulses to be consumed
All pulses and legumes
Pulses to be avoided
Nil
DAIRY PRODUCTS
Dairy Products to be consumed
Nil
Dairy Products to be avoided
All milk products
OILS
Oils to be consumed
Cow ghee, Sesame oil, Olive oil, Rice bran oil, Coconut oil
Oils to be avoided
Mustard oil, Palm oil
SPICES
Spices to be consumed
Coriander, Black pepper, Cumin, Fennel, Turmeric, Carom seeds
Spices to be avoided
Red chilies, Nutmeg. Mustard
DRINKS
Drinks to be consumed
Homemade soups, Herbal tea
Drinks to be avoided
Whole milk drinks, all canned and packed juices
FLESH FOODS
Flesh Foods to be consumed
Nil
Flesh Foods to be avoided
All flesh foods including egg
HOME REMEDIES
Increase fluid intake
Drink green tea
Make decoction of Black pepper (5-10seeds) and Ginger (15gm) in 400ml of water and reduce it to 100 ml and consume in warm state.
Take 20 seeds of each Coriander, cumin and fennel and boil it in 400 ml of water. Drink when it remains 100 ml.
Share On
MD (ALT. MEDICINE) View Profile