Diet Plan for Helicobacter Pylori (H. pylori)
H. pylori (Helicobacter Pylori) is a type of bacteria that infects the digestive tract. These microorganisms can enter a body and live in the digestive tract. It can damage the lining in the stomach and upper part of the small intestine and causes inflammation. In extreme cases, it may develop painful sores called peptic ulcers in the upper digestive tract. Any food items which further damage the GI tract is going to be terrible for your healing process. A soft, low-fiber diet is suitable for all gastrointestinal problems. Patients feel more comfortable with less spicy and bland foods because they are easily digestible and help to improve bowel function.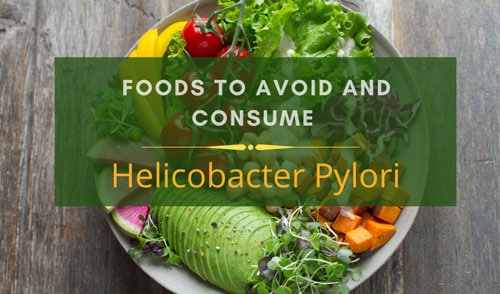 DIET CHART FOR H.PYLORI PATIENTS
EARLY-MORNING
Amla juice/ Herbal tea / Green tea
BREAKFAST
Broken wheat porridge / Veg Semolina (veg upma)/ Veg Vermicelli / Veg poha (Rice flakes) / Veg Idli / Stuffed Chapatti/ Chapatti with veg or dal / Semolina pancake / 1- Egg white part only
MID-MORNING
Fruit / Coconut water/ Herbal tea / Green tea
LUNCH
Plain chapatti/ Boiled rice / Veg pulao / Veg+ Dal + Curd
EVENING
Soup (Home-made) / Herbal tea / Green tea / Rice flakes snacks
DINNER
Plain chapatti / Boiled Rice / Veg khichri / Veg Dalia / Vegetable + Dal
DIET INSTRUCTIONS
CEREALS
Cereals to be consumed
Whole wheat flour, Whole grains cereals, Porridge, Brown rice, Oats
Cereals to be avoided
White refined flour and its products.
FRUITS
Fruits to be consumed
Banana, Papaya, Pears, Apple.
Fruits to be avoided
All citrus fruits.
VEGETABLES
Vegetables to be consumed
Asparagus, Green beans, Cauliflower, Pumpkin, Carrots, Bottle gourd, Ridge gourd, Round gourd, Ash gourd
Vegetables to be avoided
Capsicum, Taro root and Roasted potatoes, Frozen vegetables and raw onion and salad
PULSES
Pulses to be consumed
All split lentils i.e. Yellow lentil, Green lentil, Pink lentil and Soybean
Pulses to be avoided
Black gram, Chickpeas, Kidney beans
DAIRY PRODUCTS
Dairy Products to be consumed
Low-fat yogurt, Curd
Dairy Products to be avoided
Whole milk and cream, Full-fat yogurt, cheese, Condensed milk, Cottage cheese, Buttermilk
SPICES
Spices to be consumed
Cumin, Coriander, Fennel, Mint, Fenugreek, Carmon,Black pepper.
Spices to be avoided
Red chili, Green chili
DRINKS
Drinks to be consumed
Coconut water, Sugarcane juice, Green tea, Herbal tea, Bitter gourd juice, Gooseberry juice, Pumpkin juice
Drinks to be avoided
Lemon water, Tea, Coffee, Buttermilk, Whole milk drinks, Alcohol, Cream based liqueurs, Carbonated beverages, canned and Packaged soup and Fruit juices, Flavored milk, Soya milk
FLESH FOODS
Flesh Foods to be consumed
Egg white part only
Flesh Foods to be avoided
Egg yolk, Raw, Uncooked and Processed meat, Fish especially Selfish, Shark, Swordfish, Tuna, Burgers, Pork, Organ meat, Liver, Kidney, Chest, Red meat, Fish fried in suitable oil, Prawns, Lobster, Crab, Lean beef, Lamb, Ham, Turkey, Rabbit, Mutton, Salami, Duck, Goose.
SEEDS AND DRY FRUITS
Dry Fruits to be consumed
Almond - 5 to 8 pieces
Dry Fruits to be avoided
Raisins, Peanuts, Cashew nuts, Pistachio
OILS
Oils to be consumed
Cow ghee, Olive oil, Mustard oil
Oils to be avoided
Unsaturated fats, Cream, Palm oil, Coconut oil, Butter
OTHER FOODS
Other Foods to be consumed
Homemade only
Other Foods to be avoided
All fried foods, Junk foods, Processed foods, Packed soups, Coconut bar, Sauces, Fruit jellies, Jams, Refined sugar, Marmalade, Sweeteners, Chutneys, Pickle, Ice-cream.
LIFESTYLE AND DIETARY TIPS
Walk for at least 30 min is recommended
Whole fruits should be preferred to fruit juices
Skipping meals should be avoided, especially the breakfast.
Seasonal fruits and vegetables should be consumed.
Herbal Tea- Boil ½ tsp each of fennel, coriander, cumin in 3 cups of water till it's reduced to 1 cups.
Share On
MD (ALT. MEDICINE) View Profile