ELAKANADI KASHAYAM - INGREDIENTS, INDICATIONS, USES AND BENEFITS
INTRODUCTION
Elakanadi kashayam is an Ayurvedic liquid medicine. This medicine is included in kashayam preparations. Ela is mainly used to prepare this kashayam, which is a carminative and digestive stimulant. This herbal formulation is used in the treatment of chronic respiratory ailments
INGREDIENTS
Ela (Elettaria cardamomum) – 1 part
Pippali (Piper longum) – 1 part
Yashtimadhu (Glycyrrhiza glabra) – 1 part
Nagara (Zingiber officinale) – 1 part
Abda (Cyperus rotundus) – 1 part
Vasa (Adhatoda vasica) – 1 part
Nimba (Azadirachta indica) – 1 part
Amruta (Tinospora cordifolia) – 1 part
Ambu (Hemidesmus indicus) – 1 part
Dashmoola - 10 parts

Shalparni (Desmodium gangeticum) - 1 part
Bilva mool tawak (Aegle marmelos) -1 part
Prishanparni (Uraria picta) - 1 part
Kantakari (Solanum xanthocarpum) - 1 part
Brihati (Solanum indicum) - 1 part
Gokshur (Tribulus terrestris) - 1 part
Agnimanth (Premna mucronata) - 1 part
Sonapathamool (Oroxylum indicum) - 1 part
Patlamool (Stereospermum suaveolens) - 1 part
Gambharimool (Gmelina arborea) - 1 part

Water – 16 times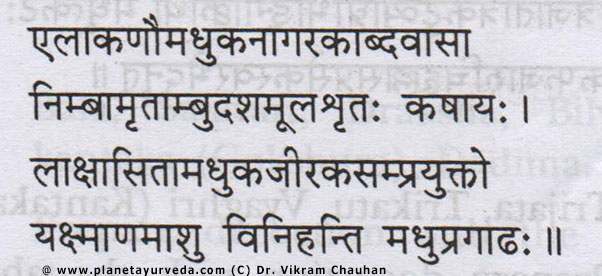 SAHARSARYOGA // KAHSYAYA PRAKARANA// KSHAYAROGAHARA KASHYAY
BENEFITS OF INGREDIENTS
Ela (Elettaria cardamomum) – Ela is a potent herb which is used as a mouth freshener. It is an antiemetic herb, it relives vomiting and nausea. It improves the taste and helpful in the treatment of anorexia. It aids digestion and being carminative in nature, it helps in bloating. Ela is helpful in treating chronic respiratory ailments by soothing the respiratory tract.
Pippali (Piper longum) – Pippali has detoxifier properties hence detoxifies the blood. It increases blood circulation around and in the lungs thus, helps in treating bronchitis and asthma. It acts as an expectorant and helps in thinning of mucus. Pippali is known as "tridoshic" herb as it suits all body types. Pippali is one of the only heating and penetrating herbs that can kindle and stimulates digestive fire and relieves abdominal discomfort.
Yashtimadhu (Glycyrrhiza glabra) – Yashtimadhu is a good expectorant that expels phlegm from lungs and helps in the treatment of respiratory disorders. This herb is restorative in activity and relieves tiredness and provides energy.
Nagara (Zingiber officinale) – Nagara has hot potency and pungent taste. It balances kapha dosha in the body thus, helpful in productive cough and asthma.
Abda (Cyperus rotundus) - Abda is antitussive and antibacterial in nature. It helps to treat chronic respiratory diseases due to its antitussive nature.
Vasa (Adhatoda vasica) – It is extensively used for treating ailments such as common cold, cough, chronic bronchitis and asthma. It is considered as the best expectorant in Ayurveda it loosens phlegm and clears the pathway for easier breathing.
Nimba (Azadirachta indica) – Nimba exhibits coolant qualities and also acts as a blood purifier. It has antibiotic and anti-microbial activities due to which it is used in the treatment of various respiratory disorders.
Amruta (Tinospora cordifolia) – This plant is a natural rejuvenator that provides strength and immunity to the body. It is highly effective in the treatment of fever.
Ambu – (Hemidesmus indicus) – It is the best herb used for the treatment of cold, cough, asthma and bronchitis.
Dashamoola – Dashmoola is a group of 10 roots which are anti-inflammatory and analgesic in action. Dashmoola balances all three doshas in the body and is immune modulatory in activity. This group of herbs also exhibits antipyretic properties.
METHOD OF PREPARATION
All ingredients are taken in coarse powder form and decoction is prepared with water. The mixture is boiled until it is reduced to 1 /8th. Afterward, filter it with a clean cloth and transfer it into glass jars. This herbal liquid formulation is advised in the treatment of respiratory ailments.
INDICATIONS
Elakanadi kashayam is used in the treatment of following disorders-
Tuberculosis
Breathing problems
Cough
USES AND BENEFITS OF ELAKANADI KASHAYAM
Elakanadi kashayam is used to enhance immunity. It is beneficial in allergic respiratory conditions such as asthma and rhinitis. It also stimulates digestive power and treats indigestion.
DOSAGE
5 to 15 ml once or twice daily with 4 times boiled luke warm water as advised by physician
MANUFACTURER
Arya Vaidya Pharmacy
Share On