DIET CHART FOR MALE SEXUAL HEALTH
INTRODUCTION
Physical, psychological and social factors can influence the male sexual health and leads to various problems like; erectile dysfunction, performance anxiety, low sexual desire or low libido, and sexual aversion. A healthy balanced diet consists of plant-based foods such as fruits, nuts and vegetables and even certain non-vegetarian foods which help a person in maintaining muscle mass, preventing prostate cancer and help in leading healthy sexual life. Avoid high fat foods, carbonated drinks, alcohol, smoking, red meat, processed foods, etc.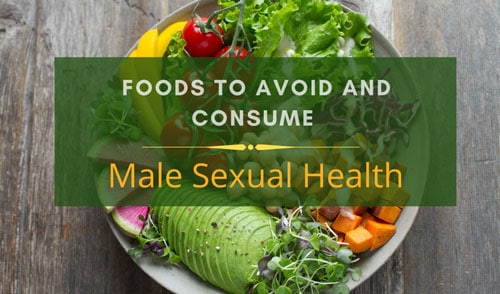 DAILY DIET SCHEDULE
EARLY MORNING
Fenugreek water / Coriander water
After 15 min - Herbal tea / Cow's Milk / Youth Restora Tea
BREAKFAST
Broken Wheat Porridge (Veg Dalia) / Veg Semolina (veg upma) /   Veg Vermicelli (Sewian) / Veg Poha (Rice flakes) / Stuffed Chapatti / Chapatti with veg or dal / Oatmeal
MID-MORNING
Steamed Salad / Fruit / Coconut water / Green tea
LUNCH
Plain chapatti / Boiled rice / Veg pulao / Vegetable + Dal
EVENING
Herbal Tea / Sprouts / Roasted rice flakes / Green tea
PRE-DINNER
Veg Soup (Home-made) / Roasted Channe
DINNER
Plain Chapatti / Boiled Rice / Veg Khichri / Veg Dalia / Vegetable + Dal
DIET INSTRUCTIONS
CEREALS
TO BE CONSUMED
Whole grains cereals, Wheat flour, Oatmeal, Brown rice, Quinoa, Toast (Rush)-2, Millets, Barley
TO BE AVOIDED
White refined flour.
PULSES
TO BE CONSUMED
All pulses and Soya products
TO BE AVOIDED
Dried and Frozen pulses
FRUITS
TO BE CONSUMED
Apple, Banana, Papaya, Oranges, Watermelon, Musk melon, Pear, Pomegranate, Figs, Banana, Peaches, All kinds of berries, Avocado
TO BE AVOIDED
Canned or Packaged fruits and juices
VEGETABLES
TO BE CONSUMED
All vegetables like dark and green leafy vegetables, Pumpkin, Lettuce, Broccoli, Carrots, Sweet potatoes, Asparagus, Turnip, Chicory green, Spinach, Kale, Beans, Cabbage, Brussels sprouts, Beets, Cucumber, Bell peppers, Peas, Potatoes, Red peppers, Raw onion, Ginger, Peppermint.
TO BE AVOIDED
Canned vegetables, Coconut, Frozen vegetables
DAIRY PRODUCTS
TO BE CONSUMED
Low-fat milk (occasionally)
TO BE AVOIDED
Whole milk and cream, Butter, Curd, Buttermilk, Full-fat yoghurt, Cream cheese, Condensed milk, Raw milk, Unpasteurized cheese, Blue-veined cheese, Soft mold-ripened cheese.
FATS
TO BE CONSUMED
Cow ghee, Sunflower oil, Olive oil, Rice bran oil, Soybean oil, Coconut oil
TO BE AVOIDED
Unsaturated fats, Cream, Palm oil.
SPICES
TO BE CONSUMED
Cumin, Coriander, Salt, Ginger, Fennel, Green cardamom, Fenugreek, Cinnamon, Oregano, Celery seeds, Turmeric.
TO BE AVOIDED
Red chilies
FLESH FOODS (ONCE A WEEK)
TO BE CONSUMED
Eggs, Caviar eggs, Sea food, Lean meat, White meat chicken, Salmon, Mackerel, Tuna, Sardines, Albacore, Herring.
TO BE AVOIDED
Raw, Uncooked and Processed meat, fish especially Selfish, Shark, Swordfish, Marlin, Clams, Shrimp, Mussels, Scallops, Meat patties, Pork, Organ meat like Liver, Kidney and Chest, Red meat, Prawns, Lobster, Crab, Lean beef, Lamb, Rabbit, Mutton, Duck.
DRY-FRUITS
TO BE CONSUMED
5-6 Almond (soak in water overnight), Walnut, Brazil nuts, Dates, Figs, Raisins
TO BE AVOIDED
Pistachio, Cashew nuts, Peanuts
SEEDS
TO BE CONSUMED
Flaxseed, Pumpkin seeds
TO BE AVOIDED
Sunflower seeds
DRINKS
TO BE CONSUMED
Coconut water, Sugarcane juice, Green juice, Herbal tea, Aloe Vera juice, Pumpkin juice.
TO BE AVOIDED
Whole milk drinks, Cream based liqueurs, Canned soup and Packaged soup, Alcohol, Soft drinks, Squashes, Carbonated drinks, Tea, Coffee
PREPARED FOODS
TO BE CONSUMED
Jaggery  (Home Made Only)
TO BE AVOIDED
Bakery products, Processed foods, Junk food, Spicy foods, Packed soups, Mayonnaise, Chocolate Fudge, Butter scotch, Coconut bar, All fried foods, Fruit jellies, Jams, Refined sugar, Chutneys, Pickle, Ice-cream.
DIET TIPS
Water intake should be 10-12 glasses
Walk for 30 min is recommended.
Small and frequent meals should be taken
Whole fruit should be preferred to fruit juices.
Skipping of meals should be avoided especially breakfast.
Herbal Tea - Boil ½ tsp each of fennel, coriander, cumin in cups of water till it's reduced to 2 cups.
NOTE
Everyone knows the importance of a healthy lifestyle. But due to busy schedule routine of eating junk foods and other habits may develop, but health is important, always remember this.
Things in this Diet Chart May Vary Patient to Patient due to the Associated Health Issues, so Better to Consult Our Ayurveda Experts for Better Results.
Share On