Diet Plan For Paralysis
Paralysis is a neurological disorder that can immediately cause loss of strength or even spasm of muscles of any part of the body it could be any limb or half side of the body or may include the whole body and will lead to partial or complete loss of muscle function. In this condition nutritious diet plays a major role in fast recovery. So, the diet must be enriched with antioxidants, essential nutrients like Vitamins and minerals and in proteins.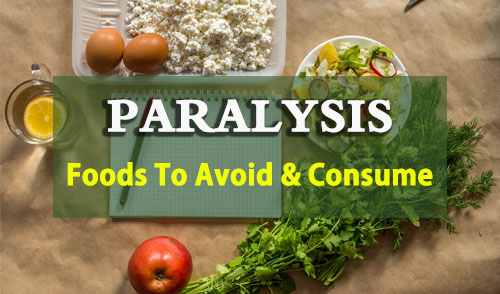 DIET CHART
EARLY-MORNING
Lukewarm water / Arjuna decoction / Fenugreek water
BREAKFAST
Veg Semolina (Veg upma) / Broken wheat porridge (Veg Dalia) / Veg Vermicelli (Sewian) / Veg poha (Rice flakes) / Veg Idli / Stuffed Chapatti / Chapatti with Veg or Dal / 1 Egg's white portion
MID-MORNING
Fruit / Coconut water / Steamed salad / Herbal Tea
LUNCH
Plain chapatti / Veg pulao / Boiled rice / Veg khichri / Veg Dalia / Vegetable + Dal + Salad
EVENING
Herbal tea / Green tea / Arjun Tea
PRE-DINNER
Soup (Home-made)
DINNER
Plain chapatti / Vegetable / Khichari + Dal + Salad
DIET INSTRUCTIONS
CEREALS
Cereals to be consumed
Whole grains, Oatmeal, Soya, Corn, Millets, Quinoa, Rice
Cereals to be avoided
Refined flour
FRUITS
Fruits to be consumed
Banana, Apple, Avocado, Pear, Papaya, Watermelon, Muskmelon, Apricots, Blackberries
Fruits to be avoided
All canned or packaged fruits and Citrus fruits
VEGETABLES
Vegetables to be consumed
Brussels sprouts, Broccoli, Turnips, Green beans, Carrot, Cabbage, Pumpkin, Sweet potatoes, Squash, Artichokes, Lettuce, Asparagus, Parsley, Collard greens, Kale, Okra, Dandelion greens, Mushroom, Drumsticks, Spinach and all green leafy vegetables, Beet greens, Potatoes, Onion, Zucchini, Fenugreek leaves, Celery, Coriander leaves, Garlic.
Vegetables to be avoided
Tomato, Frozen vegetables
PULSES
Pulses to be consumed
All split pulses
Pulses to be avoided
Whole pulses like Black gram, Bengal gram and Dried and frozen pulses
DAIRY PRODUCTS
Dairy Products to be consumed
Low-fat Cow's Milk
Dairy Products to be avoided
Whole milk and cream, Yoghurt, Cheese, Buttermilk, Condensed milk
SPICES
Spices to be consumed
Cumin, Coriander, Turmeric, Ginger, Pepper, Fennel, Cinnamon, Curry leaves, Thyme, Garlic
Spices to be avoided
Red and Green chillies
DRINKS
Drinks to be consumed
Cow's milk, Homemade soup, Carrot juice, Pumpkin juice, Wheat grass juice, Aloe Vera juice, Green tea, Herbal tea, Amla juice, Arjun Tea
Drinks to be avoided
Alcohol, Carbonated beverages, Canned or packaged soup and fruit juices, Coffee, Tea
FLESH FOODS
Flesh Foods to be consumed
Egg white, Fish (Grilled / Roasted)
Flesh Foods to be avoided
All the other fleshes like Prawns, Lobster, Crab, Lean beef, Pork, Lamb, Ham, Turkey, Egg yolk, Mutton, Red meat, Organ part such as Liver, Kidney and Chest
NUTS AND DRY FRUITS
Dry Fruits to be consumed
Flax seed, Pumpkin seed, Walnut, Almond, Dried raisins (only after soaking them)
Dry Fruits to be avoided
Cashew nuts, Peanuts
FATS
Fats to be consumed
Cow ghee, Mustard oil, Olive oil, Canola oil, Rice bran oil, Coconut oil
Fats to be avoided
Unsaturated fats, Cream, Palm oil, Butter
OTHER FOODS
Other foods to be consumed
Homemade only, Jaggery
Other foods to be avoided
All bakery products or processed, Sauces, Fruit jellies, Jams, Mayonnaise, Ice-cream, Cream soups, Dark chocolate, Butter scotch, Coconut bar, Chutneys, Pickles, Junk food, Deep fried foods, Spicy foods, Too much salty food.
DIET TIPS
Whole fruit should be preferred to fruit juices.
Skipping of meals should be avoided, especially the breakfast.
6-Soaked Almond per day should be consumed.
Water intake should be increased at least 8-10 glass regularly.
Monitor your blood pressure and restrict the salt intake.
Regularly can consume Arjun Tea.
Share On