Diet Plan for Depression
Depression is very common and serious problem among all emotional disorders. It is persistent feeling of sadness and loss of interest in daily activities. Common symptoms of depression are sadness, loss of appetite, constipation, low blood pressure and body aches. Indigestion is also one of the main causes of depression. Due to indigestion, gases are produced in digestive tract and it reduces the supply of oxygen to tissues which increases carbon dioxide level causingdepression. Excessive intake of carbohydrates, caffeinated products may lead to ingestion. So a well-balanced Diet plan is needed to diminish the risk of this emotional disorder.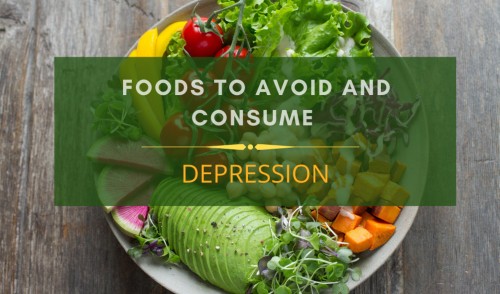 DIET CHART FOR DEPRESSION
EARLY-MORNING
Warm water+soaked almonds / Walnuts
BREAKFAST
Broken wheat porridge / Veg Semolina (veg upma) / Veg Vermicelli / Veg Idli / Brown Bread Sandwich / Semolina pancake / Besan pancake (gram flour) / Missi Roti /Oats/ Stuffed Chapatti / Chapatti with Veg or Dal / Milk / + Egg white
MID-MORNING
Fruit / Fruit juice / Herbal tea / Coconut water
LUNCH
Chapatti +Brown Rice + Salad + Vegetable + Dal / Chicken/Fish (once in week)
EVENING
Roasted chane / homemade soup / Vermicelli / Herbal tea
DINNER
Chapatti + Vegetable + Dal
BED TIME
Milk
DIET INSTRUCTIONS
CEREALS
Cereals to be consumed
Whole wheat, Brown rice, oatmeal
Cereals to be avoided
Refined flour, white bread, refined grains
FRUITS
Fruits to be consumed
Banana, Apples, Pear, Grapes, Apricot, plums, Strawberries, Orange, Figs, Pomegranate, Dates, Lime, Guava, Peaches, Sapodilla, Mango, Pear, Papaya
Fruits to be avoided
Canned fruits
VEGETABLES
Vegetables to be consumed
Spinach, Carrot, Tomato, Radish, Yams, Lima Beans, Cabbage, Cauliflower, Onion, Cucumber, Pumpkin, Sweet Potatoes, Bitter gourd, Ridge gourd,Bottle gourd, Capsicum, Mushroom, Turnip, Kale, Celery, Onion, Asparagus,Eggplant.
Vegetables to be avoided
Canned vegetables
PULSES
Pulses to be consumed
All lentils, beans and soybean
Pulses to be avoided
Frozen and Dried pulses
DAIRY PRODUCTS
Dairy Products to be consumed
Low fat Milk/ skimmed milk, low fat yoghurt, buttermilk, tofu, Kimchi
Dairy Products to be avoided
Tea, Coffee, High- fat milk products
SPICES
Spices to be consumed
Turmeric, Cumin, Coriander, Fenugreek, Black pepper
Spices to be avoided
Red chili
DRINKS
Drinks to be consumed
Homemade vegetable juices, coconut water, Herbal tea, Fruits juices, Amla juice, Red juice
Drinks to be avoided
All Carbonated drinks such as Coke, Pepsi, Limca, soda, Energy drinks, Beverages that contain tannic acid, Alcohol
FLESH FOODS
Flesh Foods to be consumed
Lean meat, Egg, Chicken, Fish (Tuna), Salmon, Mackerel, Sardines)
Flesh Foods to be avoided
Red meat, Fried chicken/ meat/ fish
SEEDS AND DRY FRUITS
Dry Fruits to be consumed
Walnuts, Almonds, cashew and all nuts, Flax seeds, chia seeds, Sunflower seeds
Dry Fruits to be avoided
All nuts should be taken in limit.
OILS
Oils to be consumed
Cow ghee, olive oil, Canola oil, soybean oil
Oils to be avoided
Hydrogenated and unsaturated vegetable oil
OTHER FOODS
Other Foods to be consumed
Honey, Jaggery, Homemade soups
Other Foods to be avoided
All processed food, Junk food, Spicy food, Tobacco, Pickle, Desserts.
LIFESTYLE AND DIETARY TIPS
Having proper sleep and adequate rest.
Drink 8-10 glasses of water daily.
Practicing yoga, meditation for maintain fitness.
Indulge in some active hobby.
Follow healthy and balanced Diet and avoid skipping meals.
Share On
MD (ALT. MEDICINE) View Profile