Diet Plan for Patients of Kidney Disease
Kidney disorders areusually inflammatory in origin, or degenerative in nature. With an increasing severity, these may result in renal failure. Kidney diseases may be acute or chronic and have several underlying causes. The main function of kidney is to eliminate waste products and extra fluid from blood. A well planned diet is one of the ways to control levels of protein, potassium, sodium, fluid and phosphorus in body. Renal diet is low in sodium, phosphorus, potassium and protein. Balanced diet is helpful to slow down certain complications like blood pressure, proteinuria, edema,anemia and kidney failure. Water is always the best way to hydrate and it helps to remove stones and toxins from body. Increase the intake of fruits and vegetables. A good lifestyle choice such as proper dietand medications can help to prevent the kidney disease.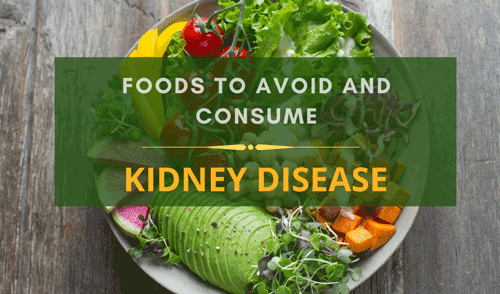 DIET CHART FOR KIDNEY DISEASE
EARLY-MORNING
Warm water
BREAKFAST
Broken wheat porridge / Semolina (veg upma) / vermicelli / Idli / Brown Bread Sandwich / Missi Roti / Chapatti with Veg or Dal / Oats + Egg white
MID-MORNING
Fruit / Herbal tea
LUNCH
Chapati+ Rice + Salad + Vegetable + Dal
EVENING
Homemade soup / Vermicelli / Herbal tea
DINNER
Chapatti + Vegetable
BED TIME
Herbal tea
DIET INSTRUCTIONS
CEREALS
Cereals to be consumed
Wheat and Oatmeal
Cereals to be avoided
Barley
FRUITS
Fruits to be consumed
Apple, Pears, Papaya
Fruits to be avoided
Banana, Coconut, Dates, Kiwi, Orange, Lemon, Squash, Artichokes, Avocadoes, Prunes, Raisins, Pomegranate, Tomatoes, Watermelon, Olives, Pineapple, Figs, Bael, Green papaya, Custard apple, Mango, Peach, Plum, Apricot.
VEGETABLES
Vegetables to be consumed
Ridge guard, Pumpkin, Bottle guard, Round guard, Radish, Carrot, Cabbage, Bell pepper, Lettuce , Capsicum, Turnip, Ginger, Peas( boil before use) , Green leafy vegetables rich in fiber, vitamins, photochemical and antioxidants.
Vegetables to be avoided
Spinach, Potato, Sweet potato, Mushroom, Cauliflower, Broccoli, Beet root, Swiss chard, Brussels sprouts, Kale, French beans, Eggplant, Onion, Cucumber, Garlic, Arbi, Kamalkakdi ( lotus stem), Sem phali  ( bean pod) Yam, Cluster beans
PULSES
Pulses to be consumed
Green gram (moongdal/ dhulimoonddal) 50 to 80 grams / day, Lentil dal, Pink lentil ( masoorkidal)
Pulses to be avoided
Soyabeans, Kidney beans, Winged beans, Black beans, White beans, Lentil nuggets (Dalbadiyan)
DAIRY PRODUCTS
Dairy Products to be consumed
None    
Dairy Products to be avoided
Cheese, Curd, Butter, Milk cream, Condensed milk
SPICES
Spices to be consumed
Fenugreek/Methi, Coriander, Bay leaves, Mint, Black pepper, Cardamom
Spices to be avoided
Salt- use very less

Generally all the spices contain approximately more than 40 to 50 percent of potassium in them. So it is recommended to avoid much consumption of spices in any form
DRINKS
Drinks to be consumed
Water is the best drink for kidney patient.
Drinks to be avoided
Carbonated drinks and alcholic drinks.
FLESH FOODS
Flesh Foods to be consumed
Egg white boiled (1-2 eggs)
Flesh Foods to be avoided
Meat, Fish, Prawns, lobster, Crab, Eggs (Yellow part), Salmon
SEEDS AND DRY FRUITS
Dry Fruits to be consumed
Dried craneberries can be taken as they are low in phosphorus
Dry Fruits to be avoided
Raisins, dates, figs, prunes, peanuts, and almonds
OILS
Oils to be consumed
Use olive oil as it is healthy source of fat and is phosphorus free.
Oils to be avoided
Hydrogenated oils
OTHER FOODS
Other Foods to be consumed
Wheat, Rice, Sabudanakheer/ Payasa, Mungdaalkhichdi
Other Foods to be avoided
Nuts and dry fruits like Peanuts, Almonds, Cashew nuts, Hazel nuts, Brown rice , Garbanzo, Chickpeas, Non- fat milk powder , Biscuits, Namkeen, Maggie, Honey, Pickles, Papad, Sauces, Chocolates, Aerated drinks, Packaged and preserved foods, Coconut water, Ajinomoto, Baking soda.
LIFESTYLE AND DIETARY TIPS
Walk for at least 30 min is recommended
Whole fruits should be preferred to fruit juices
Skipping meals should be avoided, especially the breakfast.
Water intake should be limited 8-10 glasses per day
Small and frequent meals should be taken.
Share On