Diet Plan for Bell's Palsy
Bell's palsy is a neurological disorder that causes a sudden, temporary weakness or paralysis of the muscles in the face. It occurs when the nerve that controls the facial muscles becomes inflamed or compressed. It is important to maintain a healthy, nutritious, and balanced diet to prevent and treat this problem. A soft, blend and full liquid diet is necessary in this condition. To prevent choking, avoid hard or large bite of foods, fatty, fried, and high salty foods as these are difficult to be chewed.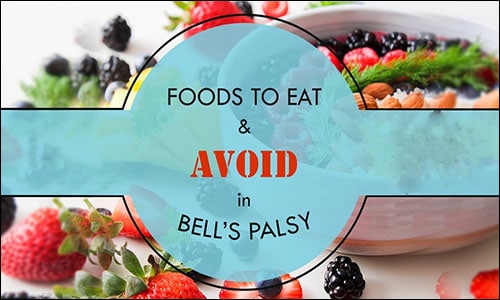 DIET CHART FOR BELL'S PALSY
EARLY-MORNING
A glass of Fenugreek water
BREAKFAST
Veg Semolina (Veg upma) / Broken wheat porridge (Veg Dalia) / Veg Vermicelli (Sewian) / Veg poha (Rice flakes) / Veg Idli / Brown Bread Sandwich / Besan chilla (gram flour) / Stuffed Chapatti / Chapatti with Veg or Dal / 1 Eggs white portion
MID-MORNING
Fruit / Coconut water / Steamed salad
LUNCH
Plain chapatti / Veg pulao / Boiled rice / Veg khichri / Veg Dalia / Vegetable + Dal + Salad
EVENING
Herbal tea / Green tea / Steamed Sprouts
PRE-DINNER
Soup (Home-made)
DINNER
Plain chapatti / Vegetable / Khichari + Dal
DIET INSTRUCTIONS
CEREALS
Cereals to be consumed
Whole grains, Oatmeal, Finger millet, Soya, Corn, Millet, Quinoa.
Cereals to be avoided
Whole refined flour and White rice.
FRUITS
Fruits to be consumed
Banana, Apple, Avocado, Pineapple, Pear, Papaya, Watermelon, Muskmelon, Apricots.
Fruits to be avoided
All canned and packaged fruits, Citrus fruits.
VEGETABLES
Vegetables to be consumed
Brussels sprouts, Broccoli, Turnips, Carrot, Cabbage, Pumpkin, Sweet potatoes, Squash, Peas, Artichokes, Lettuce, Asparagus, Parsley, Green leafy vegetable, Collard greens, Turnip greens, Kale, Okra, Dandelion greens, Mustard greens, Mushroom, Spinach, Beet greens, Potatoes, Cucumber, Onion, Zucchini, Fenugreek leaves, Celery, Coriander leaves, Garlic.
Vegetables to be avoided
Tomato, Frozen vegetables.
PULSES
Pulses to be consumed
All pulses
Pulses to be avoided
Dried and frozen pulse and Black gram.
DAIRY PRODUCTS
Dairy Products to be consumed
Low-fat yogurt, Milk.
Dairy Products to be avoided
Whole milk and cream, Full-fat yoghurt, Cream cheese, Condensed milk.
SPICES
Spices to be consumed
Cumin, Coriander, Turmeric, Ginger, Pepper, Fennel, Cinnamon.
Spices to be avoided
Red and Green chillies, Mustard, Pimiento, Nutmeg.
DRINKS
Drinks to be consumed
Milk, Homemade soup, Carrot juice, Bitter Gourd juice, Aloe Vera juice, Green tea, Herbal tea.
Drinks to be avoided
Alcohol, Carbonated beverages, Canned soup, packaged soup and canned fruit juices, Caffeinated drinks, Coffee, Tea.
FLESH FOODS
Flesh Foods to be consumed
Egg white, Fish, and Lean meat (Grilled / Roasted).
Flesh Foods to be avoided
Fried or Processed meats, Prawns, Lobster, Crab, Lean beef, Pork, Lamb, Ham, Turkey, Egg yolk, Sausages, Mutton, Salami, Bacon, Duck, Goose, Hot dogs, Hamburgers, Meat pies, Red meat, Organ part such as Liver, Kidney and Chest.
NUTS AND DRY FRUITS
Dry Fruits to be consumed
Flax seed, Pumpkin seed, Walnut, Almond, Dried raisins and Apricots.
Dry Fruits to be avoided
Cashew nuts, Peanuts.
FATS
Fats to be consumed
Cow ghee, Mustard oil, Olive oil, Canola oil, Rice bran oil. Coconut oil
Fats to be avoided
Unsaturated fats, Cream, Palm oil, Butter.
OTHER FOODS
Other Foods to be consumed
Homemade only, Jaggery.
Other Foods to be avoided
All bakery products or processed, Sauces, Fruit jellies, Jams, Mayonnaise, Ice-cream, Cream soups, Dark chocolate, Butter scotch, Coconut bar, Chutneys, Pickles, Junk food, Deep fried foods, Spicy foods, Too much salty food.
DIET TIPS
Walk for at least 30-45 min is recommended.
Whole fruit should be preferred to fruit juices.
Skipping of meals should be avoided, especially the breakfast.
6-Soaked Almond per day.
Water intake should be increased at least 8-10 glass regularly.
Share On