Diet Plan for Cataract Patients
Cataract is an eye problem in which a protein accumulates over eye lens and results in blurry vision. A diet rich in vitamin A, C and E is helpful in the prevention of cataract. According to Ayurveda, aggravated vata dosha leads to cataract. So, a balanced and proper diet and avoiding the use of foods which aggravates Vata dosha will help in the prevention as well as treatment of the Cataract.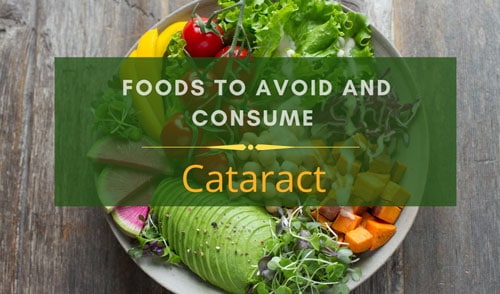 Eyes are the mirror of the soul, keep them clean and healthy!!
DIET CHART FOR CATARACT
EARLY-MORNING
Luke warm water / Soaked almonds
BREAKFAST
Veg Poha / Veg Porridge (Dalia) / Veg Vermicelli(Sewiyan)/Veg Oats /Chapatti + Vegetable +Egg white
MID-MORNING
Fruit / Juice / Coconut water
LUNCH
Chapatti/ Missi chapatti + Brown Rice + Vegetable + Fish
EVENING
Roasted Black grams (Chane) / Veg soup (homemade) / Sprouts / Herbal tea / wheat grass juice
DINNER
BrownRice + Vegetable + Chapatti + Dal
DIET INSTRUCTIONS
CEREALS
Cereals to be consumed
Wheat, White rice, Brown rice, Sorghum, Amaranth, Finger millet, Foxtail millet, Pearl millet, Buckwheat, Little millet, Quinoa
Flour Ratio
- Wheat Atta (50%) + Soybean Atta (20%) + Ragi flour (30%)
Cereals to be avoided
Refined flour
FRUITS
Fruits to be consumed
Banana, Water melon, Muskmelon, Avocado, Peaches, Pear, Coconut, Pomegranate, Figs, Mango, Litchi, Custard apple, Sapodilla, Papaya, Orange, Green apple, All types of berries, Pineapple, Kiwi fruit
Fruits to be avoided
Nil
VEGETABLES
Vegetables to be consumed
Zucchini, Sweet potato, Pumpkin, Celery, Coriander, Broccoli, Cabbage, Cauliflower, Kale, Mushrooms, Spinach, Carrot, Fenugreek leaves, Okra, Bottle gourd, Brussels sprouts, Lettuce, Ginger, Chicory greens, Tomatoes, green chilly
Bitter gourd (0ccasionally)
Vegetables to be avoided
Red chillies
PULSES
Pulses to be consumed
All pulses and legumes.
Pulses to be avoided
Nil
DAIRY PRODUCTS
Dairy Products to be consumed
skimmed milk, skimmed yogurt
Dairy Products to be avoided
Milk, Cheese, Buttermilk, Butter, Curd
OILS
Oils to be consumed
Cow ghee, Sunflower oil, Canola oil, Olive oil, Mustard oil, Rice bran oil, Coconut oil
Oils to be avoided
Palm oil
SPICES
Spices to be consumed
Cumin, Coriander, Turmeric, Ginger, Pepper, Fennel, Cinnamon
Spices to be avoided
Pimiento, Nutmeg
DRINKS
Drinks to be consumed
Coconut water, Homemade soups, Green juice, Herbal tea
Drinks to be avoided
Whole milk drinks, Cream based liqueurs, canned soup and packaged soup, Alcohol, Sweetened drinks, Squashes, Carbonated drinks
FLESH FOODS
Flesh Foods to be consumed
Egg white, Chicken (Once in a week)
Flesh Foods to be avoided
Processed and fried meat, Red meat (Beef, Lamb, Pork), Fishes (Tilefish, Shark, Swordfish, King Mackerel, Marlin, Bluefin Tuna).
DRY FRUITS / SEEDS
Dry Fruits and Seeds to be consumed
Almond, Raisins, Walnut, Peanuts, Cashew, Pumpkin Seeds, Chia Seeds, Flax Seeds, Sunflower Seeds, Sesame Seeds.
Dry Fruits and Seeds to be avoided
Nil
OTHER FOODS
Other Foods to be consumed
Nil
Other Foods to be avoided
Bakery and Processed Foods, Fried Food, Junk Food, Pickles, Artificial Sweeteners, Packed Soups, Refined Sugar, Apple cider vinegar
SWEETENERS
Sweeteners to be consumed
Honey
Sweeteners to be avoided
Sugar
HOME REMEDIES
Carrot – Try to add carrot in a daily diet. Consume 1 glass of carrot juice daily.
Almonds - Soak 5-6 almonds overnight and eat it in the morning.
Honey - Put a drop of honey in eyes like eye drops.
Aloe vera – Apply fresh aloe vera gel over eyelids and wash it after 15-20 minutes.
Wheat grass juice - Consume wheat grass juice daily.
Amla – Consume 1 amla on a daily basis is beneficial.
DIET INSTRUCTIONS
Eat vitamin A, C and E rich foods.
Add Collard, Kale, Spinach, it is a good source of luetin and zeaxanthin.
Take 3 servings of whole grains daily.
Drink 8-10 glasses of water daily.
Avoid junk food.
Share On