Diet Plan for Psoriasis Patients
Psoriasis is a skin disease, which is non-contagious in nature. It is characterized by scaly patches, which are red in colour. These patches appear on the scalp, elbows and knees. These lesions may vary from minor patches appearing at local points to the entire portion of the body. The major causes of psoriasis are yet to be known.
Often it is said that heredity plays a huge role in causing psoriasis. Also, a weakened immune system may result in psoriasis as well. Environmental factors may be the other reason for causing psoriasis. The severity of the disorder may varies from individuals to individuals.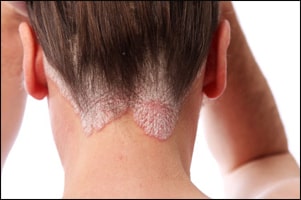 Dry skin, cracks in the skin, pink colored lesions, bleeding skin, stiffened joints, inflammations, itching sensation and burning at some places are the major symptoms of people suffering from psoriasis. Physical and mental stress also contribute to the occurrence of psoriasis as well.
It is highly advised that people suffering from psoriasis must follow a strict diet regimen. Following is the diet chart for the patients suffering from this non contagious skin infection. It must be followed strictly to get relief from the disorder and associated symptoms as well.
DIET CHART FOR PSORIASIS
EARLY-MORNING
Herbal tea / Green tea
BREAKFAST
Broken wheat porridge (Veg / Sweet Dalia) / Veg oats / Veg Semolina (Veg upma)/ Veg poha (Rice flakes) /Vermicelli (Veg / Sweet Sewian) / Chapatti with veg or Dal / 1 - Egg white portion only
MID-MORNING
Fruit / Coconut water / Herbal tea / Green tea / Salad
LUNCH
Chapatti / Boiled Rice / Vegetable + Dal / Salad
EVENING
Sprouts / Green tea / Soup (Home-made) / Herbal tea / Salad.
DINNER
Chapatti / Boiled Rice / Vegetable + Dal
DIET INSTRUCTIONS
CEREALS
Cereals to be consumed
Wheat, White rice, Brown rice, Sorghum, Amaranth, Finger millet, Foxtail millet, Pearl millet, Buckwheat, Little millet, Barley. Flour Ratio- Wheat Atta (50%) + Soybean Atta (20%) + Ragi flour (30%)
Cereals to be avoided
Rye.
FRUITS
Fruits to be consumed
Banana, Water melon, Muskmelon, Avocado, Peaches, Pear, Pomegranate, Figs, Custard apple, Sapodilla,Apple Papaya.
Fruits to be avoided
Orange, Mango, Strawberries, Lemon, Limes, Grapes,Blueberries.
VEGETABLES
Vegetables to be consumed
Zucchini, Sweet potato, Pumpkin, Celery, Coriander, Broccoli, Cabbage, Cauliflower, Kale, Mushrooms, Spinach, Carrot, Peas, Fenugreek leaves, Okra, Bottle gourd, Bitter gourd, Brussels sprouts, Lettuce, Ginger, Chicory greens.
Vegetables to be avoided
Tomatoes, Potatoes, Brinjal, Garlic, Onion, Green chilies, Red chilies, Radish.
PULSES
Pulses to be consumed
All pulses and legumes.
Pulses to be avoided
Nil
DAIRY PRODUCTS
Dairy Products to be consumed
Tofu, Soy milk (occasionally)..
Dairy Products to be avoided
Milk, Cheese, Buttermilk, Butter, Curd.
OILS
Oils to be consumed
Cow ghee, Sunflower oil, Canola oil, Olive oil, Mustard oil, Rice bran oil.
Oils to be avoided
Cream, Palm oil, Coconut oil.
SPICES
Spices to be consumed
Cumin, Coriander, Turmeric, Ginger, Pepper, Fennel, Cinnamon, Thyme, Carom seeds.
Spices to be avoided
Mustard, Pimiento, Nutmeg.
DRINKS
Drinks to be consumed
Coconut water, Homemade soups, Green juice, Herbal tea.
Drinks to be avoided
Whole milk drinks, Cream based liqueurs, Canned soup and Packaged soup, Alcohol, Sweetened drinks, Squashes, Carbonated drinks.
FLESH FOODS
Flesh Foods to be consumed
Egg white, Chicken (Once in a week)
Flesh Foods to be avoided
Processed and fried meat, Red meat (Beef, Lamb, Pork), Fishes (Tilefish, Shark, Swordfish, King Mackerel, Marlin, Bluefin Tuna).
DRY-FRUITS / SEEDS
Dry Fruits to be consumed
Soaked Almonds, Soaked Raisins, Soaked Walnut, Soaked Figs, Soaked Prunes. (If Suits)
Dry Fruits to be avoided
Nil
PREPARED FOODS
Prepared Foods to be consumed
Nil
Prepared Foods to be avoided
Bakery and Processed Foods, Fried Food, Junk Food, Pickles, Artificial Sweeteners, Packed Soups, Refined Sugar, Vinegar, Jaggery.
SWEETENERS
Sweeteners to be consumed
Honey
Sweeteners to be avoided
Sugar
HOME REMEDIES
Bitter gourd juice - Consume 20- 30 ml of bitter gourd juice.
Flax seeds - Consume 1 tsp. of flax seeds with warm water daily.
Aloe Vera - Consume Aloe Vera juice, early morning and even apply Aloe Vera gel on scaly patches.It helps in reducing redness and scales.
Turmeric - It is an anti – inflammatory in nature. Turmeric paste can be prepared and apply on patches.
DIET INSTRUCTIONS
Drink 8 – 10 glasses of water in a day this willremove toxins from thebody.
Avoid eating junk and spicyfood.
Eat homemade food.
Drink green tea.
Use homemade packs over the affected skin.
Share On