Diet Plan for Skin Problem
Nutrition is important for health and the best foods for keeping the skin healthy. The skin problem generally caused by oily food, processed and canned food, refined sugar, and spicy foods which can cause skin problems like acne, cold sore, and blisters. So, Treat your skin by eating antioxidant-rich fruit and vegetables, healthy fats from oily fish and nuts as they are rich in antioxidants and fibers. You should take optimal levels of the nutrients that are crucial for radiant skin, including beta carotene, vitamins C and selenium.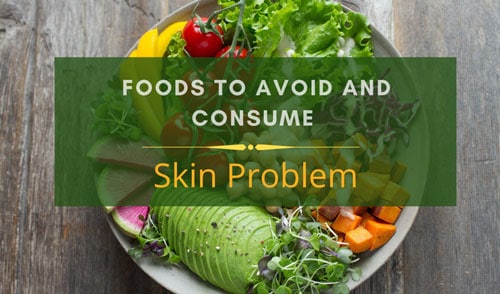 DIET CHART FOR SKIN PROBLEM
EARLY-MORNING
Aloe-Vera juice/ Indian Gooseberry juice
BREAKFAST
Broken wheat porridge (Veg Dalia) / Veg Semolina (veg upma) / Veg Vermicelli (Sewian) / Veg poha (Rice flakes) / Veg idli / Chickpea flour pancake (gram flour) / Chapatti with veg or dal / Oatmeal
MID-MORNING
Salad / Fruit / Coconut water / Sprouts / Green tea
LUNCH
Plain chapatti / Mixed chapatti / Vegetable + Dal / Salad
EVENING
Herbal Tea / Roasted Chana / Sprouts / Rice flakes bhelpuri / Green tea
PRE-DINNER
Veg / Chicken Soup (Home-made)
DINNER
Plain chapatti / Mixed chapatti / Boiled Rice / Vegetable + Dal + Salad
DIET INSTRUCTIONS
CEREALS
Cereals to be consumed
Whole grains cereals, Wheat, Oatmeal, Brown rice
Flour RatioWheat Atta (80%) + Soybean Atta (20%)
Cereals to be avoided
White refined flour and its products
FRUITS
Fruits to be consumed
All fruits include all berries like Blackcurrants, Avocado, Blueberries, Guava, Papaya, Apricots, Apple, and Indian gooseberry
Fruits to be avoided
Canned or Packaged fruits and juices
VEGETABLES
Vegetables to be consumed
Broccoli, Sweet potatoes, Carrots, Potatoes, Bitter guard, Spinach and other dark green and leafy vegetables. All Seasonal vegetables should be consumed.
Vegetables to be avoided
Canned vegetables, Chips and Roasted potatoes, Coconut, Frozen vegetables
PULSES
Pulses to be consumed
All pulse and legumes
Pulses to be avoided
Nil
DAIRY PRODUCTS
Dairy Products to be consumed
Low-fat Milk, Tofu
Dairy Products to be avoided
Whole milk and cream, Full-fat yoghurt, Condensed milk, Buttermilk, Curd, Cheese.
OILS
Oils to be consumed
Cow ghee, Sunflower oil, Canola oil, Olive oil
Oil brand should be change in after three month
Oils to be avoided
Unsaturated fats, Cream, Palm oil, Coconut oil
SPICES
Spices to be consumed
Cumin, Coriander, Turmeric, Ginger, Fennel, Mint, Thyme, Basil
Spices to be avoided
Red chilies, Table salt (excess)
DRINKS
Drinks to be consumed
Coconut water, Green juice, Herbal tea, Beetroot juice, Green Tea, Aloe Vera juice, Bitter gourd juice, Gooseberry juice, Pumpkin juice
Drinks to be avoided
Whole milk drinks, Cream based liqueurs, canned soup and packaged soup, Alcohol, Soft drinks, Squashes, Carbonated drinks
FLESH FOODS
Flesh Foods to be consumed
Egg white, Roasted chicken, grilled fish, Lean meat, Skinless chicken, Fatty fish, such as Salmon and Rohu
Flesh Foods to be avoided
Raw, Uncooked and Processed meat, fish especially Selfish, Shark, Swordfish, Tuna and Marlin, clams, Mussels, Oysters and Scallops, , Pork, Organ meat such as Liver, Kidney and Chest, Red meat, Prawns, Lobster, Crab, Lean beef, Lamb, Ham, Rabbit, Mutton, Duck, Goose.
DRY-FRUITS / SEEDS
Dry Fruits to be consumed
4-5 Almond (Soaked in water overnight), Walnut, Sunflower seeds, Chia seeds, Flaxseed, Pumpkin seeds
Dry Fruits to be avoided
Pistachio, Cashew nuts
OTHER FOODS
Other Foods to be consumed
Home made only
Other Foods to be avoided
Processed, Junk, Fried and Spicy foods, Packed soups, High fat dressing or mayonnaise, Chocolate, Fudge, Butter scotch, Coconut bar, Sauces, Fruit jellies, Jams, Refined sugar, Marmalade, Sweeteners, Chutneys, Pickle, Ice-cream.
DIET INSTRUCTIONS
Water intake should be 10-12 glasses
Walk for 30 min is recommended.
Fiber-rich diet should be consumed to avoid constipation.
Small and frequent meals should be taken
Whole fruit should be preferred to fruit juices.
Skipping of meals should be avoided especially breakfast.
Herbal Tea - Boil ½ tsp each of fennel, coriander, cumin in 3 cups of water till it's reduced to 1 cup.
Avoid smoking and alcohol.
Share On