Diet Plan for Varicose Veins
Varicose veins are a condition in which veins become swollen and enlarged. It occurs when valve of vein did not work properly and blood did not flow in right direction. Varicose veins are commonly found in legs. Women are more prone to this problem. According to Ayurveda, the main cause of varicose veins is imbalance in Ranjaka Pitta and Vyana Vata. Pitta - Vata pacifying diet is beneficial in varicose veins.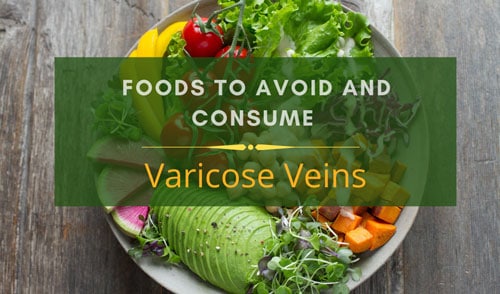 DIET CHART FOR VARICOSE VEINS
EARLY-MORNING
Herbal tea / Green tea
BREAKFAST
Broken wheat porridge (veg / sweet Dalia) / Veg oats / Veg Semolina (veg upma) / Veg poha (Rice flakes) / Vermicelli (veg / sweet Sewian) / Chapatti with veg or Dal / 1 - Egg white portion only
MID-MORNING
Fruit / Coconut water / Herbal tea / Green tea / Salad
LUNCH
Chapatti / Brown Rice / Vegetable + Dal / Salad
EVENING
Sprouts / Green tea / Soup (Home-made) / Herbal tea / Salad
DINNER
Chapatti / Brown Rice / Vegetable + Dal + Tofu cheese
DIET INSTRUCTIONS
CEREALS
Cereals to be consumed
Wheat, Brown rice, Sorghum, Amaranth, Finger millet, Foxtail millet, Pearl millet, Buckwheat, Little millet
Flour Ratio - Wheat Atta (50%) + Soybean Atta (20%) + Ragi flour (30%)
Cereals to be avoided
Refined flour, White rice, Rye, Millet ( Bajra)
FRUITS
Fruits to be consumed
Banana, Water melon, Muskmelon, Avocado, Peaches, Pear, Coconut, Pomegranate, Figs, Mango, Litchi, Custard apple, Sapodilla, Papaya.
Fruits to be avoided
Orange, Apple, Mango, Strawberries, Lemon, Limes, Grapes, Blueberries
VEGETABLES
Vegetables to be consumed
Zucchini, Sweet potato, Pumpkin, Celery, Coriander, Broccoli, Cabbage, Cauliflower, Kale, Mushrooms, Spinach, Carrot, Peas, Fenugreek leaves, Yam, Okra, Bottle gourd, Bitter gourd, Brussels sprouts, Lettuce, Ginger, Chicory greens
Vegetables to be avoided
Tomatoes, Potatoes, Brinjal(eggplant), Garlic, Onion, Green chilies, Red chilies, Radish
PULSES
Pulses to be consumed
All pulse and legumes
Pulses to be avoided
Nil
DAIRY PRODUCTS
Dairy Products to be consumed
Tofu, Soy milk
Dairy Products to be avoided
Milk, Cheese, Buttermilk, Butter, Curd
OILS
Oils to be consumed
Cow ghee, Sunflower oil, Canola oil, Olive oil, Mustard oil, Rice bran oil
Oils to be avoided
Cream, Palm oil, Coconut oil
SPICES
Spices to be consumed
Cumin, Coriander, Turmeric, Ginger, Pepper, Fennel, Cinnamon
Spices to be avoided
Mustard, Pimento, Nutmeg, Black pepper
DRINKS
Drinks to be consumed
Coconut water, Homemade soups, Green juice, Herbal tea
Drinks to be avoided
Whole milk drinks, Cream based liqueurs, canned soup and packaged soup, Alcohol, Sweetened drinks, Squashes, Carbonated drinks
FLESH FOODS
Flesh Foods to be consumed
Egg white, Chicken (Once in a week)
Flesh Foods to be avoided
Processed and fried meat, Red meat- (Beef, Lamb, Pork), Fishes –( Tilefish, Shark, Swordfish, King Mackerel, Marlin, Bluefin Tuna), Duck, Turkey
DRY-FRUITS / SEEDS
Dry Fruits to be consumed
Nil
Dry Fruits to be avoided
Almond, Raisins, Ground Nuts, Walnut, Peanuts, Pistachio, Cashew, Pumpkin Seeds, Chia Seeds, Flax Seeds, Sunflower Seeds, Sesame Seeds.
OTHER FOODS
Other Foods to be consumed
Honey
Other Foods to be avoided
Bakery and Processed Foods, Fried Food, Junk Food, Pickles, Artificial Sweeteners, Packed Soups, Refined Sugar, Jaggery
HOME REMEDIES
Witch hazel - Add 15-20 drops of witch hazel in luke warm water and soak legs in water for 30 minutes and then wash the legs with water.
Marigold- Add 1 cup of marigold petals in 3 cups of water and boil it for five minutes. When water cool down then with the help of cotton ball applied it on affected area.
Olive oil – Heat the olive oil for 2-3 minutes and applied it on affected area.
Tomatoes- Chop two tomatoes and put them in blender and make a mixture. Applied it topically 2-3 times in a day.
Apple cider vinegar - Add 1 tsp of apple cider vinegar in glass of water and drink it daily.
DIET INSTRUCTIONS
Drink 8 – 10 glasses of water in a day this will remove toxins from body
Avoid eating junk food
Eat homemade food
Avoid spicy food
Drink green tea
Share On