Young boys during Puberty
Diet Plan for Young boys during Puberty
Puberty is the process of growth and change in the body as boys starts to transform into adults. The amount of calories boys require each day depends on their size, growth rate, and age and activity level. Teenage boys grow at a faster pace, which makes their dietary requirements different as compared to younger boys or adults. Increased caloric, protein, iron, calcium, zinc and folate needs have to be fulfilled during this important period of rapid growth. The primary nutrient groups are proteins, carbohydrates, fats, vitamins, and minerals. Good nutrition, physical activity can build muscles, bones, and reduce teen's risk for chronic diseases such as type 2 diabetes, heart disease, and high blood pressure. Excessive eating of many processed, high-fat foods, may be the cause of this phenomenon. Overweight or obese children are more likely to enter puberty early. Over-nutrition and obesity seem to trigger pubertal onset.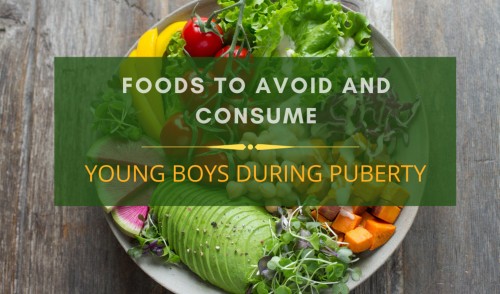 DIET CHART FOR YOUNG BOYS DURING PUBERTY
EARLY-MORNING
A glass of low-fat milk + soaked almond -5 pieces + Soaked Raisins- 5 pieces
BREAKFAST
Stuffed parantha / Veg sandwich + 1 fruit / Bread toast with egg / Fresh Juice / Milk
TIFFIN
Prantha with veg or dal / Veg Sewian / Veg poha / Veg idli / Besan pancake / Suji pancake / Veg upma / Sprouts + 1 fruit
LUNCH
Chapatti / Mixed Chapatti / Boiled rice / Veg pulao / Veg + Dal + Curd + Salad
MID-EVENING
Fruit / Lemon water
PRE-DINNER
Smoothie / Milk shake / Sprouts or rainbow sandwich / Riceflakes Snacks / Dhokla / Egg-1/ Soup (homemade)
DINNER
Chapatti / Mixed Chapatti / Boiled rice / Veg pulao / Veg + Dal + Curd + Salad
BED TIME
Low-fat milk / Fruit custard / Suji kheer
DIET INSTRUCTIONS
CEREALS
Cereals to be consumed
Whole grains cereals, Wheat flour, Oatmeal, Whole brown bread, Porridge, Brown rice, Whole wheat pasta, Finger millet, Rice flakes, Barley
Flour Ratio - Wheat Atta (50%) + Soybean Atta (20%) + Ragi flour (30%)
Cereals to be avoided
Refined flour and its products, Sweet biscuit, Cream filled biscuit, Cream crackers, Cheese biscuits, Noodles, Pasta, Macaroni
FRUITS
Fruits to be consumed
All fruits
Fruits to be avoided
Canned fruits and juices
VEGETABLES
Vegetables to be consumed
All vegetables, Seasonal vegetable should be consumed. Raw vegetables like Radish, Carrot, Onion, Tomato, Cucumber etc.
Vegetables to be avoided
Canned vegetables and Chips and Roasted potatoes, Crisp and Cheese filled snacks, Coconut, Frozen vegetables
PULSES
Pulses to be consumed
All pulse and legumes
Pulses to be avoided
Nil
DAIRY PRODUCTS
Dairy Products to be consumed
Low-fat milk, Tofu, Cheese, Curd, Yogurt, Buttermilk, Cottage cheese
Dairy Products to be avoided
Whole milk and cream, Full-fat yoghurt, Cream cheese, Condensed milk, Raw milk, Unpasteurized cheese, Blue-veined cheese, Soft mold-ripened cheese.
SPICES
Spices to be consumed
Cumin, Coriander, Salt, Turmeric, Ginger, Pepper, Fennel
Spices to be avoided
Red chilies
DRINKS
Drinks to be consumed
Coconut water, Clear soups, Sugarcane juice, Fat free homemade soups, Green juice, Herbal tea, Beetroot juice, Lemon water, Aloe Vera juice, Buttermilk, Milk, Shakes, Smoothie, Homemade juices
Drinks to be avoided
Whole milk drinks, Cream based liqueurs, canned soup and packaged soup, Alcohol, Sweetened drinks, Squashes, Carbonated drinks
FLESH FOODS
Flesh Foods to be consumed
Egg white, Roasted chicken, Grilled Fish, Lean meat, Skinless chicken
Flesh Foods to be avoided
Raw, Uncooked and Processed meat, fish especially Selfish, Shark, Swordfish, Tuna and Marlin, clams, Mussels, Oysters and Scallops, Meat patties, Burgers, Pork, Organ meat, Liver, Kidney, Chest, Red meat, Fish fried in suitable oil, Prawns, Lobster, Crab, Lean beef, Lamb, Ham, Turkey, Rabbit, Sausages, Mutton, Salami, Bacon, Duck, Goose, Visible fat on meat .
SEEDS AND DRY FRUITS
Dry Fruits to be consumed
Almond, Raisins, Ground nuts, Walnut, Peanuts, Pistachio, Cashew nuts
Dry Fruits to be avoided
Nil
OILS
Oils to be consumed
Cow ghee, Sunflower oil, Canola oil, Olive oil, Mustard oil, Rice bran oil
Oils to be avoided
Unsaturated fats, Cream, Palm oil, Coconut oil, Butter
OTHER FOODS
Other Foods to be consumed
Home made only, Jaggery
Other Foods to be avoided
Bakery and Processed foods, Pastry, Puddings, Packed soups, Mayonnaise, Cream soups, Chocolate, Fudge, Butter scotch, Coconut bar, All fried foods, Junk foods, Sauces etc, Fruit jellies, Jams, Refined sugar, Marmalade, Sweeteners, Chutneys, Pickle, Ice-cream, Sauces etc.
LIFESTYLE AND DIETARY TIPS
Walk for at least 30 min is recommended
Whole fruits should be preferred to fruit juices
Skipping meals should be avoided, especially the breakfast.
Water intake should be limited 6-8 glasses per day
Small and frequent meals should be taken
Share On