Diet Plan to Lower Triglycerides and Lower Cholesterol
Triglycerides and cholesterol are types of fat in the blood known as lipids.It is a major issue among Indian population. Higher the blood cholesterol, the greater is the risk of heart diseases.Blood cholesterol has different fractions, one is called LDL, the bad cholesterol and other is called HDL, the good cholesterol.
A balanced diet is needed to maintain the lipid levels. A diet low in saturated fats, low cholesterol, and low-fat is recommended to reduce high triglycerides.All baked products, red meat, high-fat, refined carbohydrates, sugar beverages, junk foodand fried food prepared in hydrogenated oil should be avoided as they may increase the triglyceride levels. Having healthy fats are beneficial in decreasing LDL and increasing HDL.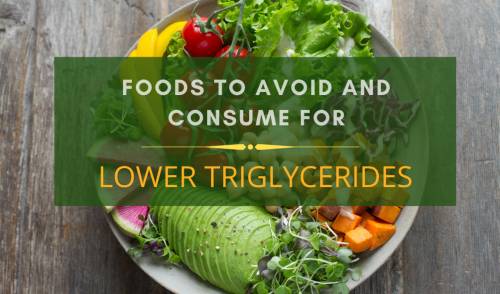 DIET TO LOWER CHOLESTEROL & LOWER TRIGLYCERIDE
EARLY-MORNING
One glass of water + 1 tsp Fenugreek seeds
BREAKFAST
Broken wheat porridge (Veg Dalia) / Veg Semolina (veg upma) / Veg Vermicelli (Sewian) / Veg poha (Rice flakes) / Besan pancake (gram flour) / Veg Oats / Veg Idli / Semolina pancake / Stuffed Chapatti / Chapatti with veg or Dal / Low-fat Milk
MID-MORNING
Fruits / Salad / Lemon water / Coconut water / Buttermilk
LUNCH
Plain chapatti / Missi roti / Boiled Rice / Veg / Dal + Curd + Steamed salad
EVENING
Herbal Tea / Green tea / Roasted Chana + Rice flakes / Sprouts
PRE-DINNER
Veg / Chicken Soups (Home-made)
DINNER
Plain chapatti / Missi chapatti / Boiled Rice / Veg + Dal + Steamed salad Grilled Fish OR Chicken (once a week)
DIET INSTRUCTIONS
CEREALS
Cereals to be consumed
Whole wheat flour, Oats, Whole grains cereals, Porridge, Brown rice, Rice flakes, Puffed rice, Whole grain bread
Chapatti Ratio - Wheat flour (50%), Black chana (25%), Soybean (25%)
Cereals to be avoided
Sweet biscuit, Cream filled biscuit, Cream crackers, Cheese biscuits, Noodles, Pasta, Macaroni, White refined flour, White rice, White bread, Corns
FRUITS
Fruits to be consumed
All fruits
Fruits to be avoided
Coconut, Fruit in syrup, Mango, Grapes, Sapodilla, Dates, Banana, All frozen and dried and tinned fruits and vegetables
VEGETABLES
Vegetables to be consumed
All vegetables include Dark green leafy especially Spinach and Kale, Asparagus, Broccoli, Carrots, Onion, Garlic, Beans, Lemon, Cabbage, Bottle gourd, Ridge gourd, Round gourd, Bitter gourd, Cauliflower, Bell peppers, Red pepper, Tomato, Green peas, Potatoes, and Parsley.
Vegetables to be avoided
Yam, Sweet potatoes, Taro roots, Jackfruit, Dried beans, over cooked or Baked, Chips and roasted potatoes, Crisp and Cheese filled snacks
PULSES
Pulses to be consumed
All Pulses and Lentils, Soya products
Pulses to be avoided
Dried and frozen pulses
DAIRY PRODUCTS
Dairy Products to be consumed
Low-fat milk, Curd, Low-fat yogurt, Tofu, Buttermilk
Dairy Products to be avoided
Whole milk and cream, Cream cheese, Condensed milk, Cocoa butter, Full-fat yoghurt, Cottage cheese, Condensed milk
SPICES
Spices to be consumed
Fennel, Turmeric, Cumin, Thyme, Black pepper, Coriander, Rock Salt (limited), Cardamom, Cinnamon, Fenugreek
Spices to be avoided
Red chili and Table Salt
DRINKS
Drinks to be consumed
Coconut water, Buttermilk, Clear soups, Home-made soups, Lemon juice, Green tea, Soy milk, Herbal tea, Aloe Vera juice, Beetroot juice, Gooseberry juice, Pomegranate juice
Drinks to be avoided
Whole milk drinks, Cream based liqueurs, Canned soup and packaged soup, Alcohol, Sweetened drinks, Squashes, Hot chocolate drinks, Diet soda, Coffee, Tea
Note: if you are Diabetic patient, food high in sugar should be avoided and intake of suitable fats and oils strictly limited.
FLESH FOODS
Flesh Foods to be consumed
Eggs (white part), Roasted or Grilled, Lean meat, Cold fish like Sardines, Salmon, Tune, Mackerel, Herring,and Skinless chicken
Flesh Foods to be avoided
Fish fried in suitable oil, Prawns, Lobster, Crab, Lean beef, Pork, Lamb, Ham, Very lean minced meat, Turkey, Veal, Rabbit, Egg yolk, Fish roe, Sausages, Mutton, Salami, Bacon, Duck, Goose, Hot dogs, Meat pies, Visible fat on meat, Organ meat like Liver, Kidney, Chest, Red meat, Smoked and canned fish, Marbled and fatty Meats
SEEDS AND DRY FRUITS
Dry Fruits to be consumed
Flax seeds, Chia seeds, Sunflower seeds, Walnuts, Almonds,
Dry Fruits to be avoided
Cashew nuts, Pistachio, Peanuts, Raisins
OILS
Oils to be consumed
Olive oil, Canola oil, Cow ghee, Rice bran oil, Soybean oil
Oils to be avoided
Trans fat foods, Butter, Palm oil, Coconut oil, Hydrogenated oil
OTHER FOODS
Other Foods to be consumed
Homemade only, Jaggery
Other Foods to be avoided
All bakery products or processed, Pastry, Pies, Doughnuts, Chips, Puddings, Cakes, Biscuits, Sauces, Fruit jellies, Jams, Mayonnaise, White sugar, Ice-cream, Cream soups, Dark chocolate, Butter scotch, Coconut bar, Chutneys, Pickles, Deep fried foods, All Spicy foods, Junk foods, Too much salty food, Buttered popcorn, Soya sauce.
LIFESTYLE AND DIETARY TIPS
Take balanced diet.
Avoid intake of fatty and sugary food.
Eat seasonal fruits and vegetables.
Increase fiber intake.
Be physically active.
Note: if you are Diabetic patient, food high in sugar should be avoided and intake of suitable fats and oils strictly limited.
Share On