AYURVEDIC TREATMENT OF DYSHIDROTIC ECZEMA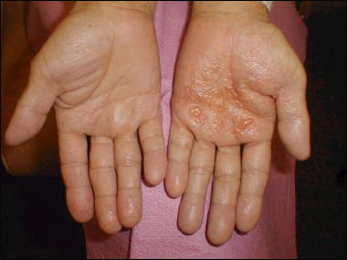 ABOUT DYSHIDROTIC ECZEMA
Healthy skin is a reflection of over wellness. If your skin is unhealthy, it immediately tells you that something in your body is not right. If we eat healthy it shows on our skin and if we consume unhealthy junk food it affects our skin. When the toxins in our body get deposited that leads to digestive and other disorders which have a direct impact on our skin. Drinking water helps in flushing out the toxins effectively. There are numerous skin disorders but we'll discuss about Dyshidrotic eczema. In this disorder, numerous blisters develop on the soles and palms. These tiny blisters are usually itchy and might be filled with some fluid. It can be related to a seasonal allergy or stress factors.
SIGNS & SYMPTOMS OF DYSHIDROTIC ECZEMA
Itchy blisters
Pain
Dry and scaly skin
Pitted nails on affected toes and fingers
Opaque blisters
CAUSES OF DYSHIDROTIC ECZEMA
The exact cause is unknown but there are a few conditions which might cause this disorder.
Hay fever
Food allergies
Stress
Previously suffering from Atopic dermatitis
Hands exposed to metals like chromium, uranium, cobalt
AYURVEDIC POINT OF VIEW
According to Ayurveda, the skin consists of six layers and it is not just located superficially but extends to deeper levels of the body. When a skin disorder occurs it is rooted in tissues like fat, blood etc. skin treatments are based on local application that doesn't destroy the root cause and the skin disorders reoccurs. But in Ayurveda, the herbs remove the root cause which doesn't let the disease reoccur. Most diseases occur due to unhealthy eating habits and lifestyle. Skin disorders occur due to aggravated Pitta dosha. Pitta is related to heat and all the foods that increase heat in the body should be avoided. Exposure to heat and foods like that also aggravate pitta which leads to skin diseases. The built up toxins due to imbalanced pitta cause Dyshidrotic eczema.
HERBAL REMEDIES FOR DYSHIDROTIC ECZEMA
Planet Ayurveda offers effective herbal remedies such as Radiant Skin, Hair, Nails Formula, Navkarshik Churna, Gandhak Rasayan, Pitta Balance & Nirgundi Oil for ayurvedic treatment of dyshidrotic eczema. We provides 100 percent pure and herbal products. All of them are free from side effects and are safe to use. And they are formulated by MD Ayurveda doctors. All of the medicines from the house are made without the addition of chemicals or additives or preservatives in it.
These herbal capsules are formulated using standardized extracts of herbs that are very good for the skin and aid in nourishing the skin inside out. It efficiently detoxifies the body and helps in retaining healthy skin and has amazing results in curing Dyshidrotic Eczema.
INGREDIENTS:
Manjishtha (Rubia cordifolia): This medicinal herb has blood purifying properties. It consists of salicylates and triterpenoids that aid in reducing swelling or inflammation. It is a good immunity booster. It remarkably nourishes and rejuvenates the skin.
Pitta papda (Fumaria officinalis): This herb helps in relieving itching, redness of skin, burning sensation of skin and controls the inflammation of the skin. It possesses anti-oxidant properties.
Chirata (Swetia chiretta): Chirata is an herb with medicinal properties that effectively help in resolving all skin related issues. It is an effective blood purifying herb. It is beneficial for relieving symptoms like itching, burning sensation and redness etc. It is also anti-inflammatory in nature and is useful in relieving pains. This herbs works like a magic in curing Dyshidrotic Eczema.
Ghrit Kumari (Aloe vera) (Aloe barbadensis): Aloe Vera is known to keep a lot of disorders at bay especially skin disorders. It induces cooling effect on skin. It has potent anti-oxidant properties which aid in eliminating toxins from the body. It is also rich in vitamins C and E that help in recovering the skin from the damage and calms the inflammation and rashes on the skin.
DOSAGE:- 1 2 capsules two times a day, with plain water, after meals.
Navkarshik churna is an herbal formulation in the form of powder combined with some amazing herbs that make it a beneficial product in treating Dyshidrotic Eczema.
INGREDIENTS:
Amla (Emblica officinalis)
Haritaki (Terminalia chebula)
Baheda (Terminalia bellerica)
Vacha (Acorus calamus)
Neem (Azadirachta indica)
Manjishtha (Rubia cordifolia)
Kutki (Picrorrhiza kurroa)
Giloy (Tinospora cordifolia)
Daruhaldi (Berberis aristata)
These herbs collectively work as an effective blood purifier that detoxifies the body. It is a good anti-inflammatory formulation. This herbal product brings relief from Dyshidrotic eczema along with other skin disorders.
DOSAGE:- 5 grams to 15 grams twice daily with lukewarm water.
Gandhak Rasayana are herbal capsules is a natural remedy for this skin problem. It can boosts immune system and eliminates the harmful effects of Dyshidrotic Eczema. This herbal product is relatively efficient in controlling and reducing the symptoms of Dyshidrotic Eczema like itching in skin, burning sensation of skin and inflammation of the skin. It is prepared using purified Sulphur (Shudh Gandhak).
INGREDIENTS:
Purified Sulphur (Shudh Gandhak): This is a good blood purifier that removes all the toxins from body.
DOSAGE: - 1-2 twice in a day with plain water after meals.
The pitta balance capsule is a combination having cooling compounds, natural calcium compounds that all together helps to restore the imbalanced pitta quickly and maintain healthy skin.
INGREDIENTS:
Praval pishti (coral calcium): Praval pishti is natural calcium compound that effective in boosting the immunity.
Mukta pishti (Pearl Calcium): It helps to provide relief from the burning sensation.
Giloy satv (Tinospora cordifolia) extract: Giloy is good detoxification process along with it a good.
Akik pishti (Agate calcium)
Jawar mohra pishti (Calcium compound)
Kamdudha ras (Calcium compound)
These ingredients help in improving digestion. It boosts immunity and acts as a coolant and soothes and strengthens the digestive system. When the digestive system works fine then skin disorders start getting cured also. It balances doshas. This amazing herbal formulation also helps in calming mental actions like anger, stress, frustrations. It also manages skin disorders like Dyshidrotic eczema as it occurs due to aggravated pitta.
DOSAGE: 1-2 capsules once to twice daily after meals, with plain water.
This Ayurvedic is highly medicinal and is skin friendly. It is a rich source of vitamin C that makes it anti-inflammatory and anti-biotic. It is good in healing wounds. It provides a great amount of relief from the symptoms of Dyshidrotic Eczema. It is made with standardized extracts of the following herbs:-
Til oil (Sesamum indicum)
Manjishtha (Rubia cordifolia)
Haldi (Curcuma longa)
Nirgundi (Vitex negundo)
Kalahari (Gloriosa superba)
It has anti-inflammatory properties which helps to maintain inflammatory condition.
APPLICATION: It is used for external use only. Apply on affected skin area. Leave it for 10-15 minutes and wash with lukewarm water. It is more beneficial to apply Nirgundi oil before bath to reduce swelling, pain and irritation.
Share On