Gurmar / Gymnema Sylvestre
Gurmar (Gymnema Sylvestre) Herb - Uses, Properties and Health Benefits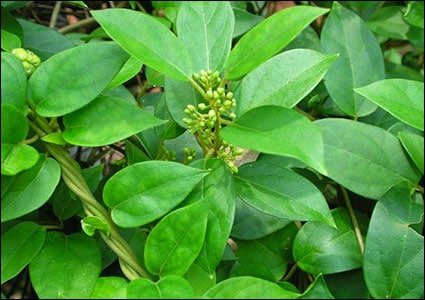 What is Gurmar?
Gurmar is also known as Meshashringi. It is a very effective herb for patients who are facing Diabetes. As per Ayurveda, this herb is known as Madhunashini due to which it regulates the sugar level in the body. The Latin name of this herb is Gymnema sylvestre. Gurmar herb is equally beneficial in Type 1 and Type 2 diabetes and also effective to manage the complications of diabetes.
Synonyms
Meshashringi – The leaves of the plant resemble the horn of Goat.
Madhunashini – The one that destroys the sweet taste.
Vishani – The one that counteracts poison.
Regional Names
Hindi Name: Gurmar, Gudmar
English Name: Cowplant, Australian Cowplant, Gymnema
Bengali Name : Medasinghi
Kannada Name : Madhunashini
Konkani Name : Kawli
Gujarathi Name : Gudamar, Kavali
Marathi Name : Bedakicha phala, Kavali
Malayalam Name : Chakkarakolli, Madhunashini
Oriya Name : Mrygosingo
Telugu Name : Vodaparthi, Podapatri
Tamil Name : Shirukurinjan
Urdu Name : Sasinga
Classification
Kingdom : Plantae
Subkingdom : Tracheobionta
Superdivision : Spermatophyta
Division : Magnoliophyta
Order : Gentianales
Class : Magnoliopsida
Family : Asclepiadaceae
Genus : Gymnema
Species : Sylvestre
Description of Gurmar Plant
Gurmar is a perennial climbing herb which is covered with weak stem and small hair. The leaves are ovate, elliptical, with size measuring 3 to 5 cm long. After chewing the leaves, it becomes hard to perceive the sweet taste at least for about 15- 20 minutes. The fruits of this herb grows in the month of January to March. The flowers of this herb are small, pale yellowish green that grows in the month of August to September and the root of this herb is about 3 cm thick.
Habitat
This climbing herb grows in tropical areas, native to Asia, Africa and Australia. But this herb is available throughout India especially in regions like Uttar Pradesh and Goa.
Chemical Composition
Gurmar herb contains various active chemical constituents like triterpenoid, gymnemic acid A, B, C, and D with sugar residues such as glucuronic acid, galacturonic acid, angelic acid, ferulic acid, several isopropylene derivatives of gymnemagenin, gymnemic acid, hexahydropterpene, choline, inositol, quercitol, etc.
Ayurvedic Properties of Gurmar Herb?


(Reference – Bhava Prakasha Nighantu // Guduchayadi Varga // Meshashringi // Shloka no. 253 - 254)
The meaning of this quotation goes as:
Hindi / Sanskrit
English
Rasa
Kashay, Tikta
Taste
Astringent, Bitter
Guna
Laghu, Rooksha
Physical Property
Light, Dry
Veerya
Ushna
Potency
Hot
Vipaka
Katu
Undergoes pungent taste conversion after digestion
Pungent
Effect On Doshas
It helps to subside Kapha and Pitta dosha in our body.
| | |
| --- | --- |
| Dosha | Effects |
| Vata | = |
| Pitta | - |
| Kapha | - |
This herb is very effective in case of Swasa-Kasa (respiratory problems), Vrana (Ulcers) and Akshi shula (Pain in eyes).
Action of Gurmar on Various Systems
Digestive system – This herb helps to accelerate the action of the Liver and also enhances the production of Insulin by stimulating the pancreas which is required in the metabolism of Glucose.
Cardiovascular system – It helps to maintain the health of the heart and regulates the blood sugar levels.
Respiratory system – It helps to eliminate accumulated mucus from the respiratory tract that is why it is very beneficial in case of ailments of the respiratory system.
Urinary System – It is diuretic in nature hence beneficial in urinary tract infections and renal problems.
Gurmar Uses and Benefits
Burning sensation: It helps to reduce generalized burning sensation in the whole body or localized ones such as burning sensation in eyes, stomach, etc.
Inflammation: It helps to reduce the swelling of internal as well as external organs such as Liver, Pancreas, Spleen and Skin.
Eyesight: It imparts good vision and alleviates the disorders of eye.
Thirst: Beneficial to reduce thirst and dryness.
Asthma: An efficient herb to treat asthma and manage problems related to the respiratory system.
Bleeding problems: It shows its tremendous results in arresting the bleeding hence beneficial to tackle all the bleeding disorders such as menorrhagia, epistaxis, piles, etc.
Wounds & Ulcers: This herb promotes early healing of ulcers and wounds.
Heart problems: Due to its Kapha Vata Shamak properties it is beneficial to lower down the cholesterol level.
Skin Problems: In case of psoriasis and chronic dermatitis this herb effectively handles the skin problems and also useful in keloids and papules.
Diabetes: As already described this medicine is a boon for diabetic patients
Snake bite: Gurmar herb root can be taken orally in a snake bite.
Part Used
Gurmar Leaves
Gurmar Roots
Dosage
Gurmar leaves powder: 3 to 6 gms with plain water.
Gurmar root decoction: 40 to 80 ml once or twice daily.
Easy ways to utilize Gurmar at Home
The leaves can be chewed on daily basis or 1 to 2 gms of powder with cow's milk or honey is beneficial in diabetes, prefer it on empty stomach.
In case of extreme cough, you can consume the decoction of bark roots by boiling in water. It helps to eliminate accumulated mucus from the respiratory tract.
On swelling, you can apply the paste of Gurmar leaves.
In case of snake poisoning you can give the decoction of Gurmar roots it will induce vomiting. Even the root paste of this herb can be applied directly on wounds of snake bite.
Take fresh juice of Gurmar herb 20-30 ml once or twice daily for maintaining liver health, improving appetite and also beneficial in obesity.
Caution to Be Taken
As Gurmar herb has hypoglycemic action on body, so diabetic patients should use this medicine under the guidance of a medical supervisor because overdose of this herb may lead to hypoglycemia.
Planet Ayurveda's Products of this Products
Fenugym Capsules
Dia- Beta Plus
Diableen Capsules
Gurmar Powder
Share On