Hadjod / Cissus Quadrangularis
Hadjod (Cissus Quadrangularis) - Uses, Health Benefits and Medicinal Properties
Hadjod Plant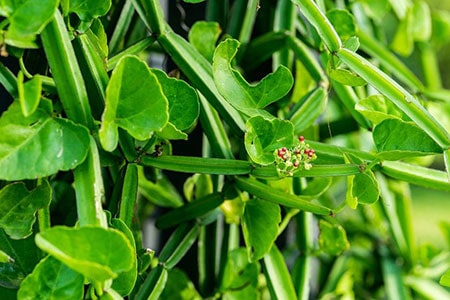 Cissus quadrangularis is commonly known as Hadjod is a perennial plant of the family Vitaceae. It is called as Adamant creeper, Square stalked vine, veldt grape, devil's backbone, adamant creeper, asthisamharaka, hadjod and pirandai, Sannalam, Nalleru,Vajravelli, Mangara valli. Hadjod plant is native to India, Bangladesh and Sri Lanka. It is also found in Africa and Southeast Asia. It is being imported to Brazil and the southern United States for its uses.
Cissus quadrangularis Plant reaches a height of 1.5 m and has quadrangular-sectioned branches with internodes of about 8 to 10 cm long and 1.2 to 1.5 cm wide. Along each angle is a Leathery edge. The Toothed trilobe leaves 2 to 5 cm wide appear at the nodes. Every Hadjod leaf has a tendril emerging from the opposite side of the node. Racemes of small white, or greenish flowers, globular berries that Hadjod plant bear is red when ripe.
Hadjod (Cissus Quadrangularis) Ayurvedic View
Cissus quadrangularis is a succulent herb which belongs to a family, Vitaceae. It is fleshy, cactus in nature. It is also called as Vitis quadrangularis, Lycopodium imbricatum or Heliotropium indicum. Commonly also called as a HADJOD. In Ayurveda, it is used as Pachan dravya (digestive aid), Sara (relieves constipation), Athiyuk (strengthening bones), Vrushya (Aphrodisiac), etc. In Unani medicines, it is used to treat gastritis. The whole Hadjod plant is used in the treatment of asthma, powdered Hadjod root is specifically used in the treatment of bone fractures and bone related ailments. The dose of the Hadjod powder is 30-40 Leaves and young shoots are frequently taken with curry in Southern India and give a nice flavor.
In Chennai, its young shoots of the Hadjod plant are dried, powdered, burnt to ashes in a closed vessel. These ashes of this plant are administered in dyspepsia, indigestion and certain bowel complaints. Hadjod Leaves and young shoots are also considered as powerful alternatives in the gastrointestinal treatments. Juice of Hadjod stems is dropped into the ear in otorrhoea and into the nose in epistaxis. Hadjod plant has many therapeutic uses.
Hadjod Synonyms
Vitis quadrangularis, Hadjod, Hadsankal, Harjora, Nalleru, Vajravalli, Kandvel, Hadavhanga, Piranti, Vedhari, Horjora, Harbhanga Vernacular names
English : Edible stemmed vine, Adamant creeper, Bone setter
Hindi : Hadjod, Hadjora, Hadsarihari, Harsankari, Kandvel
Bengali : Har, Harbhanga, Hasjora, Horjora
Gujarati : Chodhari, Hadsand, Hadsankal, Vedhari
Kanada : Mangarahalli
Malyalam : Cannalamparanta, Peranta
Marathi : Horjora, Harsankar, Kandavel, Nalllar
Tamil : Piranti, Vajjravalli
Telugu : Nalleru, Nelleratiga, Vajravalli
Oriya : Hadavhanga
Urdu : Harjora, Hadsankal
Taxonomy of Cissus Quadrangularis
Kingdom: Plantae
Subkingdom: Tracheobionta
Super division: spermatophyta
Division: Magnoliophyta
Class: Magnoliopsida
Subclass: Rosidae
Order: Vitales
Family: Vitaceae
Genus: Cissus
Species: Quadrangularis
Cissus Quadrangularis or Bone Setter is called as Asthisamharaka (saves the bones from their destruction) in Sanskrit. It is have sweet and pungent in taste (Rasa), pungent after digestion (Vipaka), and is hot in effect (Virya).
Rasa (taste): Katu (Pungent), Madhura (Sweet)
Guna (Action): Laghu (Light), Ruksha (Dry), Sara (Unstable)
Virya(potency): Ushna (Heating)
Vipaka (end taste): Katu (Pungent)
Dosha Effect: Vatahara, Kaphahara
Hadjod gives strength to bones and joints and supports healing fractures.
Important Hadjod Medicinal Properties / Biomedical Action
Hadjod is rich in medicinal properties. Understanding of its properties will help us to better utilize this herb for medicinal purpose.
Below is given medicinal properties along with the meaning of this herb.
Analgesic: Acting to relieve pain and act as a pain killer.
Anti-Inflammatory: Controls inflammation by acting on body mechanisms.
Anti-Osteoporotic: Counters osteoporosis, the whole plant possesses ant osteoporotic activity and shows effective effects
Antioxidant: It exhibits strong antioxidant and free radical scavenging activity.
Anti-Ulcer: It has significant antiulcer activity by decreasing gastric secretions and by enhancing glycoprotein levels.
Bone Healing: Due to its rich content of calcium, phosphorous and phytoestrogen steroids it is shown to influence early regeneration and quick mineralization of bone fracture healing process.
Central Nervous System Activity: its root extract possesses central nervous system depressant activity.
Central Nervous System Activity: The root extract possesses central nervous system depressant activity and helps in curing depression
Hadjod (Cissus Quadrangularis) Uses and Health Benefits
Strengthens the bones.
Hastens the fracture healing.
Reduces swelling.
Reduces fracture pain.
Used both internally and externally.
Its paste is applied topically on fracture for better healing. The paste of herb on local
Where it is applied to the fractured area, it shows a reduction in total healing time of fracture.
It also helps in reducing pain, swelling, and fracture mobility and accelerate the healing of fracture jaw bones and shows very good results.
 
Its stem is useful in the treatment of piles and its juice is used to treat bleeding of the nose.
It helps in accumulation and precipitation of calcium from blood for bone recovery.
The other beneficial medicinal uses of Hadjod include treating asthma, digestive disorders, indigestion, skin diseases and irregular menstruation. It is also very useful in obesity management and complications of metabolic disorders. Hadjod or Cissus quadrangularis has very potent fracture healing property. It has very good antimicrobial, antiulcer, antioxidant, anti-osteoporotic, gastro-protective, cholinergic activity.
At planet Ayurveda we have bone support capsules which contain Hadjod extract. These capsules show very good role in bone health.
Share On