Haritaki / Harad / Terminalia chebula
Haritaki / Harad (Terminalia chebula) - Properties, Benefits, Parts used & Dosage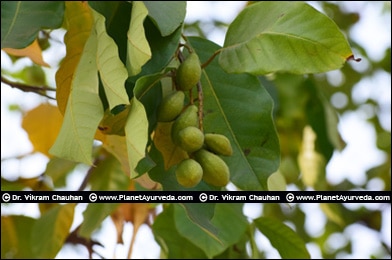 What is Haritaki?
Haritaki is a marvelous herb with versatile effects. This herb is popular as a rejuvenating herb.  It possesses many medicinal properties such as antipyretic, aphrodisiac, antihelminthic and cardiac tonic. It also acts as a carminative, purgative and shows effective results in digestive problems.
It belongs to the family Combretaceae. It is also commonly known as Harad.
Haritaki Synonyms


(Bhavaprakasa//chapter-Haritakyadivarga //shloka no.6-7)
The synonyms of Haritakiare Abhya, Pathya, Kayastha, Putna, Amrita, Haimvati, Avyatha, Chetki, Sreyasi, Shiva, Vayastha, Vijiya, Jivanti and Rohini.
Regional Names of Haritaki
English  - Indian walnut, Indian hog plum
Hindi - Harad
Telugu  - Karakkaya
Tamil  - Kadukkai
Gujarati  - Harade, Hardi, Harara
Arabian  - Haleelaz
Farsi  - Hallel
Assam  - Shilikha
Kannada  - Arale, Alale
Konkani  - Ordo, Hardi
Malayalam  - Kadukka
Marathi  - Hirda
Persian- Halela
Classification of Haritaki
Kingdom - Plantae
Subkingdom - Tracheobionta
Superdivision - Spermatophyta
Division - Magnoliophyta
Class - Magnoliopsida
Subclass - Rosids
Order - Myrtales
Family - Combretaceae
Genus - Terminalia L.
Species - T. chebula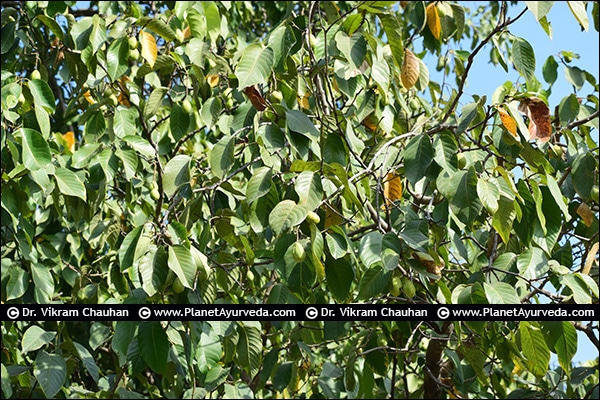 Description of Haritaki plant
Haritaki tree is 50-80 feet in height. Barks are dark brown and have cuts on them. Leaves are ovate, 3-8 inch long and 2-4 inch wide and have 5-8 veins. Flowers are small, yellowish-white and grow in a cluster.  Fruits are oval, 1-2 inch long, hard and have prominent lines. The fruits are green when unripe and become yellowish-brown on ripening. Each fruit contains one seed in it. The leaves are shed off in months of February and March. Flowers appear in April and May and fruits start to grow in the winter season. The ripen fruit is collected from January to April.
Habitat of Haritaki
It is found in India, especially in the lower Himalayas, from Ravi to East-West Bengal and Assam up to an altitude of 5000 feet.
Chemical Composition of Haritaki
The fruits contain tannins such as Chebulinic acid, Chebulinic acid, corilagin.it also contain 18 amino acid, and little amount of phosphorus, succinic, quinic acid and Shikimik acids.  In ripening fruit the number of tannin decreases and acidic level increases. The volatile oils are present in the kernel of seeds.
Categorized as per Classical
Charak Samhita
Sushrut Samhita

Jwarghna - Herb helpful in fever
Kasaghna - Herb helpful in cough, cold and breathlessness
Virechnopaga - Herb help to induce purgation.
Kusthghana - Herb is helpful in skin disorders.
Vayasthapana - Anti-ageing

Amalakyadi, Parushkadi, Triphala
Ayurvedic Properties of Haritaki


(Bhavaprakasa//chapter-Haritakyadivarga //shloka no.11)
Hindi / Sanskrit
English
Rasa
Katu, Tikta, Kashay, Madhur, Amal
Taste
Pungent, Bitter, Astringent, Sweet, Sour
Guna
Laghu, Ruksha
Physical Property
Light, Dry
Virya
Ushna
Potency
Hot
Vipaka
Madhur
Metabolic Property
(After Digestion)
Sweet
Haritaki Effect on Doshas
It subsides all tridosha: Vata, Pitta and Kapha.
| | |
| --- | --- |
| Dosha | Effects |
| Vata | - |
| Pitta | - |
| Kapha | - |
Action of Haritaki on Various Systems
Nervine tonic: It helps to strengthen the nervous system.
Effects on Digestion: It boosts up the digestive fire, acts as an appetizer, carminative, antihelminthic, and mild purgative.
Cardiac tonic: Due to Madhur Vipak, it helps to strengthen the cardiac muscles and support the healthy functioning of the cardiovascular system. It also acts as anti-edematous.
Aphrodisiac: Due to the presence of this property, it helps to maintain the healthy functioning of the reproductive system and also cleans the uterine cavities.
Diuretics: It increases the flow of urine.
Antiphlegmetic: It helps to reduce the cough and promote a healthy respiratory system functioning.
Effect On skin: It is helpful in all skin diseases.
Antipyretic: It is helpful to reduce fever.
Haritaki Uses and Benefits
It can be used in various forms like decoction, powder and paste. It can be used for external as well as internal purposes.
External use:
A decoction of Haritaki can be used to wash wounds.
The decoction is also used as a gargle to clean mouth and throat.
Washing piles with Haritaki decoction helps to control bleeding.
The paste of Haritaki applied on boils will heal fast the boils and reduce the burning sensation.
Internal use:
Haritaki powder is given to improve the digestion and also in the case of vomiting.
The decoction and powder of Haritaki are given to reduce fever.
The powder of Haritaki can be used as a teeth powder, it provides strength to the gums.
It acts as an expectorant and given in case of respiratory disorders like cough, rhinitis, and dyspnea.
Its decoction is helpful in swelling and edema.
It acts as an immune booster and given in the case of decreased immunity.
It is a diuretic and useful in Dysuria, calculus.
Part Used of Haritaki
The parts of the Haritaki used in the formation of medicine are –
Dosage of Haritaki
3-6 grams
Easy ways to utilize Haritaki at Home
It can be used at home in many ways as follows:-
You can chew the bark of Haritaki in case of Indigestion.
In the case of vomiting, you can take Haritaki powder by mixing it with honey.
You can take 2-5 grams of Haritaki every day as it will help to release phlegm and prove to be effective in severe cough.
To prepare the decoction, take Haritaki, green cardamom, raisins, and Malabar nuts leaves. Also, add sugar or honey to it. Take it in small amounts after an interval of a few minutes. It helps to reduce cough and helps in bronchial asthma and bronchitis.
Take 3-6 grams of Haritaki powder and add sugar in equal quantity, mix it properly and take it twice a day after meals. It helps to boost up the digestive power.
Take 2-5 grams of its powder and mix it with one teaspoon of honey, take it twice daily in the case of urinary diseases and this is also helpful in fever.
Take equal quantity of Haritaki and ginger root powder and consume 1.5 grams of it to improve the digestion. Or you can take the mixture of 2 grams of Haritaki, 1 gram of ginger root and jaggery to get relief from indigestion.
This herb is an aphrodisiac. Take 5 grams of Haritaki, 1 gram of rock salt and cook them in castor oil and 50 ml cow's urine. Cook this mixture until only oil remains. Sieve this oil and take it with warm water in case of low semen production. It improves semen production.
In case of low immunity, prepare a decoction of Haritaki, aniseed, pomegranate fruit feel, babul bark, and Indian gooseberry. Take 20-30 ml of this twice a day. It will boost up the immunity. .
Caution to Be Taken
The use of Haritaki is contraindicated in the patients who are thin, dry, malnourished, having acute fever, and Pitta and Vata type body. It is also contraindicated in pregnancy and lactating mother. It is advisable to take Haritaki after medical guidance only.
Ayurvedic Classical formulation of Haritaki
Abhayadi modak
Abhayarishta
Pathyadivati
Pathyadikadha
Vyaghriharitaki leha
Agastiharitaki leha
Gandharvaharitaki churna
Planet Ayurveda's Products which Contain Harad as an Ingredient
This formulation contains a natural herb known as Haritaki or Harad (Terminalia chebula). Haritaki churna is effective in constipation and elimination of toxins from the intestines. It helps to maintain the healthy functioning of the digestive and immune system. It is also useful in the healing of wounds and scalds. Haritaki helps to balance the three doshas Vata, Pitta, and Kapha dosha in the body. It possesses various therapeutic properties like astringent, purgative, rejuvenative tonic, laxative, expectorant, anthelmintic properties.
Dosage: 1/2 to 1 teaspoonful two times a day with plain water after the meals.
Vara Churna is prepared by the combination of most popular Ayurvedic herbs Haritaki (Terminalia chebula), Bibhitaki (Terminalia bellerica) and Amalaki (Emblica officinalis). It is the best herbal remedy for constipation and cleansing of the colon. These herbs in combination are very useful in eliminating toxins from the body. Vara Churna is effective in the treatment of vision problems, migraine, acidity, high cholesterol, general weakness, and obesity.
Dosage: 2-3 grams of this powder should be mixed with warm water and consumed in the evening time.
Triphala capsule is a unique natural formulation by Planet Ayurveda which contains standardized extract of herbs Haritaki (Terminalia chebula), Bibhitaki (Terminalia bellerica) and Amalaki (Emblica officinalis). Triphala is the best remedy for constipation and natural colon cleansing as it alleviates both Vata and Pitta dosha in the body. It is also very effective in visual problems, digestive disorders, skin disorders, and acts as a cardiac tonic, pain reliever, decongestant, and blood purifier.
Dosage: 1-2 capsules twice daily with plain water after meals.
Reference
Bhavprakash Nighantu by Prof. Krishna chandra Chunekar; 2018 edition; Chapter -1- Haritakyadi Varga; Page no- 3-9.
Dravyaguna Vijnana; volume-2; By Prof.P.V.Sharma; page no.753-758.
Ayurvedic Pharmacology and Therapeutic uses of medicinal plants; Dravyaguna Vigyan by Vd.V.M.Gogte; page no.515-519.
Share On