Home Remedies for Gout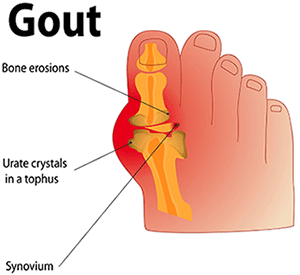 Gout is a complex form of arthritis, which is characterized by pain, inflammation, tenderness and stiffened joints. It affects various body parts, which include joints on wrists, hands, knees and ankles. This situation is caused due to the accumulation of a large quantity of uric acid in the body. Other possible reasons of gout are too much intake of alcohol and proteins and lack of exercises and physical activities. Heredity and a high level of stress are the two other important factors, which lead to the occurrence of the disoarder, gout.
This disorder is also related to several complications like diabetes, hypertension, renal stones and other problems.
Effective home remedies for gout
The major home remedies, which provide relief from the pain, inflammatory disorder are the following:
1. Apple Cider Vinegar
Apple cider vinegar has several medicinal properties like anti-inflammatory, anti-stress, anti-microbial, anti-biotic and many more.
This provides relief from the acute pain and inflammatory condition.
Add some amount of honey to the apple cider vinegar and enhance the response of the body to this situation effectively.
Add one tsp of apple cider vinegar to a glass of water.
Drink the mixture thrice regularly.
2. Ginger
Ginger has anti-inflammatory, anti-stress, anti-bacterial, anti-viral and anti-microbial properties.
It is a superb Ayurvedic herb, which is used to treat the various complications easily.
This herb also helps in getting relief from the pain and inflammation to a huge extent.
You can consume ginger as raw pieces or can add in the daily diet.
But, consuming it regularly is essential. It is a superb home remedy for gout.
3. Lemon
Another effective home remedy for gout is lemon.
It provides an alkaline medium to the body, which has a neutralizing effect to the excess quantity of uric acid in the blood.
Also, lemon contains Vitamin C, which strengthens the body tissues to a huge extent.
Simply add lemon juice to a glass of water and consume it thrice daily.
You can also add one fourth tsp black pepper powder for better results.
4. Baking Soda
Baking soda lowers the level of uric acid in the body, which is the major cause of gout.
It plays a huge role in providing relief from the pain and inflammation.
Take a half tsp of baking soda in water and drink the solution daily for at least 15 days.
However, do not use this remedy, if you are suffering from hypertension.
These home remedies are very beneficial for treating gout !!
Share On