How to Treat Influenza with Home Remedies?
1. Honey
Honey is the best immune booster and also helps to reduce the symptom of common flu. The common flue is an infectious viral disorder that mainly affects the upper respiratory track of the body including the lungs, throat, and nose. The most common symptoms of Influenza are a runny nose, sore throat, headache, dry cough, and high fever. The antioxidant properties of honey protect cells from free radical damage and fights against inflammation. It has also antibacterial and antimicrobial properties which can speed up the healing process.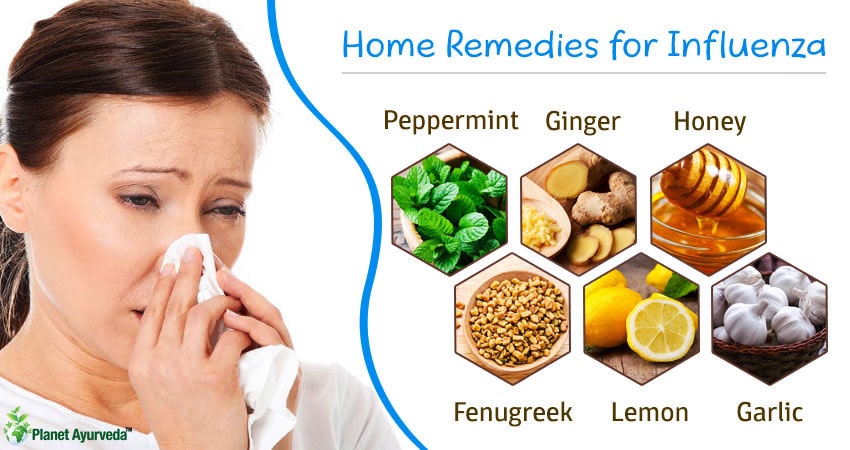 You can simply take one tablespoon of honey with Luke warm water 2-3 times a day.
Mix one tablespoon of honey with warm water and you can also add lemon juice to it. This drink helps to promote mucus flow and soothe your body. Drink it 3 times a day.
You can also mix one tablespoon of honey with onion juice. You can have this 2-3 times a day until flu is gone.
Mix 1 tablespoon of honey with holy basil juice extract. Take this mixture once a day.
2. Ginger
Ginger has been one of the most popular natural home remedies for influenza and also for many health problems such as cold, fever, and asthma. The warming nature and anti-inflammatory property of Ginger helps to overcome the various symptoms of Influenza. Gingerol is the active compound of Ginger, which promotes healing and reduces headache problem due to Influenza. It has a very good effect on respiratory tract infection, cough, bronchitis, and sore throats. Ginger tea provides relief from throat pain. This herb contains two main phytochemical such as Gingerol and Shagols which has antiprostaglandin, analgesic, hepatoprotective, and antipyretic properties. Along with all these properties, Ginger helps to boost your immune system to protect your body from viruses which causes the Influenza infection.
Add a half teaspoon of grated Ginger to one cup of boiling water for 5-10 minutes.
Leave it for 10 minutes to cool down, strain and add one tablespoon of honey to it.
Drink this 2-3 times a day.
You can also directly eat grate fresh Ginger several times a day.
Mix one tablespoon of grated Ginger, bayberry bark, and powdered cayenne in one cup of boiling water. Drink this 2-4 times a day.
3. Garlic
Garlic has been used in Ayurveda from many years. It reduces all the respiratory problems. The antioxidant property of Garlic neutralizes the free radical attack and protects smooth muscles from contractions. Garlic has antibacterial, antifungal, antiviral and antiseptic properties, all these properties help to overcome the symptoms such as cold, fever, cough and headache. The main immune boosting component of Garlic is Allicin, which provides immunity against foreign particles. According to the Ayurvedic point of view, Garlic is pungent, astringent in taste, hot in potency, and undergoes pungent taste after digestion. It balances the Kapha and Vata Dosha.
Crush a 2-3 clove of Garlic and put them in boiling water for 5 minutes. Strain and leave it for 10 minutes to cool down. Drink it like tea for a 2-3 time a day.
You can also chew one or two Garlic clove with water 2-3 times a day.
4. Fenugreek
Fenugreek is also one of the natural home remedy for the treatment of Influenza, due to its antibacterial, and strong antiviral properties. In Hindi, it is known as Methi. The chemical constituents of Methi are diosgenin, gitogenin, testosides, choline, gitogenin, and neotigogens etc. The Fenugreek is rich in vitamins such as vitamin A, C, K, folic acid, riboflavin, niacin, thiamin, vitamin B6 and minerals such as iron, manganese, magnesium, calcium, copper, and potassium. There are several other medicinal properties of Methi seeds.
Boil one tablespoon of Methi seeds in one cup of water for 10 minutes, strain the solution and then add a few drops of honey and ginger juice to it. Drink this for few days until to get relief from Influenza.
You can also soak one tablespoon of Methi seeds overnight, in the morning strain out the solution and warm up the liquid. Gargle with this warm solution, and it will help to soothe your sore throat.
5. Peppermint
Peppermint is the best herb which provides relief from headache during Influenza. There are some phytochemicals present is Peppermint which has very good properties and provide relief from cough and sore throat. Along with this Peppermint, also have anti-inflammatory and analgesic effect which reduces the swelling in the throat. Peppermint contains compounds such as menthol and menthone which act as an expectorant and relieves your body from congestion and calming the other symptoms of Influenza.
Chop the fresh leaves of Peppermint and boil them in one cup of water for 10 minutes, strain and then add few drops of honey to it. Drink this, 2-3 times a day for instant recovery.
You can also add Peppermint leaves in your salad or soup.
6. Lemon
Lemon is the very good source of vitamin C along with this it has antifungal, antiviral, anti-inflammatory and antibacterial properties. All these properties work together and reduce the symptom of Influenza virus. Lemon juice helps to keep your body hydrated. Black tea helps to soothe a sore throat and you can add lemon and honey to it due to its antioxidant properties.
Add 1-2 tablespoons of Lemon juice in one cup of hot water. Drink it 2-3 time a day.
Add one tablespoon of honey and lemon into one cup of hot water and drink this 2-3 time a day.
All the home remedies, which are mentioned above are very effective for Influenza flu. Along with these home remedies, you can also try Mustard, Oranges and take steam because it's an effective method for thinning mucus and making it easy to flush out from your body.
Share On