How to Treat Ulcerative Colitis with Diet?
1. Coconut Water and Buttermilk
Coconut water has many healing properties and it is commonly given to all patients suffering from different diseases. All the properties of Coconut water help to boost your body and provide energy to the body. All kind of digestive disorders can be cured by Coconut water. Due to its antioxidant effect, it helps to reduce the swelling of colon and rectum along with this it also soothes the mucous membrane of the colon and rectum. Buttermilk has also the same function as Coconut water but it also promotes the healthy bacteria in the gut which helps our digestive system for proper digestion.
Drink 1-2 glass of Coconut water two times a day.
Drink 3 glasses of fresh Buttermilk daily. Avoid addition of any salt to it.
For better result add these drinks to your diet daily for one month.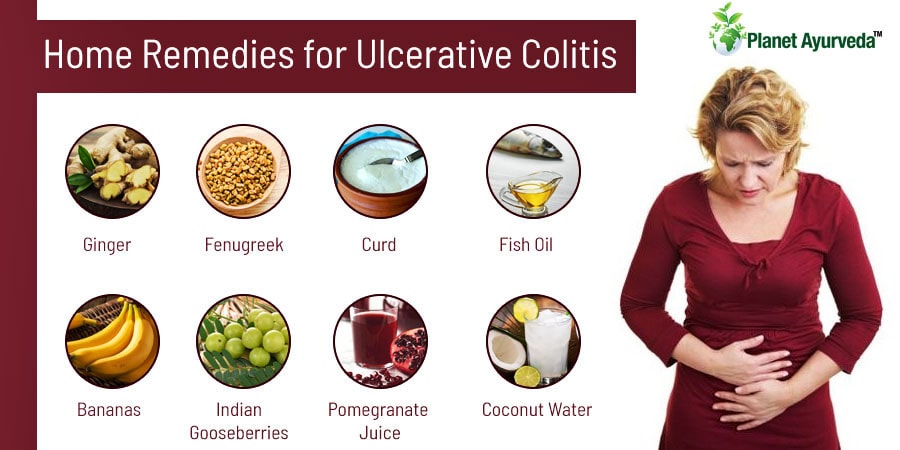 2. Ginger
The antioxidant and anti-inflammatory properties of Ginger prevent the symptoms of Ulcerative Colitis. Gingerol is the main active anti-inflammatory compound in the ginger which helps to reduce the inflammation of rectum and colon in the intestine. According to the Ayurvedic point of view the medicinal properties of Ginger: pungent in taste, heavy, dry, strong, and piercing in taste, after digestion sweet in taste, hot in potency and helps to balance the Kapha dosha in our body. It is very good for our digestive tract.
Put some amount of grated Ginger in 1 cup of boiling water.
Let it simmer for 10 minutes, strain, and add some lemon juice and honey to it.
Drink this tea 2-3 times in a week for some time. You will definitely see some improvements.
3. Pomegranate Juice
Pomegranate juice also reduce the inflammation in the intestine due to Ulcerative Colitis. Fresh juice of Pomegranate helps to cleanse and clarifies oral cavity, throat, and stomach. It has an astringent taste which helps to provide relief from IBS, Diarrhoea and Ulcerative Colitis. Pomegranate juice also contains antioxidant and anti-inflammatory properties which protect the body from oxidative damage and reduce swelling in the colon and rectum.
Make a fresh glass of  Pomegranate juice and drink it in the early morning before your meal.
Do this for one month continuously.
4. Fenugreek Leaves and Seeds
It is also known as Methi, and reduces the symptoms of Ulcerative Colitis. Fenugreek, forms the protective covering on the digestive tract and also decrees the inflammation of the intestine. It is a rich source of vitamin A and C, minerals such as iron, calcium and some protein also. Fenugreek contains phytochemical components and essential nutrients such as chlorine trigonelline, and yamogenin. Medicinal properties: light to digest and oily in quality, pungent and bitter in taste, hot in potency and balance the Kapha.
Soak 1-2 tablespoon of Fenugreek seeds overnight.
Drink the water the next morning and also eat the soaked seeds.
You can also add Methi leaves in your diet as a food.
5. Indian Gooseberries
Amla is the best remedy for a cough, ulcers, and constipation. In Ayurveda, it is believed that Amla can help to balance all three doshas, Kapha, Pitta, and Vata. Here are some medicinal properties of amla. It is sour, sweet, bitter, astringent and pungent in taste, hot in potency. Fresh and raw juice of Amla is sweetish in nature and it reduces the burning sensation in the stomach.
Take 4-5 Amla, cut them into small pieces and add them in a juicer.
Add some water in the juicer, strain and put into the glass.
Drink this juice empty stomach in the morning.
After taking this avoid coffee and tea for at least 30 minutes.
6. Curd
Curd is very effective during Ulcerative Colitis because it contains live bacteria that may help the digestive system to cure ulcerative colitis symptoms along with all these properties it is very easy to digest. Curd is also very beneficial for upset stomach, indigestion, and bloating. It works as an energy booster and also contains antioxidant property. Curd improves the immunity of the body and improves the absorption of vitamins, minerals in the body.
Eat one bowl of Curd in the morning daily with your breakfast.
Make this your daily habit for a few months and notice the improvement in Ulcerative Colitis.
7. Fish Oil
Fish oil is the rich source of Omega-3 fatty acid, and it has very good anti-inflammatory properties which help to reduce the inflation in the intestine due to Ulcerative Colitis. Omega-3 fatty acids are polyunsaturated acids that can also help to reduce the symptom of ulcerative colitis. Along with fish oil, you can also add fish to your diet.
Start taking one gram of Fish Oil daily
This will helps you to reduce the symptom of ulcerative colitis.
8. Bananas
Bananas are a good source of carbohydrates and it is a rich source of potassium. They are very soft and often well tolerated by the digestive system. It cures the stomach inflammation and other digestive issues. Bananas are loaded with both soluble and non-soluble fibers.
Add one ripe Banana in your morning diet.
You can also make Banana shake this will also help to soothe your intestine.
The diet provided above is very effective during Ulcerative Colitis. It helps to reduce the inflammation and other symptoms of Ulcerative Colitis. You should try all these and finally, you will see good results.
Share On