Home Remedies for Nephritis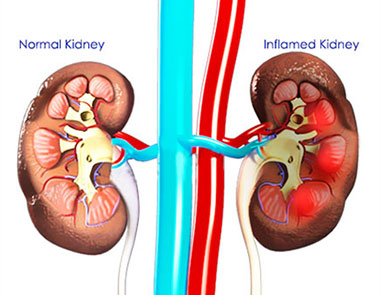 Kidney is one of the most important organs of our body. And Nephritis is a major and serious complication of the kidneys. Nephritis is characterized by general inflammation of both or one of the kidneys. Nephritis can be classified into chronic and acute. There are many different types of classifications of nephritis as well. These are Glomerulonephritis, Lupus nephritis, Pyelonephritis and Interstitial Nephritis. Chronic nephritis is such that it may not show any symptoms for approximately 30 years. However, the major symptoms of nephritis include the following.
Symptoms of Nephritis
Blood in the urine
Lethargy
Loin pain
Sleeping problem
Headache
Protein in urine
Edema or swelling
Weight loss
Frequent urination
The major cause of nephritis is the allergy caused due to the exposure of the drugs. Certain bacteria and virus may also give rise to this complicated problem. High blood pressure and diabetes are some of the important causes of nephritis.
SOME EFFECTIVE HOME REMEDIES FOR NEPHRITIS
1. CARROT JUICE
Make a mixture of carrot juice, 1 tsp of honey and some fresh lime juice. Drink this mixture right in the morning. This is an effective home remedy for treating nephritis.
2. GRAPES
Grapes contain little amount of sodium chloride and albumin. This makes it highly effective for treating nephritis.
3. AVOCADOS
Avocados do not contain a lot of proteins. Instead, they contain lots of minerals, which are required for the treatment of nephritis.
4. COCONUT WATER
Coconut water has diuretic property. Drink the water of one coconut two times on a daily basis. This is highly effective for nephritis.
5. PROPER FRUIT DIET
It is advised to follow a proper diet comprising the various fruits including peaches, pineapples, oranges, apples, pears, grapes and peaches. This diet is simply superb for nephritis.
TIPS
Drink plenty of water
Avoid meat, junk food
Stay away from foods containing oxalates like chocolate, spinach.
Get rid of fried foods completely at least till you recover.
Get rid of alcohol and tobacco.
Carry out exercises regularly.
Share On