Home Remedies for Wart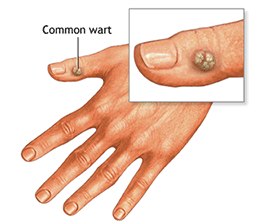 Wart takes place when the HPV (human papillomavirus) gets into the cut of the skin. The warts, at times develop in clusters. And, they develop individually as well. They also appear as the pale growth of the skin on a rough surface. The tiny blood capillaries appear to be dark spots. These grow to the center of the warts.
To treat such a situation, there are several effective home remedies. These home remedies help to get away with the condition easily.
EFFECTIVE HOME REMEDIES FOR WARTS
1. GARLIC
Garlic has many medicinal properties.
It has antiseptic, anti-biotic, anti-allergic and anti-inflammatory properties.
Take crushed garlic and rub them on the warts.
Or, eat fresh cloves of garlic.  This is extremely effective in treating warts effectively.
2. BAKING POWDER
Mix some amount of baking powder and castor oil together to form a paste.
Apply it on the wart and keep it overnight.
Remove it next morning.
Repeat the process as required.
This helps to wash off the wart affected part of the body easily.
This is helpful in treating warts.
3. CARROTS
Carrot is rich in essential nutrients. Grate a few pieces of carrots and mix with olive oil to form a paste. Apply the paste two times on the warts. Keep it for 30 minutes. Then, remove it off. This helps in treating warts effectively.
4. LEMON JUICE AND ONION
The combination of lemon juice and onion is very helpful to treat warts easily.
Apply some amount of lemon juice on the warts.
Cover them with pieces of onion for about half an hour.
Repeat the process once daily for about three to four weeks. You will definitely get effective results.
5. ALOE VERA
This is yet another important home remedy to treat warts.
The gel from the aloe vera stem or the juice from the aloe vera leaves is extremely effective in treating warts.
Apply it on the affected area with a cotton ball.
Cover with a bandage.
Carry out this process on a daily basis till the wart is gone.
Besides, whole breads, rice, sunflower seeds, sweet potatoes, broccoli, oranges are some other important food items, which help to treat warts effectively. Follow these home remedies and lead a healthy life.
Share On