Kalmegh / Creat / Andrographis paniculata
Kalmegh / Creat / Andrographis paniculata - Classification, Ayurvedic Properties and Dosage
Description
While Ayurveda educates us with many primarily simple ways to build an immune system that is strong, life happens to everyone (as do travel plans, holiday parties, at the end of another year...which is quickly approaching!). Basic self-care may have fallen by the wayside, and that is when Ayurvedic herbs can help. Lifestyle and dietary changes affect the health of the Liver and for protecting the Liver we have a herb named Kalmegh (Andrographis paniculata). This herb is known for its liver protecting properties, immune boosting properties, anti-oxidant, anti-inflammatory and various other which we will discuss further along with its whole description.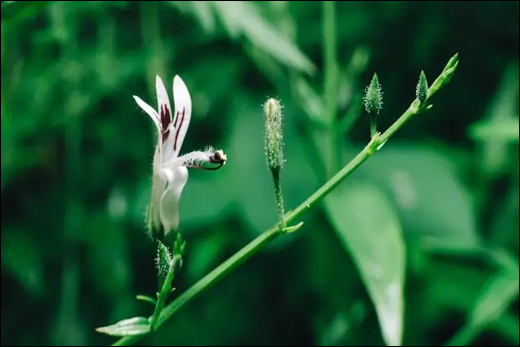 Systemic Classification
Botanical Name - Andrographis paniculata
Family - Acanthaceae
Genus - Andrographis
Species - A.paniculata
Synonyms
Bhunimb
Yavatikta
Yavakharaphala
Kalpanath
Shankini
Mahatikta
Other Vernacular Names
In Hindi - Kalmegh
In Gujarati - Kariyatu
In Bengali - Kalamegh
In Tamil - Nelavemu
In Kannada - Nelabevu
In Urdu - Bhooinimo
In English - Creat
Habitat
The species is found in tropical Asian countries, typically in isolated patches. It can be found in a wide range of habitats including hillsides, plains and coastlines as well as cultivated and disturbed areas like farms and roadsides. A. paniculata native populations are found throughout Sri Lanka and South India, which may be the species' centre of diversity and origin. The herb has been introduced to northern India, Malaysia, Java, Indonesia and other parts of the Americas. The species is also found in Hong Kong, Philippines, Thailand, Singapore, Brunei and other Asian countries where it is either native or not.
Morphology
The plant grows in moist and shady areas as an erect herb to a height of 30-110 cm. The thin, dark green stem has a square cross-section with the longitudinal cuts and wings across the angles. The hairless blades of the lance-shaped leaves measure up to 8 cm long by 2.5 cm. Pink solitary flowers are placed in lax propagating racemes or spikes. The fruit is in the form of a capsule that measures about 2 cm in length and a few millimetres in width. It has a lot of yellow-brown seeds which are rugose, Subquadrate and glabrous seeds. The flowering season lasts from September to December.
Ayurvedic Properties
Rasa (Taste) - Tikta (Bitter)
Guna (Quality) - Laghu (light) and Ruksha (Dry)
Veerya (Potency) - Ushna (hot)
Vipaka (Post Digestive Effect) - Katu (Pungent)
Karma (Action) - Kapha Pitta Hara (Reduces Kapha and Pitta Dosha), Deepana (Induce digestive fire), Yakrituttejaka (Stimulate Liver Functions), Pittasaarak (Eliminates excessive Pitta from the body), Rechana (Induce Purgation), Krimighana (Useful in Worm Infestation), Raktashodhak (Purifies blood), Shothahara (Reduces Swelling), Sweda janan (Induces Sweating), Kushthaghan (Deals with skin problems), Jwara Ghana (Reduces temperature), Katu paushtik (Bitter but nourishing).
Practical Uses/Benefits
Kalmegh is known as "King of Bitters" and "Green Chiretta". It has a bitter taste and is used for a variety of medicinal purposes let's discuss below:
Due to its bitterness this herb is really effective in relieving Liver diseases such as jaundice, Fatty Liver, Cirrhosis, Ascites, etc.
Paste of Kalmegh along with honey is effective in reducing nausea and vomiting.
40-50 ml cold infusion of Kalmegh helps in purification of blood.
Paste of plants helps in dealing with various kinds of Skin Diseases such as Eczema, Psoriasis, Acute Dermatitis and various others.
20-30 ml decoction of this herb is helpful in reducing Fever, increases immunity and helps in dealing with infections such as cold, cough, flu, etc.
Take Kalmegh Powder 1 tsp twice daily for regulating blood sugar levels in Diabetic Patients.
Kalmegh Swaras is also effective in promoting Kidney health on regular intake.
Chemical Composition
Whole Plant Contains: Andrographolide, 11-oxo andrographolide, 14-deoxy, , 14-deoxy 11, 14-deoxy andrographolide, 12-didehydro-andrographolide and me andrographolide, 5-hydroxyl - 3, iridoid glucoside, 78 2'-tetrahydroxyflavone, 8-dimethoxyflavone glycoside ncoandrographolide, flavonoid 5-hydroxy-7.
Root Contains: Panicolin, Andrographin, andrographolide, apigenin, flavonoid glucoside 2'5 dihydroxy-7, flavone andrographone, 8-dimethoxyflavone 2-0 beta glucoside.
Dosage
Internal Use
Swaras/Juice: 10-20 ml
Churna/Powder: 3-6 gm
Kwath/Decoction: 20-30 ml
Vati/Tablets: 1-2 tabs
Capsules: 1-2 caps
External Use
Kalmegh paste can be applied locally or its powder by adding coconut oil can also be used.
Ayurvedic Products
Classical Formulations
Planet Ayurveda Products
Indian Echinacea
Yakrit Plihantak Churna
Livo Plan Syrup
Liver Detox Formula
Liv Support
Liver Power
Yakrit Plihantak Capsules
Yakrit Plihantak Tablets
Mutrakrichantak Churna
Reno Plan Syrup
Nephralka Capsules
Ren Plan Capsules
Ren Flow Capsules
Share On