Life Support Diet For Cancer Patients
This diet, if strictly followed, can work wonders for a cancer patient. It is a balanced diet that is enough to fuel the human body for proper functioning. There are different foods categorized in three Plates. If you eat the foods in PLATE A, you won't need the other plates. Even if you do, your tendency to eat the foods in PLATE B will go down by 75%. PLATE C has a list of foods that are not good for cancer.
PLATE A (THE RESCUER) - 100% FOLLOW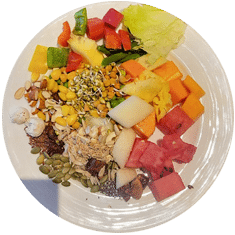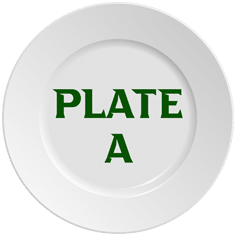 NUTS
5 to 7 Almonds, 2 Walnuts & 2 Figs (Soaked Overnight or At Least for 8 Hours)
LEAVES & GREENS
Radish Leaves, Mint Leaves, Coriander Leaves, Spinach Leaves, Rocket Leaves, Lettuce, Kale, Lemongrass, Wheatgrass, Spirulina
STEAMED VEGETABLES
Potatoes, Cabbage, Bottle gourd, Pumpkin, Round Gourd, Bitter Melon, Peas, Beans, Broccoli, Cauliflower, Ash Gourd, Carrot
FRUITS
Apple, Java Plum, Pear, Papaya, Melon, Pomegranate
SALAD
Carrot, Cucumber, Radish, Beetroot, Turnip
BEVERAGES
Water, Coconut Water, Pumpkin Juice, Pomegranate Juice, Fresh Apple Juice, Pumpkin Soup, Carrot Soup, Mix Veg Soup, Black Gram Soup
GREEN JUICE
20 ml or 2 tsp., twice daily
Coriander Leaves
Spinach & Basil Leaves
Mint Leaves
NOTE: Spirulina Capsules, Moringa Capsules, Green Essentials – 1 each can be added for Better Results.
RED JUICE
200 ml two to three times a day
Carrot, Beetroot, Amla, Apple, Pomegranate, Black Grapes (can be added for taste)
SPROUTS
Green lentils, Bengal grams, Bean sprouts, Fenugreek
HERBAL TEAS
Boil 1tsp. each of Fennel, Dhaniya, Cumin in 3 cups of Water till it's reduced to 1 cup., Take this Herbal Concoction twice a day.
Fresh Homemade Green Tea without Lemon.
NOTE: Consume Plate A in big quantity at least 2 times per day.
PLATE B (THE OXYMORONIC) - 50% FOLLOW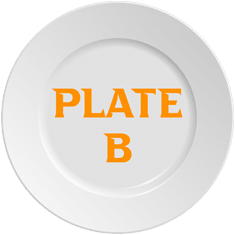 A Bowl of Boiled Rice preferably Brown Rice or a Bowl of Millets (Any one: Foxtail, Kodo, Barnyard, Little, Browntop)
Missi Roti, Raw Fenugreek Leaves can be mixed in the Dough
NOTE: Can be consumed in smaller quantities only after consuming Plate-A.
PLATE C (THE DAMAGER) - STRICTLY AVOID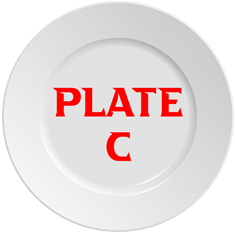 Milk & Milk Products, Refined Sugar, Packaged, Processed, Fried and Bakery Products, Oats, Corn Flakes, Aerated drinks, Dry nuts like Cashew Nuts and Pistachio, Non-Veg
NOTE:
Foods made in factories must be Avoided. Forest / Earth / Field Naturally Grown Foods should be Consumed.
Do not Consume Plate-C. Avoid it Completely.
Things in this Diet Chart May Vary Patient to Patient due to the Associated Health Issues, so Better to Consult Our Ayurveda Experts for Better Results.
Share On