Mixed Receptive-Expressive Language Disorder
Mixed Receptive-Expressive Language Disorder
Do you have concerns over your child's communication and understanding abilities? The need for understanding others and expressing ourselves plays an important part in our lives. Understanding people around us is essential for our well-being and success in life. These help build and sustain strong relationships. The need for expressing oneself plays a crucial role in our life. So you must look out for your child's understanding and communication skills. Children who have trouble with communication and understanding are said to have language disorders. Here is one such communication disorder common among children.
Mixed receptive-expressive language disorder- prelude
Mixed receptive-expressive language disorder is a type of communication disorder affecting receptive and expressive areas of communication ranging from mild to severe degrees. It is a childhood disorder affecting about 10 percent of children. Children with language disorders find it difficult to comprehend words and sentences and also to express themselves. It is more accurately determined by the age of four when usually the language ability in children is more stable. If not treated, it can continue into adulthood.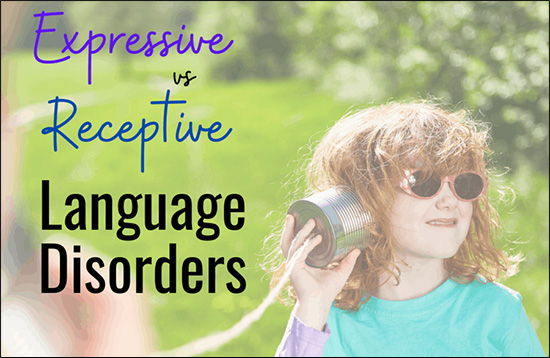 Causes
Mixed receptive-expressive disorders are of two types: developmental and acquired. The cause of Developmental mixed receptive language disorder is not well understood. It usually has nothing to do with your child's intelligence level and has no specific cause. This condition can be inborn or run in your family. It usually occurs when the child is learning to speak. Acquired mixed receptive expressive speech disorders are the result of direct damage to the brain. It occurs suddenly after an event such as a stroke or traumatic brain injury. The acquired type can be displayed at any age.
Symptoms
Symptoms related to the expression
Your child may overly use words like "um" and "uh" because they can't remember the right words.
Other symptoms involve
Inability to recall words they have just learned.
Comparatively below average vocabulary than other children of the same age.
Inability to construct long sentences.
Omitting words or using them in the wrong order.
Often get confused with tenses.
Tend to repeat phrases and questions.
Find it strenuous to construct sentences by using proper grammar.
Find it burdensome to recall words.
Symptoms related to understanding
Have difficulty in understanding information and organising thoughts.
Find it difficult to follow directions in school and at home.
Have a hard time understanding through speech.
Most of these symptoms are a part of your child's normal language development. However, your child may have Mixed receptive-expressive language disorder if several of those issues persist and don't improve.
Diagnosis
The disorder is usually diagnosed as a result of a parent's or teacher's concern over their child's spoken communication. Some children are initially slow at their language skills but over time catch up with others. However, in the case of Mixed receptive-expressive language disorders, your child may not develop some of the language skills. Understanding the common milestones in communication in children can help you decide whether to see your child's doctor.
Treatment
Mixed receptive-expressive language disorder should be treated at the preliminary stage itself. Early mediation is crucial to a successful result. In the case of acquired mixed receptive expressive speech disorder, treatment will depend on how quickly the disorder is discovered, the severity of symptoms, and the prognosis for recovery if symptoms are caused by brain injury.
Language Therapy
The common treatment for all language-based disorders includes speech and language therapy. Regularly arranged one on one treatment with the physician that focuses on specific language skills can be very productive.
Speech therapy helps children to reinforce the following skills
Ability to receive information.
Ability to understand information.
Ability to retain information.
Speech therapy aims to test these skills and help your child increase vocabulary. Speech therapists can use word repetitions, pictures, personalised reading materials, and other tools to help develop your child's communication skills.
Counselling
Difficulty in understanding and communicating with others can be frustrating and can lead to rash behaviour. Counselling helps address such emotional or behavioural troubles.
Parents, siblings, friends and other family members should provide a positive environment for the child's overall wellbeing. Interaction with peers is crucial as lack of communication may lead to later social isolation, behavioural problems or depression.
Viewing through the eyes of Ayurveda
Ayurveda, also known as the ancient system of Indian medicine, is based on bygone scriptures that rely on a holistic and natural approach to physical and mental health. Ayurvedic medicine is one of the oldest medical systems in the world and continues to be one of the traditional medical systems in India.
Ayurvedic practitioners have used plants, diet, exercise and lifestyle to treat a variety of conditions for over 3,000 years. They consider it an overall systemic healing system. Ayurveda considers language disorders as those that come under vata predominant diseases.
The ancient scripture of Charaka Samhita mentions Medhya Rasayana (intellect promoting) drugs like Mandukaparni (Centella asiatica), Guduchi (Tinospora cordifolia), Yastimadhu (Glycyrrhiza glabra), Shankhapushpi (Convolvulus pluricaulis) to be beneficial for such conditions.
Ayurveda describes bio-cleansing measures such as Nasyakarma (instillation of medicine through nostrils), Gandusha (holding medicated oils or decoctions in the mouth), kabala(gargling with medicated fluid) and meditation as a part of treatment.
An introduction to Planet Ayurveda, our organisation
Planet Ayurveda is a worldwide acknowledged pharmaceutical company with over a hundred thousand customers globally. We manufacture herbal supplements from natural herbs with ancient time tested formulas. Our herbal products are made with strict adherence to ancient Ayurveda.
Our wide selection of herbal products includes Herbal teas, Herbal Tablets, Herbal Capsules, Herbal powders, Herbal oil, Herbal juices, beauty and cosmetic products etc. We provide our customers with the safest and highest quality medicines.
All our herbal products are authentically certified and have standardised herbal formulas. All of our products are made of purest herbal extracts enriched with the wisdom of ages. We present the best range of herbal supplements aimed to maintain your overall health at its best.
All types of language disorders demand subtle care and exceptional treatment. At Planet Ayurveda, none of these areas are flawed. We have the most experienced and talented doctors ready to support you on the road to your recovery, and our medicines are just what you need in your journey to recovery.
Herbal Remedies at Planet Ayurveda as a part of treatment for language disorders
DOSAGE
Medhya Churna - 1/4 teaspoon once daily with 1 spoon of Cow Ghee (Clarified Butter).
Neurogenie Capsules - Recommended consuming 1 Capsule twice daily, with plain water, after meals.
Brahmi Ghrit - Recommended to intake 1/2 tsp twice a day after meals with warm water.
Saraswatarisht - Recommended to consume 1tsp twice daily.
Product Description
1. Medhya Churna
A polyherbal powder formulation containing Vacha (Acorus calamus), Ashwagandha (Withania somnifera), Ajmoda (Carum roxburghianum), Shwet Jeerak (Cuminum cyminum) etc; the churna is made up of a remarkable blend of antidepressant drugs that are used for stabilising mood, reducing stress, anxiety and hyperactivity.These drugs play a vital role in helping children with mixed receptive-expressive language disorder who are struggling with behavioural problems due to a lack of communication at school and in society. Brahmi (Bacopa monnieri), one of the key ingredients of this formulation, is well known for its ability to enhance brain function. All the active ingredients in this formulation also help boost the immune system and maintain the overall health of the individual.
2. Neurogenie Capsules
A herbal capsule containing 250g each of Brahmi (Bacopa monnieri) and Ashwagandha (Withania somnifera). Brahmi has been used by Ayurvedic physicians for centuries for various purposes including improving memory, reducing anxiety and stress and boosting brain function. It has been scientifically proved that Brahmi improved spatial learning and the ability to retain information. It has been observed that taking 300g of Brahmi daily significantly improves the speed of processing visual information, learning rate, and memory. Ashwagandha is an important herb in Ayurveda. There is clear scientific evidence that Ashwagandha could improve the cognitive functioning of the brain including immediate and general memory, attention and information-processing speed of the individual.
3. Brahmi Ghrit
A ghee based Ayurvedic formulation prepared from Brahmi (Bacopa monnieri), Vacha (Acorus calamus), Kushta (Saussurea lappa), Shankhpushpi (convolvulus pluricaulis) and ghritam (Cow's ghee). Brahmi Ghrit has neurocognitive effects which have a positive effect on enhancing memory and reducing stress and anxiety. Its medhya (intelligence-improving) property aids in increasing memory retention. According to Ayurveda, it has a Vata balance karma (property) that helps in reducing symptoms of anxiety. All of these aid in helping an individual with speech disorders.
4. Saraswatarisht
A classical ayurvedic polyherbal formulation made of 22 herbal drugs. The key ingredients include Brahmi (Bacopa monnieri), Shatavari (Asparagus racemosus), Vidari (Pueraria tuberosa), Abhaya (Terminalia chebula), Usheera (Vetiveria zizanioides), Shunti (Zingiber officinalis), Mishi (Foeniculum vulgare), Makshika (Honey), Sita (sugar candy) and Prakshepa (Woodfordia fruticosa). It is a well known ayurvedic alcoholic preparation traditionally being used as a brain tonic to enhance memory.Brahmi, the main component of Saraswatarishta, is used to activate the brain and nervous system. It is also used to promote intellectual clarity and sharpness.
Conclusion
Ayurveda has solutions to all the physical, mental and spiritual needs and problems you may encounter in your life. Very important and useful is the Ayurvedic medical knowledge that has existed from ancient times to the present and can and should be used in today's difficult times for the benefit of modern humans in the world. We look forward to welcoming you on this holistic healing journey. We at Planet Ayurveda want to be with you and guide the way to wellness.
Share On