Premenstrual Syndrome (PMS)
Ayurvedic Treatment of Premenstrual Syndrome (PMS)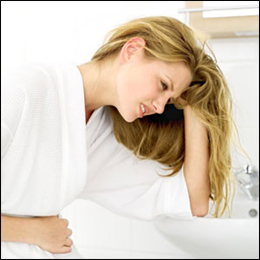 Woman's ovaries contain many eggs, called ova. One egg matures and gets released every cycle which is known as ovulation. After ovulation, estrogen and progesterone hormones are released in the premenstrual phase of the cycle so that lining of the uterus gets stimulated and it get ready for pregnancy. If pregnancy does not take place, lining gets shed and periods begin.
What is PMS or Pre Menstrual Syndrome?
PMS or Premenstrual Syndrome Is recognized by a number of symptoms related to the menstrual cycle. No definite causes are defined behind it and symptoms go by itself after menstruation. PMS starts usually 1 to 2 weeks before monthly bleeding begins. Symptoms vary for each woman and for some, PMS is just monthly bother and for some it is very severe to handle.
What are various symptoms of PMS?
PMS is a complex condition that involves both physical and emotional symptoms. It is very common among women in their late 20s and late 40s and also in childbearing age.
Severe abdominal pain or cramps
Abdominal bloating
Indigestion
Constipation or diarrhea
Tender and swollen breasts
Increased appetite and food craving
Mood swing
Depression
Irritability
Headache
Difficulty in concentration
Memory lapse
Insomnia or excessive sleep
Increased sensitivity for light, sound and touch.
What are causes behind PMS?
Severe factors may involve though causes are not clear that how PMS develops in some women.
Causes may be related to:-
Biological, cultural, social or psychological.
Hormones imbalance including oestrogens excess, progesterone deficiency.
Low levels of vitamins (B6) and minerals.
Stress, depression or emotional issues.
Having excess salty and spicy food items that causes to remain with fluid
Intake of caffeine or alcohol in excess.
Examinations and tests
There are no specific tests and diagnostic methods for PMS but following are really helpful to rule out condition:-
Medical history about signs and symptoms.
Physical examination including PV (pelvic examination)
Herbal Remedies for Premenstrual Syndrome (PMS)
Planet Ayurveda provides best combination of effective herbal remedies such as PMS Care Pack for ayurvedic treatment of premenstrual syndrome (PMS). These herbal remedies are prepared from using best quality herbs and strictly follow the principles of Ayurveda. All these herbal remedies of Planet Ayurveda are 100 percent pure, natural and vegetarian. These are free from chemicals, additives and preservatives. These are safe to use as these are free from side effects.
Dosage
Female Health Support - 2 capsules twice daily with warm water.
Pradrantak Churna - 1 teaspoonful, twice daily with warm water.
Mahashankh Vati - 2 tablets twice daily with warm water.
Aloe Vitals - 1 capsules twice daily with warm water.
Brahmi Vati - 2 tablets twice daily with warm water.
Products Description
1. Female Health Support
This is an amazing herbal product by Planet Ayurveda for complete women health. It helps in providing stamina, boosting immunity and managing proper secretion of female hormones. It has Ashoka (Saraca asoca), Lodhra (Symplocus recemosa) and Shatavari (Asparagus racemosus) in it that provides soothing effects to body and relaxes mind. Female health support helps to nourish entire reproductive system and deals with all the ups and down of PMS.
2. Pradrantak Churna
Blend of unique herbs like Ashok (Saraca asoca), Udumber (Ficus recemosa), Lodhra (Symplocus recemosa) and Arjun (Terminalia arjuna) make a special formulation named pradrantak churna. This helps in proper flow during menstruation and also helps in strengthening of muscles. Pradrantak churna of Planet Ayurveda is a wonderful herbal remedy especially for women which has indications in other related female reproductive issues.
3. Mahashankh Vati
Another formulation by Planet Ayurveda that acts on digestive system. Mahashankh Vati helps in relieving from abdominal gas, flatulence, cramps, acidity, nausea and indigestion which are commonly seen in PMS also. It is a perfect blend of ingredients such as Shunthi (Zingiber officinale), Pippali (Piper longum), Shankha Bhasma, Tamarind Bark (Tamarindus indica), Shuddha Vatsanabha (Aconitum ferox) etc.
4. Aloe Vitals
Aloe vitals come in capsule form that is made from standardized extracts of pure herb Aloe Vera. This excellent formulation is rich in vitamins and minerals like vitamins –A, B, C, E, Folic acid and minerals – sodium, potassium, zinc, calcium, chromium, magnesium etc. Aloe vera detoxifies the whole body as it has antioxidant properties. It is also known to have anti-inflammatory, liver protective, immune-enhancing etc properties.
5. Brahmi Vati
Brahmi vati is a classical tablet preparation made up of its prime ingredient Brahmi (Bacopa monnieri). Brahmi is one of the four medhya rasayan mentioned by Acharya charak that means it is an amazing brain tonic. It calms the mind and reduces the symptoms occurring in PMS like Mood swing, Depression, Irritability, Headache and Difficulty in concentration.
To buy PMS Care Cack, please visit store.planetayurveda.com/products/pms-care-pack
Regular use of this combo pack for suggested time of period is highly recommended for better results!!
Diet and Lifestyle
Have a balanced diet including vegetables, whole grains, fruits and very less salt intake.
Try to have small frequent meals instead heavy 2 or 3 meals.
Drink- plenty of fluids including water, Fruits fresh juices and avoid - alcohol, soft drinks, alcohol.
Exercise must be a part of daily routine.
Sleep habits must be proper.
Why Planet Ayurveda's products are unique?
We use standardized extracts of best quality herb to formulate our products so that we give our best to people across the world.
We use pure vegetarian capsules made from plant cellulose and do not contain hard gelatin which is low in cost and made from cow cartilage, chemicals or pig intestines.
We fill 500 mg pure extracts of herbs in our vegetarian capsule shell while many other manufacturers use 250 mg herbal extracts or raw herb powder along.
Cost of raw herb is very less where as pure extracts are 10 times more than raw material. As our herbal products are with standardized extracts still are available at very reasonable price.
Our products are free from any chemical, added color or preservative.
All our products undergo quality, quantity and potency check before they reach to customers/patients.
Share On