Top 7 Foods to Eat During Pregnancy
Pregnancy, also known as gestation period, is the period during which offspring develops inside a woman. And in such a condition, when body needs supplementary nutrients, vitamins and minerals, a healthy diet is extremely mandatory to maintain. During 2nd and 3rd trimesters, pregnant women need around 350-500 more calories, surplus proteins and calcium to meet the needs of the growing fetus. Choosing healthy and nutritious diet helps to ensure the health of the mother and the baby.
Top 7 Foods to Eat During Pregnancy
1. Dairy Products
Dairy products are abundant in proteins, certain B-vitamins, calcium, phosphorus, magnesium and zinc. Yogurt, especially Greek yogurt, is particularly profitable for gestating women. It accommodates more calcium than any other dairy product. Some varieties of yogurt also contain probiotic bacteria, which support digestive health and immune system. Probiotic supplements helps to reduce the risk of obstacles that might happen during pregnancy, complications like preeclampsia, gestational diabetes, vaginal infections and allergies. Consume dairy products precisely.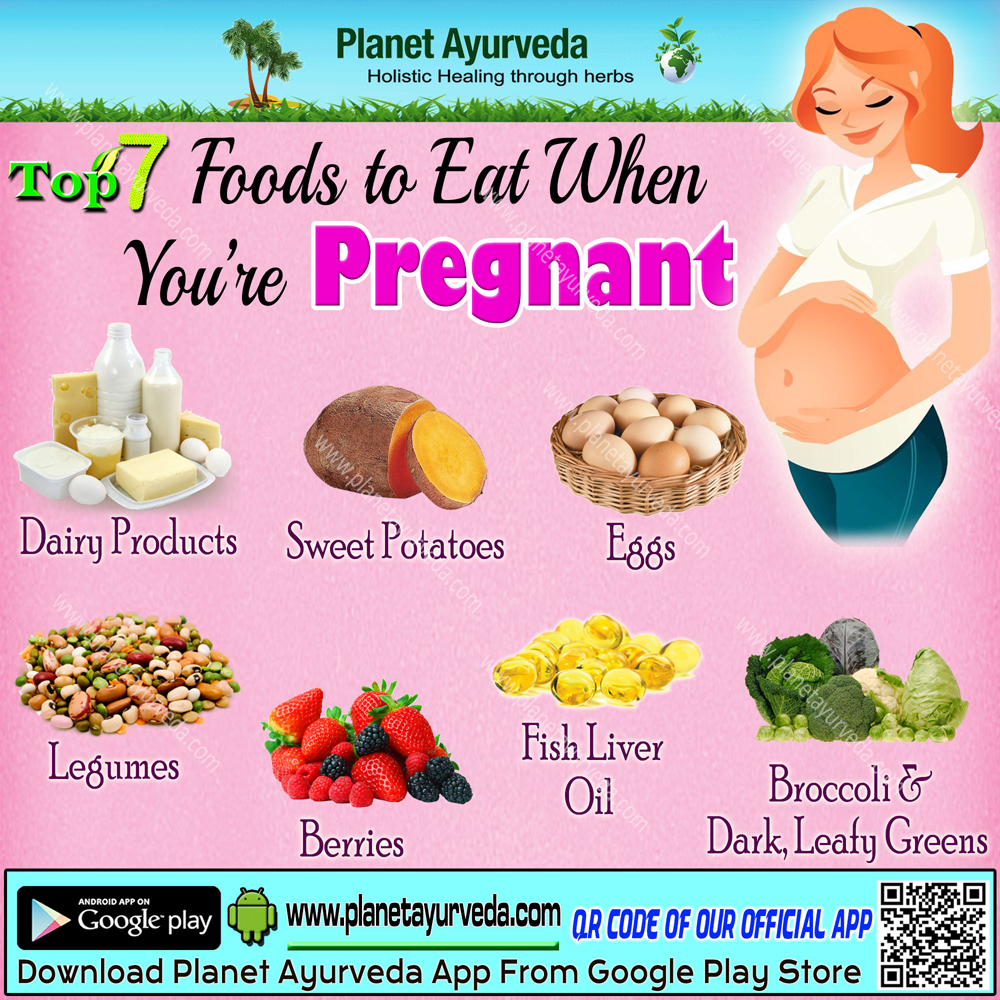 2. Sweet Potatoes
As we all know sweet potatoes are over-flowed with beta-carotene, it later is converted into vitamin A in the body. Sweet potatoes helps in growth and differentiation of most cells and tissues, proved to be very helpful for developing fetus. Pregnant women are usually recommended to take vitamin A in large amounts nearly 10-40%more than the normal regular days. Additionally, sweet potatoes are comprised of lots of fibers which increase fullness, shorten blood sugar spikes and improve digestive health and movability. Therefore, beta-carotene is a vital source of vitamin A for pregnant mother.
3. Eggs
Ultimate healthy food enriched with every essential nutrient one need during pregnancy. Moreover, eggs contain vitamins, minerals, high quality protein and fat. It is a rich source of choline. During pregnancy, high choline intake helps to reduce the risk of neural defects and possibly lead to increased brain function. A single whole egg dwells nearly 113 mg of choline, which is roughly 25% of the advised daily intake for pregnant women. Recommended choline consumption in pregnancy is 450 mg.
Take eggs directly to stay healthy.
4. Legumes
Legumes are marvelous plant based sources rich in all nutrients and minerals such as fiber, iron, magnesium, potassium, folate (B-vitamins), protein and calcium, generally include lentils, peas, beans, chickpeas, soybeans and peanuts. These all are highly advisable in pregnancy. B-vitamins, mostly folates, are very beneficial during first trimester for the fitness of the mother and fetus. Insufficient folate (B9) consumption might lead to an increased risk of neural tube defects and low birth weight. Furthermore, cause the new one to be more prone to infections and diseases later in life. Make pulses as you prefer and consume them.
5. Berries
Berries are bursting with water, healthy carbohydrates, minerals, vitamin C, fibers and plant compounds along with tangy flavors. Berries contain high amounts of vitamin C which helps in absorption of iron. These have relatively low glycemic index value, so do not cause major spikes in blood sugar. Berries are also a great snack because these contain both water and fiber. Berries provide lot of flavor and nutrition, but with relatively few calories.
6. Fish Liver Oil
Fish liver oil is made from the oily liver of cod fish, very nutritional supplement with high levels of omega-3 fatty acids:-
Eicosapentaenoic acid (EPA),
Docosahexaenoic acid (DHA),
These are necessary for the development of brain and eye of the fetal. Fish liver oil is highly rich in vitamin D, helpful for those who don't eat seafood or supplement with vitamin D or omega-3. Deficiency of vitamin D has been allied with an increased risk of pre-eclampsia. Pre-eclampsia is very hazardous complication of pregnancy characterized by high blood pressure, swelling of the hands and feet and a large amount of protein content in the urine. This disorder usually occurs after the 20th week of pregnancy and gets worse and worse with time. So intake of this cod oil helps in higher birth weight during gestation and diminish the risk of any disease later in the baby's life.
7. Broccoli And Dark, Leafy Greens
Broccoli and green vegetables, such as kale, spinach, mustard greens all contain many of the nutrients that pregnant women generally need during their crucial period of life. Leafy greens or potherbs are always better because we get these directly from the nature's lap, include various vitamins like vitamin A, vitamin C, vitamin K, fiber, calcium, iron, folate and potassium. Furthermore, these are rich in antioxidants as well. They also contain plant compounds that asset the immune system and digestive system. Due to their high fiber content level, these vegetables help to prevent the constipation also, occurs mostly among pregnant women.
Hope these top foods may help you during your pregnancy and benefits a lot.
Share On