Top 7 Home Remedies for Piles
Piles are categorized among the most embarrassing and disgusting health problems. But certain natural things available in kitchen can be your savoir to overcome this disease. Follow the below given home remedies and surely you will observe the noticeable change in your condition.
Note - Prolonged constipation is major cause of this problem. In the morning if you don't have go and get up feeling then you are at the risk of getting piles.
Home Remedies for Piles
1. Black Cumin Seeds
Black Cumin Seeds are an effective home remedy for piles. Black cumin seeds consumption support the good health of digestive system and provide relief in problems like peptic disorder, gastritis, indigestion, bloating, bowel movements, flatulence, hurt burn and stomachaches. Additionally it helps in easy bowel movements.
Directions to use:-
Make the powder of black cumin seeds.
Roast it and consume ½ teaspoon of roasted powder with one glass of water daily.
Another option is to mix one tablespoon of powder with water for making a paste. Apply this paste on your anal region and leave it for about 15-20 minutes. Do this twice a day.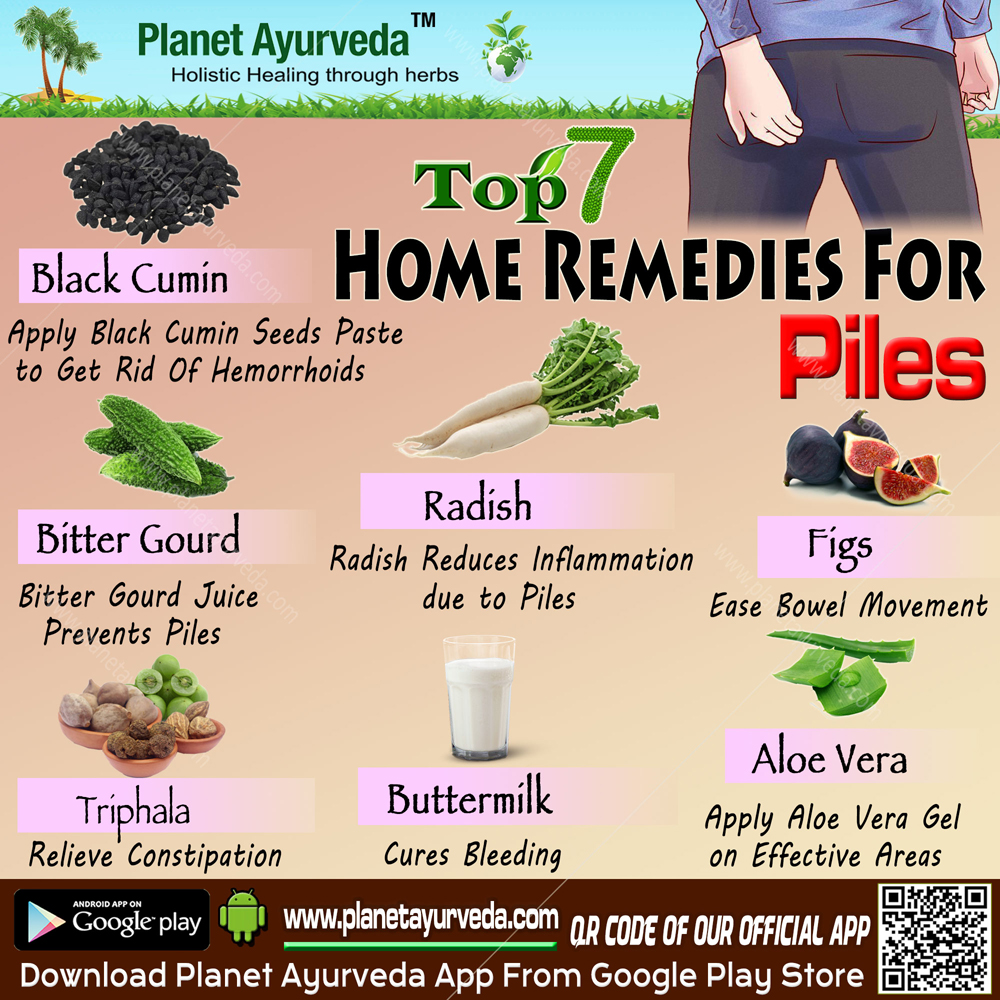 2. Radish Juice
Treating the piles at home, radish juice is among the best home remedies. It acts as a natural laxative and aids in easy passing and loosening of stools. It helps in removal of waste material from body.
Directions to use:-
Grind the fresh radish to make the juice. Initially start consuming 1/4 cup of this juice then increase up to ½ cup twice daily morning and night.
Mix 1 tablespoon of grated radish with 1 teaspoon of honey. Have it two times daily.
Make a paste of grated radish with milk. Apply this paste on piles and around anal opening. Leave it for about 15-20 minutes and then it wash off. Repeat it twice daily in order to alleviate pain and inflammation.
3. Figs
For treating the piles or hemorrhoids good health of digestive system is essential. Laxative properties of figs relieve the problem of constipation and also helps in easy bowel movements. Whereas the anti-inflammatory properties of figs work well to provide the relief in pain and inflammation associated with piles.
Directions to use:-
Take 3-4 figs and soak them in water for overnight.
In the morning on an empty stomach consume those figs along water.
Repeat it at least for a month to observe the noticeable change.
4. Bitter Gourd Juice
Everyone is aware about the anti-diabetic properties of bitter gourd juice. But do you know that laxative properties of bitter gourd are quite beneficial for treating piles. Being a great source of fibre it helps to relieve the constipation and regulates the easy bowel movements.
Directions to use:-
Make the fresh bitter gourd juice and consume 30-40 ml twice daily in the morning.
5. Buttermilk
In order to manage the symptoms associated with piles like swelling and irritation, buttermilk is placed among the top home remedies.
Directions to use:-
Add a pinch of salt in a glass of buttermilk and drink it every day. Another option is add 1/4 teaspoon of carom seed powder in one glass of buttermilk. Consume it daily.
6. Aloe Vera
Aloe vera juice is an ideal home remedy to resolve the digestive problems like constipation, acidity and flatulence which are major cause of piles. It is loaded with anti – inflammatory properties which help to reduce the pain in piles. Therefore use of Aloe vera is good for both internal and external hemorrhoids.
How to apply?
Take out the gel from fresh leaves of aloe vera and put it in mixer to make juice. Consume 20 ml of juice with equal quantity of water two times that is early morning empty stomach and 1 hour before dinner.
For treating the external piles, apply some amount of aloe vera gel on affected area and massage gently.
7. Triphala
It is prepared by the combitaion of three fruits that is Indian gooseberry (Emblica officinalis), Bibhitaki (Terminalia bellerica) and Haritaki (Terminalia chebula). Being a rich source of fibre it is good home remedy for piles.
How to use?
Take 1-2 teaspoon of triphala powder before going to bed at night. Or you can soak coarse powder of triphala in water overnight and take in the morning after filtration.
Share On
MD (ALT. MEDICINE) View Profile