What is Sound Therapy and its types? Everything about it.
What is Sound Therapy and its types? Everything about it.
Have you ever wondered why listening to your favorite song lifts you out of a low mood? Sound can be marvelously powerful. Even listening to the sound of rain can put you to sleep, or listening to sounds of the ocean even on the phone can take your imagination to your favorite vacation spot. Sound can be very therapeutic and healing in nature which can calm you and boost your body, mind and soul.
Many people think that sound therapy is just a next fashion or trend in the wellness industry and doesn't do any significant good to body or mind but you can be surprised to know that it is not anything new and has been around since centuries healing people. There is much evidence in ancient Greek literature that sound therapy has been used to treat the disorders of mind specifically. Sound therapy has been there for healing people since the musical instruments and voices have been used for chanting and prayers. Even Egyptians in ancient times have used musical chanting treating mental illnesses. You can also see this in their architecture as the pyramids and temples are built in a way so that they amplify the sound being resonant structures. History suggests that music has also been used to boost the morale in troops of the military, helps in increasing productivity and increases the speed of work done by people. It is also believed to ward off the evil spirits by chanting the mantras.
Sound therapy/Sound healing/Music therapy is a method of healing or improving the emotional, physical and mental well being. This therapy is done by a professional and trained practitioner. Sound therapy can be done in different ways which can include listening to music, moving to the beat of the music, singing along to music, meditating or playing an instrument.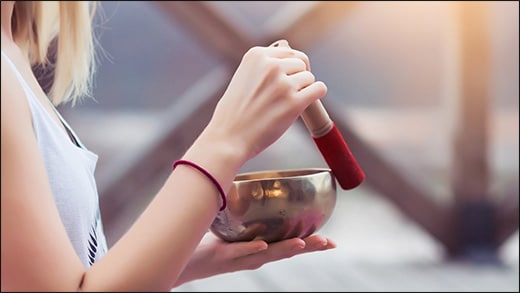 Types Of Sound Therapy
There are certain types of sound therapy which can help in different things.
Guided meditation - It is a type of sound therapy where a person meditates with the help of voiced instruction through video, app, class or session. Guided meditation has many health benefits like it helps in relieving stress, improves memory, decreases depression and anxiety, relieves pain, reduces blood pressure, improves memory and decreases the risk of stroke and heart ailments.
Neurologic music therapy - Sound therapy helps in relaxing the body and mind and reduces stress. It has been reported to be more effective than medicines to reduce anxiety before surgery. This therapy involves listening, creating, moving to music or singing.
Bonny method - This type of sound therapy helps in exploring consciousness, personal growth and transformation. The Bonny method helps in improving physiological and psychological health.
Nordoff-Robbins - This sound therapy method is given by a trained person with a degree of 2 year master's program in Nordoff-Robbins program. They use music to treat patients by helping them work towards a performance or create new music together.
Tuning fork therapy - In this therapy calibrated metal tuning forks are used to apply the certain types of vibrations to specific body parts. Tuning fork therapy helps in promoting emotional balance and releases the energy and tension from the body. This therapy is believed to work similarly like acupuncture where instead of needles sound frequencies are used to stimulate the points. It can also help in relieving the pain in bones and muscles.
Brainwave entrainment - This treatment is also termed as binaural beats which works by stimulating the brain using pulsing sound into a specific state that encourages the brain waves which aligns the beat frequency. Brainwave entrainment helps in sleep, relaxing the body, enhanced focus and entranced state. It is also believed to relieve pain, anxiety, premenstrual syndrome and helps in improving children's behavioral problems.
Ailments Sound Therapy Helps To Treat
Sound therapy is used to treat signs and symptoms of various ailments like:
Depression
Anxiety disorder
Dementia
Post-traumatic stress disorder
Behavioral and psychiatric disorders
Cancer
Autism spectrum disorder and learning problems
Sleep is improved
Relieves stress
Lowers blood pressure
Prepare person for pain management
Lower the risk of stroke and coronary artery disease
Sound therapy works in different ways to improve a person's physical, mental and emotional well being. The method being used decides how it works. Usually these sound therapies are one on one sessions with trained practitioners. These sessions can include lying down or sitting while listening to sound or music from instruments or speakers. There can also be specific vibrations being applied on different body parts using a special tool like tuning fork. Patients can be asked to move, sing, use a musical instrument or asked to remain quiet and still to let sounds take effect on mind and body.
Different healing instruments used in sound therapy along with voice are tuning forks, singing bowls, harp, pan flute and drums. In some methods more than one variety of instruments are used in one session like piano, guitar etc.
It can be said that Sound therapy does not have much scientific base but as physics also explains that all sounds cause vibrations and have resonance. These vibrations and resonance helps in healing different ailments and calms down the mind. Mental illnesses can be very well managed with the help of this magnificent practice. Sound is not a superficial thing and it touches the human body much deeper than only ears. Sound therapy opens the routes of energy and removes the toxins from the body.
Conclusion
In today's world people are using sound for healing at home as well like numerous people nowadays who listen to the sound of rain before sleeping to calm down the mind and relax the body. People also listen to ASMR sounds to relax the body and relieve anxiety which proves that sound has much healing effect on the body. In today's era people are looking for innovative and new techniques to employ emphatic technologies and sound. Sound therapy is definitely worth a try!
Share On
MD (ALT. MEDICINE) View Profile