Balanced Diet Plan for Old Age People
Ageing is not a disease but a biological process. Good nutrition may slow the ageing process so that the individual can enjoy physical and mental vigor in his sixties. The process of ageing brings about physiological, immunological changes which affect the nutritional requirements of the elder people. Diet which is low in saturated fats, animal- based proteins and simple carbohydrates is suitable for old persons. Ageing leads to diseases like osteoporosis, cardiovascular diseases and many other diseases. So try to eat balanced diet which provide all nutrients and prevents from these harmful diseases.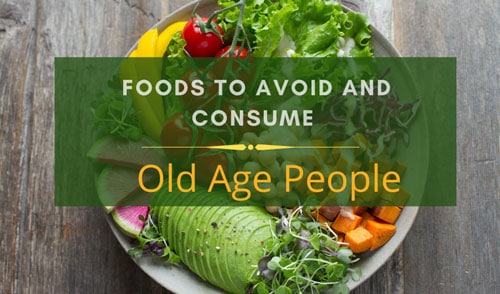 DIET FOR OLD AGE PEOPLE
EARLY-MORNING
Luke warm water / soaked almond -5 / 1tsp flax seeds/Bitter gourd juice/Aloe-vera juice/Wheat grass juice
BREAKFAST
Bread toast with egg /Vegetable poha/vegetable porridge / vegetable upma /Ragi chapatti/ multigrain chapatti + vegetable / Fresh Juice / Egg white
LUNCH
Chapatti / Multigrain Chapatti / Brown rice / Veg pulao / Veg + Dal /amaranth dal + Curd/Raita + Salad/ Chicken (Once in a week)
EVENING
Fruit/Milk shake / Sprouts chat/ Riceflakes Snacks/ Soup (homemade)/ Roasted makhane/ Roasted chickpeas/makhane kheer
DINNER
Chapatti / Multigrain Chapatti / Brown rice / Veg pulao / Veg + Dal + Curd + Salad
BED TIME
Milk+ a pinch of turmeric
DIET INSTRUCTIONS
CEREALS
Cereals to be consumed
Wheat, White rice, Brown rice, Sorghum, Amaranth, Finger millet, Foxtail millet, Pearl millet, Buckwheat, Little millet
Flour Ratio - Wheat Atta (50%) + Soybean Atta (20%) + Ragi flour (30%)
Cereals to be avoided
Refined flour and its products
FRUITS
Fruits to be consumed
Apple, Banana, Water melon, Muskmelon, Avocado, Peaches, Pear, Coconut, Pomegranate, All types of berries , Figs, Mango, Litchi, Custard apple, Orange, Sweet lime, Sapodilla, Pineapple, Orange, Grapes
Note: All seasonal fruits can be consumed
Fruits to be avoided
Canned fruits and juices
VEGETABLES
Vegetables to be consumed
Zucchini, Sweet potato, Pumpkin, Ginger, Celery, Eggplant, Tomatoes, Red onion, Coriander, Radish, Mushrooms, Spinach, Carrot, Peas, Fenugreek leaves, Potato, Yam, Okra, Bottle gourd, Bitter gourd .
Vegetables to be avoided
Gas forming vegetables like Broccoli, Brussels sprouts, cauliflower, cabbage, kale, Turnip
PULSES
Pulses to be consumed
All pulses and legumes
Pulses to be avoided
Kidney beans, Chickpeas, Bengal gram, Black eyed beans
DAIRY PRODUCTS
Dairy Products to be consumed
Low-fat milk, Tofu, Curd, Yogurt, Buttermilk, Cottage cheese
Dairy Products to be avoided
Milk and cream, Full-fat yoghurt, Cream cheese, Condensed milk, unpasteurized cheese.
SPICES
Spices to be consumed
Cumin, Coriander, Salt, Turmeric, Ginger, Pepper, Fennel, Cinnamon
Spices to be avoided
Red chilies
DRINKS
Drinks to be consumed
Coconut water, Clear soups, Sugarcane juice, homemade soups, Green juice, Herbal tea, Aloe Vera juice, Buttermilk, Milk, Shakes, Smoothie, Homemade juices
Drinks to be avoided
Whole milk drinks, Cream based liqueurs, canned soup and packaged soup, Alcohol, Sweetened drinks, Squashes, Carbonated drinks
FLESH FOODS
Flesh Foods to be consumed (once in a 15 days)
Egg white, Roasted chicken, Grilled Fish, Lean meat, Skinless chicken (Once in a week)
Flesh Foods to be avoided
Processed, Undercooked and fried meat, Red meat- (Beef, Lamb, Pork), Fishes (Tilefish, Shark, Swordfish, King Mackerel, Marlin, Blue fin Tuna).
SEEDS AND DRY FRUITS
Dry Fruits to be consumed
Almond, Raisin, Ground Nut, Walnuts, Peanuts, Pistachio, Cashew, Pumpkin Seeds, Chia Seeds, Flax Seeds, Sunflower Seeds and Sesame Seeds.
Dry Fruits to be avoided
Nil
OILS
Oils to be consumed
Cow ghee, Sunflower oil, Canola oil, Olive oil, Mustard oil, Rice bran oil
Oils to be avoided
Cream, Palm oil, Coconut oil, Butter
OTHER FOODS
Other Foods to be consumed
Jaggery
Other Foods to be avoided
Bakery and Processed Foods, Fried Food, Junk Food, Pickles, Artificial Sweeteners, Packed Soups, Refined Sugar
LIFESTYLE AND DIETARY TIPS
Avoid empty calories foods
Gas forming food like sulphur containing vegetables and some pulses has to be avoided.
Soft well cooked foods are preferred.
Caffeine containing beverages should be limited; otherwise they may suffer from insomnia.
Plenty of fluids should be taken.
Food should be less salty and spicy.
Share On