What are the Medicinal Properties of Bayberry (Myrica)?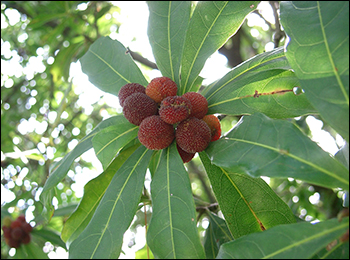 Introduction
Bayberry or Myrica is a small tree and shrub which grows natively in Asia, Europe, Africa, Australia, South America and North America. It is the genus which have around 35-50 species. Botanically all the members of this family are classified under Myricaceae family and are found throughout the world. It is usually cultivated in South America, Japan, West Indies, United states and United Kingdom.
General Description
Myrica, a shrub grows up to the height of 3-8ft. This shrub can be found in the marshy and sandy areas of Great lakes, Atlantic coastal and in bushes of North America. Its American variety is usually used by the herbalist for the medicinal purposes. American bayberry is similar to another herb called English bog myrtle in appearance and grows to its similar height. It is a evergreen shrub with leaves of knife and blade shape and have small spots on them. On crumpling leaves and bark of this tree produces amazing aromatic smell. Bayberry has pungent, bitter and astringent taste. Its berries are globular in shape and grow in cluster. Bark of Bayberry is mottled and has brownish-red colored cork under it.
Bayberry is a deciduous shrub which may hang on its some of the leaves during winter. Its leaves are spirally arranged and fruits are small and are called drupe.
It is used for the commercial purpose as well. Bayberry is an economically important crop in China where it is sold fresh, canned, dried, as a alcoholic beverage or juice. In Denmark, it is used to spice the beer. However, wax coating present on its fruit is used to prepare candles, traditionally.
Common Name - Bayberry, Myrica, Bay-rum tree, Sweet gale, Candleberry and Wax-myrtle
Botanical Name - Morella Cerifera and Myrica Cerifera
Hindi Name - Kafal, Kaaphal
Family - Myricaceae
Cultivation
It is cultivated worldwide and can adapt to various soil conditions. It usually grows in the sand dunes near the ocean. Dry conditions of the area limit its growth to smaller size. Branches of the shrub are densely grown, flowers are insignificant. Its berries are of gray-silver color.
Habitat
Myrica is widely grown in coastal area or Southern and Eastern North America. It is a popular garden plant throughout the world, where the WEATHER is suitable.
Part Used
Basically the bark is used for the medicinal purposes but leaves, wax extracted from the fruits and fruits can also be used for the therapeutic purpose. Bark is collected, dried thoroughly and collected in the container.
Chemical Composition of Bayberry
Bayberry consists of falvonoids, triterpenes, taraxeron, taraxerol, tannins, resins, phenols and rubber substances.
Medicinal Properties of Bayberry
Analgesic
Anticonvulsant
Ant paralytic
Antispasmodic
Antipyretic
Astringent
Anti-inflammatory
Digestive
Decongestant
Healing
Antibacterial
Antimicrobial
Therapeutic Properties of Bayberry
Due to its analgesic properties, Bayberry relieves all kind of pain and colic.
It relieves excess mucus and treats cold and cough owing to the decongestant properties of this herb.
Circulatory disorders can be treated by this herb and also improves the lymphatic drainage, as it is a circulatory stimulant.
This herb has astringent properties so helps to treat diarrhea and dysentery and improves digestion.
Anti-inflammatory properties of Bayberry shrub helps to treat colitis and similar inflammatory condition anywhere in the body.
Doing gargle from its decoction gives soothing relief to the throat in case of sore throat.
Leucorrhea can be treated by using this herb as a douche.
Bay leaf is a diaphoretic which means it helps in dilating the blood vessels and induces or increases the sweating which can prove beneficial in reducing fever.
This herb can help in lowering the temperature naturally in fever by inducing the sweating.
It can be used to induce menstruation as well as abortion as it increases the contraction of the uterus.
Herbal tea made from its bark or leaves helps to treat the stomach problems raised due to digestive disturbances.
Headaches can be treated by the use of Bayberry as it possesses analgesic properties.
Owing to its decongestant properties, this herb helps in treating sinusitis, pharyngitis and other similar inflammatory diseases.
Decoction made from this herb helps to heal the wound faster if applied locally.
It also prevents and treat bacterial or microbial infections as Bayberry possess antibacterial and antimicrobial properties.
Hemorrhoids and varicose veins can also be treated by the local application of this herb, as it has healing properties.
Liver and gallbladder diseases can be treated by Bayberry as it is found in studies that this herb stimulates the flow of bile.
It improves the digestion and prevents indigestion, heartburn and other digestive disorders.
Intestinal inflammation can be treated due to its astringent properties. Tannins give the herb this property which has been proved by several modern studies as well.
Share On