Diet Chart for Childhood Asthma
It is chronic inflammation of airways of the lungs. This inflammation cause more mucus production and difficulty in breathing. There are many causes of childhood asthma include allergens, irritants, change in weather and infection, inflammation of the airways of lungs.
DIFFERENCE BETWEEN CHILDHOOD AND ADULT ASTHMA
Children diagnose with asthma are more likely to have intermittent symptoms, though some children have daily symptoms as well. Children are typically more sensitive to allergens and more prone to an asthma attack because their bodies are still developing. In adults, symptoms are typically persistent. Daily treatment is often required in order to keep asthma symptoms and flare-ups under control.
Eat diet rich in Vitamin A, D and Magnesium. Due to bronchodilating and anti – inflammatory properties of magnesium it is good for asthma. Obesity is linked with asthma so maintain ideal body weight and avoid junk food. Avoid taking food which may trigger the resymptoms of the disease.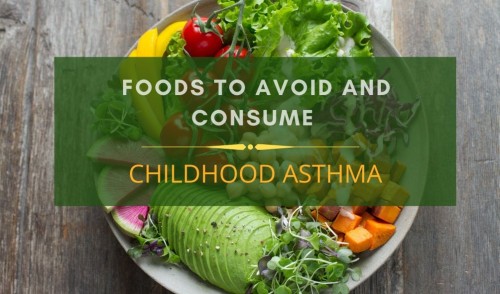 DIET CHART FOR CHILDHOOD ASTHMA
EARLY-MORNING
A glass of like warm water + 3 soaked almonds / Fenugreek water
BREAKFAST
Vegetable Dalia / Broken wheat porridge / Veg Semolina (veg upma) / Veg Vermicelli / Veg poha (Rice flakes) / Veg Idli / Brown Bread Sandwich / Semolina pancake / Veg Oats / Besan pancake (gram flour) / Missi Roti / Stuffed Chapatti / Chapatti with Veg or Dal / 1 egg white only
MID-MORNING
Fruit/ Vegetable juice / Coconut water
LUNCH
Chapatti + Vegetable + Dal + salad
EVENING TIME
Herbal tea / Green tea / Sprouts / Roasted Chickpea / Rice flake Snack / Homemade soup
DINNER
Chapatti + Vegetable + Dal + Salad
DIET INSTRUCTIONS
CEREALS
Cereals to be consumed
Whole wheat flour, Oatmeal, Whole bread, Whole grains cereals, Porridge, Oats
Cereals to be avoided
White Rice, Whole refined flour and its products, Refined sugar, Noodles, Pasta, Macaroni, Brown rice, Maggie, Corns, Salty biscuits
FRUITS
Fruits to be consumed
Apple, Pear, Sugar cane, Papaya, Water melon, Musk melon, Pomegranate, Banana (limited)
Fruits to be avoided
Apricot, Peaches, Orange, Grapes, All Berries, Dried Fruits and All citrus fruits
VEGETABLES
Vegetables to be consumed
All seasonal vegetables except some.
Vegetables to be avoided
Okra, Eggplant, Beans, Potato, Taro roots, Mushroom, Beans, Cabbage, Onions, Garlic, Dried and Canned vegetable
PULSES
Pulses to be consumed
All Pulses
Pulses to be avoided
Frozen pulses, Soy and its products
DAIRY PRODUCTS
Dairy Products to be consumed
Nil
Dairy Products to be avoided
Milk and its products, Cheese, Buttermilk, Condensed milk
SPICES
Spices to be consumed
Turmeric, Cumin, Coriander Fenugreek, Fennel, Pepper, Salt (limited)
Spices to be avoided
Green chili, Red chili, Cloves, Garlic
DRINKS
Drinks to be consumed
Coconut water, Clear soups, Sugarcane juice, Herbal tea, Beetroot juice, Bitter gourd juice, gooseberry juice, pumpkin juice
Drinks to be avoided
Alcohol, High fat milk, Processed and canned drinks, carbonated drinks, Tea, Coffee
FLESH FOODS
Flesh Foods to be consumed
Egg white portion only (occasionally)
Flesh Foods to be avoided
Raw, Uncooked and Processed meat, fish especially Selfish, Shark, Swordfish, Tuna and Marlin, clams, Mussels, Oysters and Scallops, Meat patties, Burgers, Pork, Organ meat, Liver, Kidney, Chest, Red meat, Prawns, Lobster, Crab, Lean beef, Lamb, Ham, Turkey, Rabbit, Sausages, Mutton, Salami, Bacon, Duck, Goose, Visible fat on meat
SEEDS AND DRY FRUITS
Dry Fruits to be consumed
Flaxseed- ½, Sunflower seeds- 1 tsp (per day), 1 Walnuts, 5 Almonds and 5 Raisins (soaked)
Dry Fruits to be avoided
Cashew nuts, Brazil nuts, Peanuts, Pistachios
OILS
Oils to be consumed
Cow ghee, Sunflower oil, Canola oil, Olive oil, Mustard oil
Oils to be avoided
Unsaturated fats, Cream, Palm oil, Coconut oil, Butter, Hydrogenated oil
OTHER FOODS
Other Foods to be consumed
Home made only
Other Foods to be avoided
Pastry, Puddings, Packed soups, High fat dressing or mayonnaise, Cream soups, Chocolate, Fudge, Butter scotch, Coconut bar, All fried foods, Junk foods, Sauces etc. Peanut butter, Fruit jellies, Jams, Refined sugar, Marmalade, Sweeteners, Chutneys, Pickle, Ice-cream, Sauces, Peanuts etc.
LIFESTYLE AND DIETARY TIPS
Be physically active
Maintain the proper hygiene
Pranayama and meditation is recommended.
Whole fruit should be preferred to fruit juices.
Skipping of meals should be avoided especially breakfast.
Seasonal fruits and vegetable should be consumed.
Water intake should be proper
Share On