Diet Plan for GERD & Acidity
Nutrition is important in the management of gastro-esophageal reflux disease. The therapeutic approach to most GERD problems involves a combination of medication and nutritional therapy. Frequent feedings are important in the case of chronic gastric problems like acidity and GERD. Patients feel more comfortable with fewer spices and bland foods. It is best to avoid a specific food or food habits that trigger acidity.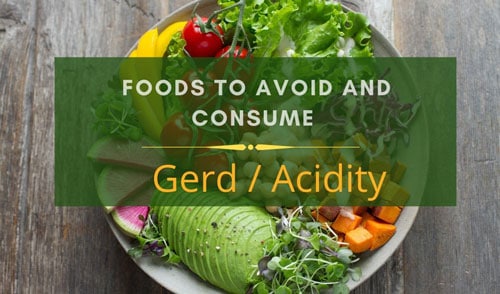 DIET CHART FOR GERD / ACIDITY
EARLY-MORNING
Aloe Vera juice
BREAKFAST
Broken Wheat porridge / Veg Semolina (veg upma)/ Veg Vermicelli / Veg poha (Rice flakes)/ Veg Idli / Besan pancake (gram flour) / Missi Roti / Stuffed Chapatti/ Chapatti with veg or dal
MID-MORNING
Fruit / Coconut water/ Herbal tea / Green tea
LUNCH
Plain chapatti/ Boiled Rice / Vegetable + Dal / Roasted or grilled Fish / Chicken (once a week) / Curd
EVENING
Soup (Home-made) / Herbal tea / Green tea / Rice flakes snacks
DINNER
Missi chapatti / Plain chapatti / Boiled Rice / Vegetable + Dal
DIET INSTRUCTIONS
CEREALS
Cereals to be consumed
Whole wheat, Oatmeal, Whole grains cereals, Brown rice
Cereals to be avoided
White refined flour and its products
FRUITS
Fruits to be consumed
5 Almonds (soak in water overnight), Watermelon, Banana, Musk melon, Papaya, Pears, Apple, Guava
Fruits to be avoided
Citrus fruits such as Orange, Lemon, Grape fruit, Cranberry
VEGETABLES
Vegetables to be consumed
Asparagus, Green beans, Cauliflower, Pumpkin, Cabbage, Broccoli, Carrots, Bottle gourd, Ridge gourd, Round gourd, Ash gourd, Mushroom, Soya.
Vegetables to be avoided
Garlic, Onion, Capsicum, Taro root, Potatoes, Coconut, Frozen vegetables.
PULSES
Pulses to be consumed
All washed pulses i.e. yellow lentil, Green lentil, Pink lentil, Soybean
Pulses to be avoided
Black gram, Chickpeas, Kidney beans
DAIRY PRODUCTS
Dairy Products to be consumed
Skimmed milk
Dairy Products to be avoided
Whole milk and cream, Full-fat yoghurt, Cream cheese, Condensed milk
SPICES
Spices to be consumed
Cumin, Coriander, Fennel, Mint, Fenugreek, Carmon, Turmeric
Spices to be avoided
Red chili, Green chili, Cloves, Black pepper
DRINKS
Drinks to be consumed
Coconut water, Green tea, Herbal tea, Aloe Vera juice, Bitter gourd juice, Pumpkin juice
Drinks to be avoided
Whole milk drinks, Cream based liqueurs, Canned and Packaged soup, Alcohol, Sweetened drinks, Squashes, Carbonated drinks
FLESH FOODS
Flesh Foods to be consumed
None
Flesh Foods to be avoided
All fried foods, Raw, Uncooked and Processed meat, Fish especially Selfish, Shark, Swordfish, Tuna, Burgers, Pork, Organ meat such as Liver, Kidney, Chest, Red meat, Prawns, Lobster, Crab, Lean beef, Lamb, Ham, Turkey, Rabbit, Mutton, Duck, Goose
OILS
Oils to be consumed
Cow ghee, Canola oil, Olive oil
Oils to be avoided
Unsaturated fats, Cream, Palm oil, Coconut oil, Butter
OTHER FOODS
Other Foods to be consumed
Homemade only
Other Foods to be avoided
All fried foods, Junk foods, Processed foods, Coconut bar, Sauces Fruit jellies, Jams, Refined sugar, Marmalade, Sweeteners, Chutneys, Pickle, Ice-cream.
LIFESTYLE AND DIETARY TIPS
Walk for at least 30-45 min is recommended.
Whole fruit should be preferred to fruit juices.
Skipping of meals should be avoided especially breakfast.
Seasonal fruits and vegetables should be consumed.
Water intake should be increased at least 8-10 glass regularly
Herbal Tea- Boil ½ tsp each of fennel, coriander, cumin in 3 cups of water till it's reduced to 1 cups.
Amla powder- 1 tsp. daily after meals
Amla (Indian gooseberry) + fennel + licorice powder together 1/2 tsp. daily after meal.
Avoid eating too late at night.
Try to avoid alcohol or limit those foods that cause the most problem.
Do not sleep immediately after meals.
It is advisable to limit the intake of citrus fruits as they can lead to heartburn
Share On