DIET CHART FOR JAUNDICE
INTRODUCTION
In Ayurveda, jaundice is known as Kamala. It is a common condition caused by the increase in Bilirubin level in the body. It can occur due to inflammation of liver or an obstructed bile duct. Symptoms may include fever, fatigue, and a yellow tinge on your skin and eyes or vomiting and body weakness. A balanced diet consisting of the food groups, low-fat, low-protein, high-fluid, and high-carbohydrate will help liver to recover and reduce jaundice quickly. It is strictly advised to avoid high-calorie, processed foods, bakery foods, meat, junk foods, fried foods, alcohol, and high salt intake as they are difficult to digest and may cause liver damage.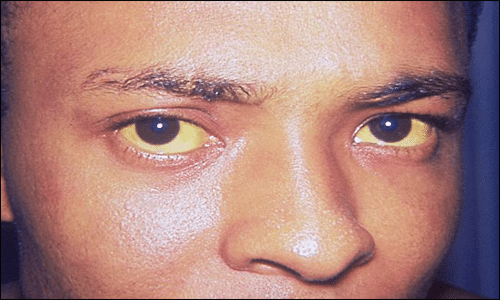 DAILY DIET SCHEDULE
EARLY MORNING
Indian gooseberry (Amla) 1 only and that should be cooked / Amla juice- 10-15 ml
BREAKFAST
Broken wheat porridge (Dalia) / Veg Semolina (Upma) / Vermicelli (Sewian) / Poha (Rice flakes) / Idli / Besan chila (gram flour) / Chapatti + veg or dal / Curd / Pomegranate juice
MID-MORNING
Fruit / Coconut water / Sprouts / Wheatgrass juice / Radish juice / Sugarcane juice
LUNCH
Plain chapatti/ Boiled Rice / Khichri / Dalia / Veg pulao / Buttermilk / Vegetable + Dal + Curd                                                          
EVENING
Herbal Tea / Green juice / Ginger tea
PRE DINNER
Soup (Home-made) / Green juice / Red juice / Sweet rice
DINNER
Plain chapatti / Boiled Rice / Vegetable + Dal  
DIET INSTRUCTIONS
CEREALS
CEREALS TO BE CONSUMED
Whole grains cereals, Whole wheat flour, Oatmeal, Whole brown bread, Porridge, brown rice, Riceflakes, Puffed rice
CEREAL BASED FOODS TO BE AVOIDED
Sweet biscuit, cream-filled biscuit, cream crackers, cheese biscuits, noodles, pasta, macaroni, refined flour
FRUITS
FRUITS TO BE CONSUMED
All fruits
FRUITS TO BE AVOIDED
Canned fruits and juices, Banana (Limited), Mango, Dates
VEGETABLES
VEGETABLES TO BE CONSUMED
All seasonal vegetable should be consumed
VEGETABLES TO BE AVOIDED
Canned vegetables, Coconut, Frozen vegetables
FLESH FOODS
FLESH FOODS TO BE CONSUMED
2 Egg white portion only
FLESH FOODS TO BE AVOIDED
Fish fried in suitable oil, prawns, lobster, crab, lean beef, pork, lamb, ham, turkey, veal, rabbit, Egg yolk, sausages, mutton, salami, bacon, duck, goose, organ meat like liver, kidney, and chest
SPICES
SPICES TO BE CONSUMED
Cumin, coriander, Fennel, Salt (limited), Cardamom
SPICES TO BE AVOIDED
Red chilli, Green chilli, Turmeric, Black pepper,
PULSES
PULSES TO BE CONSUMED
All Washed Dal, Green Moong Dal
PULSES TO BE AVOIDED
Black-eyed peas, Kidney beans, Pinto beans, Garbanzo beans, Chickpeas
DAIRY PRODUCTS
DAIRY PRODUCTS TO BE CONSUMED
Curd
DAIRY PRODUCTS TO BE AVOIDED
Whole milk and cream, full-fat yogurt, cheese, cream cheese, condensed milk, cheese
DRY FRUITS AND SEED
DRY FRUITS TO BE CONSUMED
4-5 Almond (soak in water overnight), Walnuts, Pumpkin seeds
DRY PRODUCTS TO BE AVOIDED
Cashew nuts, Raisins, Peanuts
OTHER PRODUCTS
OTHER PRODUCTS TO BE CONSUMED
Home-made only, Jaggery, Sago, Honey, and Fruit juices, Vegetable juices,
OTHER PRODUCTS TO BE AVOIDED
Fried and Fatty foods, Spicy and Junk foods, Cakes, Chocolate, Pastries and Packaged products
DRINKS
DRINKS TO BE CONSUMED
Coconut water, clear soups, sugarcane juice, herbal tea, beetroot juice, Wheatgrass, Aloe Vera juice, bitter gourd juice, gooseberry juice, pumpkin juice, pomegranate juice
DRINKS TO BE AVOIDED
Whole milk drinks, cream-based liqueurs, canned soup, and packaged soup, diet soda, caffeine, Soft drinks, Tea, Coffee, and Alcohol
DIET TIPS
Walk for at least 30 min is recommended.
Whole fruit should be preferred to fruit juices.
Skipping of meals should be avoided, especially the breakfast
6 -Soaked Almond per day
Water intake should be increased at least 8-10 glass regularly
Cleanliness and hygiene should be maintained.
Outdoor activity should be increased like jogging, cycling, and running.
HOME REMEDIES
TOMATO JUICE
One glass of tomato juice mixed with salt and pepper should be taken every morning
GINGER TEA
Boil 1-2 ginger slices, 4-5 basil holy leaves in 2 cups of water till it's reduced to 1 cup.
HERBAL TEA
Cumin, fennel, coriander seeds, (Boil ½ tsp. each of  coriander, cumin, fennel in 3 cups of water till it's reduced to 1 cup)
GREEN JUICE
Coriander leaves (10-12), Mint leaves (4-5), Spinach leaves (2), Basil leaves (2-3), Wheatgrass (5-6), and Sheesham leaves (2-3) in 2 cups of water till it's reduced to 1 cup.
RED JUICE
Beetroot, Amla, Apple, Pomegranate, Mari gold flower petals (9-10), Rose petals (5-6) in 2 cups of water till it's reduced to 1 cup.
BARLEY POWDER
Mix 1 teaspoon of roasted barley powder with a glass of water, add 1 teaspoon of honey to it and have this twice a day.
BASIL LEAVES
Add 1 teaspoon paste of basil leaves to a glassful of radish juice. Have this juice twice a day for 15-20 days.
ALOE-VERA
Take one teaspoon pulp of Aloe Vera with black salt and dry ginger powder every morning for a period of 10 days
BITTER GOURD
Mash bitter gourd and extract its juice. Take one-fourth cup of the juice in the early morning daily.
HERBAL TEA
Boil ½ tsp each of fennel, coriander, cumin in cups of water till it's reduced to 2 cups.
Share On
MD (ALT. MEDICINE) View Profile
Reviewed By:
Dr. Vikram Chauhan
MD (AYURVEDA)
View Profile