Diet Plan for Asthma
A healthy and nutritious diet is a key to maintain overall health. Asthma is a chronic, inflammatory disease in which airways get inflamed, produce more mucus thus, make breathing difficult and triggers breathlessness. Some people are allergic to certain food items and environmental changes and this can trigger asthma. Eating a balanced diet and maintaining a healthy weight may make easier to manage asthma. Eating too much saturated fats may increase the risk of asthma attacks.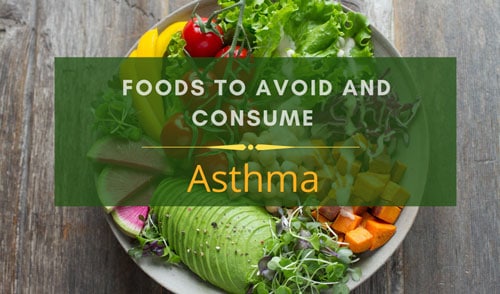 DIET CHART FOR ASTHMA
EARLY-MORNING
A glass of water+ fenugreek seeds
BREAKFAST
Vegetable Dalia / Broken wheat porridge / Veg Semolina (veg upma) / Veg Vermicelli / Veg poha (Rice flakes) / Veg Idli/ Veg Oats / Besanchilla (gram flour) / Missi Roti / Chapatti with Veg or Dal / 1 egg white only
MID-MORNING
Fruit/ Vegetable juice/ Coconut water
LUNCH
Chapatti + Vegetable + Dal + salad
EVENING
Herbal tea / Green tea / Sprouts / Roasted Chickpea / Rice flake Snack/ Homemade soup
DINNER
Chapatti + Vegetable + Dal + Salad
DIET INSTRUCTIONS
CEREALS
Cereals to be consumed
Whole wheat, Whole grains cereals, Porridge, Oats
Cereals to be avoided
White Rice, Whole refined flour and its products, refined sugar,
FRUITS
Fruits to be consumed
Apple, Pear, Sugar cane, Papaya, Water melon, Musk melon, Pomegranate
Fruits to be avoided
Apricot, Peaches, Orange, Grapes, All Berries, Dried Fruits and All citrus fruits
VEGETABLES
Vegetables to be consumed
Cauliflower, Radish, carrot, Peas, Broccoli, Bottle gourd, Round gourd, Bitter gourd, Beans, Garlic, Ginger.
Vegetables to be avoided
Okra, Eggplant, Beans, Potato, Taro roots, Mushroom, Cabbage, Onions, Dried and Canned vegetable
PULSES
Pulses to be consumed
All Pulses
Pulses to be avoided
Whole pulses (limited amount), Soy and its products
DAIRY PRODUCTS
Dairy Products to be consumed
Nil
Dairy Products to be avoided
Milk and its products, Cheese, Buttermilk, Condensed milk
SPICES
Spices to be consumed
Turmeric, Cumin, Coriander Fenugreek, Fennel, Pepper, Garlic, Salt (limited)
Spices to be avoided
Green chili, Red chili, Cloves
DRINKS
Drinks to be consumed
Coconut water, Clear soups, Sugarcane juice, Herbal tea, Beetroot juice, Bitter gourd juice, Pumpkin juice
Drinks to be avoided
Alcohol, Processed and canned food, Junk food, Tea, Coffee
FLESH FOODS
Flesh Foods to be consumed
Egg white portion only (limit)
Flesh Foods to be avoided
Raw, Uncooked and Processed meat, fish especially Selfish, Shark, Swordfish, Tuna, Marlin, clams, Mussels, Oysters, Scallops, Meat patties, Burgers, Pork, Organ meat like - Liver, Kidney and Chest, Red meat, Prawns, Lobster,Crab, Turkey, Rabbit, Bacon, Duck, Goose
SEEDS AND DRY FRUITS
Dry Fruits to be consumed
Flaxseed- ½, Sunflower seeds- 1 tsp. (per day), 1 Walnuts, 5 Almonds and 5 Raisins (soaked)
Dry Fruits to be avoided
Cashew nuts, Brazil nuts, Peanuts, Pistachios
FATS
Fats to be consumed
Cow ghee, Sunflower oil, Canola oil, Olive oil, Mustard oil
Fats to be avoided
Unsaturated fats, Cream, Palm oil, Coconut oil, Butter, Hydrogenated oil
PREPARED FOODS
Prepared Foods to be consumed
Homemade only
Prepared Foods to be avoided
Packed soups, High fat dressing or mayonnaise, Chocolate, Fudge, Butter scotch, Coconut bar, all fried foods, Junk foods, Sauces etc. Peanut butter, Fruit jellies, Jams, Refined sugar, Marmalade, Sweeteners, Chutneys, Pickle, Ice-cream, etc.
DIET TIPS
Walk for at least 30-45 min is recommended.
Whole fruit should be preferred to fruit juices.
Skipping of meals should be avoided, especially the breakfast.
Water intake should be increased at least 8-10 glass regularly.
Herbal Tea - Boil ½ tsp. each of Coriander, Fennel, Cumin in 3 cups of water till it's reduced to 1 cup. strain the solution and drink it. Make fresh everytime.(Two times per day)
Seasonal fruits and vegetables should be consumed.
Share On
MD (ALT. MEDICINE) View Profile