DIET CHART FOR SCLERODERMA
INTRODUCTION
Scleroderma is a chronic, rare, autoimmune disease in which normal tissues are replaced with thick fibrous tissues. In this condition, our immune system triggers cells to produce too much collagen which results in thickening and fibrosis of the skin. Scleroderma is usually a skin disorder but it also affects lungs, kidneys, muscles and joints. A balanced diet is very beneficial for scleroderma because people with scleroderma experience symptoms like poor appetite, weight loss and malnutrition. This balanced diet helps to maintain the ideal weight and avoid the risk of heart, lung and kidney problems. Here, we need to avoid foods that aggravate symptoms such as citrus fruit, greasy fried food, spicy food, carbonated beverages and alcohol.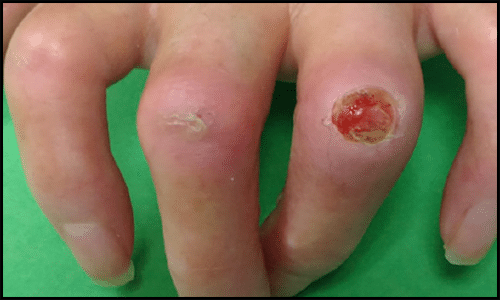 DAILY DIET SCHEDULE
EARLY-MORNING
Herbal tea / Green tea / Detox tea
BREAKFAST
Broken wheat porridge (Veg / sweet Dalia) / Veg oats / Veg Semolina (Veg upma) / Veg poha (Rice flakes) / Vermicelli (veg / sweet Sewia / Chapatti with veg or Dal
MID-MORNING
Fruit / Coconut water / Herbal tea / Green tea / Salad
LUNCH
Chapatti / Boiled Rice / Vegetable + Dal / Salad /Non – veg (Once in week)
EVENING
Sprouts / Green tea / Soup (Home-made) / Herbal tea / Salad
DINNER
Chapatti / Boiled Rice / Vegetable + Dal
DIET INSTRUCTIONS
CEREALS
TO BE CONSUMED
Brown rice, White rice, Oats, Wheat, Quinoa, Sorghum, Amaranth, Finger millet, Foxtail millet, Pearl millet, Buckwheat, Little millet
Flour Ratio - Wheat Atta (50%) + Soybean Atta (20%) + Ragi flour (30%)
TO BE AVOIDED
Rye
VEGETABLES
TO BE CONSUMED
Lettuce, Broccoli, Carrots, Sweet potatoes, Turnip, Chicory greens, Spinach, Kale, Beans, Lentils, Cabbage, Brussels  sprouts, Beets, Cucumbers, Bell peppers, Potatoes, Bottle gourd, Ridge gourd, Bitter gourd, Pumpkin.
TO BE AVOIDED
Tomatoes, Brinjal, Garlic, Onion, Ginger.
FRUITS
TO BE CONSUMED
Banana, Dates, Pomegranate, Watermelon, Muskmelon, Figs, Custard apple, Peach, Plum, Guava, Apple, Sapodilla.
TO BE AVOIDED
Orange, Lemons, Limes, Berries (sour), Sour grapes, Mangoes, Kiwi.
DRY FRUITS / SEEDS
TO BE CONSUMED
Almond, Raisins, Walnut, Pumpkin Seeds, Chia Seeds, Flax Seeds, Sunflower Seeds.
TO BE AVOIDED
Ground Nuts, Pistachio, Cashew.
PULSES
TO BE CONSUMED
Green lentils, Yellow lentils, Split chick pea
TO BE AVOIDED
Chick pea, Kidney beans, Bengal grams, Black grams.
MILK PRODUCTS
TO BE CONSUMED
Cow ghee
TO BE AVOIDED
Milk, Butter, Curd, Buttermilk, Yoghurt
NON- VEG
TO BE CONSUMED
Lean meat- Chicken, Fish (Salmon, Tuna, Sardines, Anchovies, Herring, Rohu), Egg white.
TO BE AVOIDED
Red meat, Processed and Fried meat
SPICES
TO BE CONSUMED
Turmeric, Oregano, Coriander, Celery seeds, Cumin, Green cardamom, Fennel, Fenugreek, Cinnamon, Mustard
TO BE AVOIDED
Pimento, Nutmeg, Clove, Black cardamom, Carom seeds
Oils
TO BE CONSUMED
Olive oil, Soybean oil, Canola oil, Rice bran oil, Almond oil, Cow ghee
TO BE AVOIDED
Palm oil, Coconut oil
OTHER FOOD PRODUCTS
TO BE CONSUMED
Honey, Jaggery
TO BE AVOIDED
Refined sugar, Fast food, Alcohol, Tobacco, Tea, Coffee.
DRINKS
TO BE CONSUMED
Coconut water, Sugarcane juice, Homemade soups, Herbal tea, Homemade juices
TO BE AVOIDED
Whole milk drinks, Cream based liqueurs, Canned soup and Packaged soup, Alcohol, Squashes, Carbonated drinks
HOME REMEDIES
TURMERIC
Take 1 tsp of turmeric powder and mix it with water and make a paste. Apply this paste on affected areas.
SPINACH
Add spinach in your daily diet.
FISH OIL
It can be applied on patches or add tuna, salmon, cod fish in diet. Fish oil reduces inflammation and swelling.
PEPPERMINT OIL
Mix 5-6 drops of peppermint oil with coconut oil, mix it properly and apply it on the affected area.
FLAX SEED OIL
Consumption of 1 tsp of flax seed daily will strengthen the immune system.
DIET TIPS
Eat small meals frequently rather than large meals.
Add herbs and spices like turmeric, rosemary, cinnamon, basil in your diet.
Cut down refined sugar.
Avoid processed foods.
Share On