ITP (Idiopathic Thrombocytopenic Purpura)
DIET PLAN FOR ITP (IDIOPATHIC THROMBOCYTOPENIC PURPURA)
It is a blood disorder in which platelets get destructed due to our unwholesome diet, lifestyle, hereditary factors and the involvement of our immune system. Platelets are formed in the bone marrow which are responsible for clotting. Healthy eating and a balanced diet are important for all patients. So, here's the required dietary recommendations that can help you to increase the platelet count and manage ITP.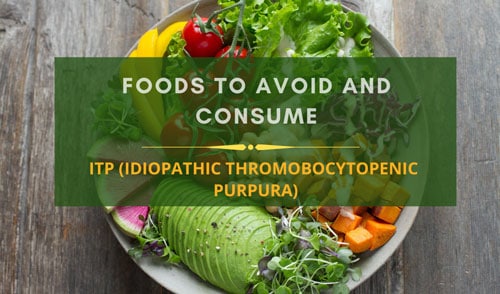 DIET CHART FOR IDIOPATHIC THROMBOCYTOPENIC PURPURA
EARLY-MORNING
Take 1-2 glass of lukewarm water, 4-5 Almonds (Soaked overnight) / Papaya leaves juice 1-2 tablespoon / Consume 1 – 2 Amla
15-20 minutes of walk, 15 minutes (light exercise, yoga, and meditation)
BREAKFAST
Broken wheat porridge (Veg / sweet Dalia) / Veg oats / Veg Semolina (veg upma) / Veg poha (Rice flakes) / Veg Idli / Vermicelli (veg / sweet Sewian) / Chapatti with veg or Dal
MID-MORNING
Fruits / Herbal tea / Arjun Tea / Pomegranate juice 50 ml / Beetroot juice 20-30ml / Carrot juice 50 ml / Pumpkin juice 50 ml / Green coconut water / Papaya juice / Green juice
LUNCH
Plain chapatti / Mixed chapatti / Boiled Rice / Veg khichdi / Veg pulav / Vegetable + Dal + Salad
EVENING
Herbal Tea / Red juice / Sprout / Veg / Arjun Tea
DINNER
Plain chapatti / Boiled Rice / Khichdi / Dalia / Sabudana khichdi / Vegetable + Dal + Salad
DIET INSTRUCTIONS
CEREALS
Cereals to be consumed
Whole wheat, Oatmeal, Brown rice, finger millets, Pearl millets
Cereals to be avoided
White refined flour.
FRUITS
Fruits to be consumed
Apple, Banana, Peach, Pear, Papaya, Kiwi, Watermelon, Muskmelon, Custard apple, Chikoo, Amla.
Fruits to be avoided
All citrus fruits like Orange, Lemon, Pineapple, Mango, Figs, Plum.
VEGETABLES
Vegetables to be consumed
Bottle gourd, Round gourd, Radish, Carrot, Cucumber, Cabbage, Lettuce, Turnip, Beetroot, Broccoli, Spinach, Kale, Sweet potatoes, Peas, Green leafy vegetables, Pumpkin
Vegetables to be avoided
Onion, Garlic, Ginger, Tomato, Eggplant, Capsicum
PULSES
Pulses to be consumed
Green gram, Split chick peas (Moderate), Split red lentils.
Pulses to be avoided
Black gram, Horse gram
DAIRY PRODUCTS
Dairy Products to be consumed
Nil
Dairy Products to be avoided
Milk and its products, Curd, Cheese, Buttermilk, Raw milk, Yogurt
OILS
Oils to be consumed
Cow ghee, Olive oil, Canola oil
Oils to be avoided
Unsaturated fats, Cream, Palm oil, Coconut oil, Butter
SPICES
Spices to be consumed
Fenugreek, Coriander, Mint, Black pepper, Cumin, Turmeric, Cinnamon, Fennel.
Spices to be avoided
Red chilies, Green chilies, Clove, Excess salt.
DRINKS
Drinks to be consumed
Coconut water, Pumpkin juice, Green juice, Red juice, Carrot juice, Pomegranate juice, Beetroot juice, Aloe-Vera juice, Herbal tea, Green tea, Arjun Tea, Wheatgrass juice
Drinks to be avoided
Alcohol, Carbonated drinks, Canned or packaged soups, packaged fruit juices.
FLESH FOODS
Flesh Foods to be consumed
Egg white, chicken soup (Occasionally)
Flesh Foods to be avoided
Red meat, Pork, Lamb, Fish and Sea food
DRY-FRUITS / SEEDS
Dry Fruits to be consumed
Almonds, Raisins, walnuts (soaked one)
Dry Fruits to be avoided
Pistachio, Cashew nuts, All the seeds like Flax seeds, Sunflower, Chia
OTHER FOODS
Other Foods to be consumed
Home made only
Other Foods to be avoided
All bakery products or Processed foods, Sauces, Fruit jellies, Jams, Mayonnaise, Ice-cream, Cream soups, Dark chocolate, Butter scotch, Coconut bar, Chutneys, Pickles, Junk food, Deep fried foods, Too salty and Spicy foods, Peanuts.
JUICES (CONSUME EVERYDAY)
Green Juice - Coriander leaves (10-12), Mint leaves (4-5), Spinach leaves (2), Basil leaves (2-3), Wheatgrass (5-6), and Sheesham leaves (2-3).
20 ml or 2 tbsp., twice daily can be taken.
Cap. Spirulina, Cap Moringa, Cap. Green essentials- 1 each can be added for better results.
Red Juice - Beetroot (3-4 slices), Amla (1), Apple (3-4 slices), Pomegranate (few seeds), Marigold flower petals (9-10), Rose petals (5-6), Grapes (2-3).
200 ml, 2 to 3 times can be taken.
For taste, black grapes can be added.
DIET INSTRUCTIONS
Walk for at least 30-45 min is recommended.
Whole fruit should be preferred to fruit juices.
Skipping of meals should be avoided, especially the breakfast
6 soaked almonds to be included in your daily diet.
Water intake should be increased at least 8-10 glass regularly
Herbal Tea- Boil ½ tsp each of fennel, coriander, cumin and carom in 3 cups of water till it's reduced to 1 cup.
Leaves and Grass - Radish leaves, Mint leaves, Coriander leaves, Spinach leaves, Fenugreek Leaves, Rocket leaves, Lettuce, Kale, Lemongrass, Wheatgrass.
Salads - Cucumber, Carrot, Radish, Beetroot
Papaya leaves - Boiled 4-5 leaves of papaya in 2 cups of water for a few minutes. Allow it to cool. Filter and have it for 2-3 times a day.
Share On