Diet Plan for Lung Disease
Lung disease refers to the disorders which affect the lungs, such as asthma, COPD, infections like influenza, pneumonia, tuberculosis and many other breathing problems. If lung disease does not get treated on time then it leads to respiratory failure. In case of lung disease, good nutrition is very essential to prevent infections and keep your lungs healthy. Fresh and raw foods are the finest mode to get the enzymes, vitamins, minerals and antioxidants that will help you to keep your breathing easy and comfortable. Saturated fats, Spicy foods, and deep-fried food may cause discomfort and bloating which will further affect your breathing.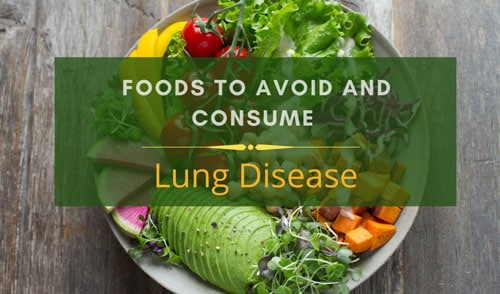 DIET CHART FOR LUNG DISEASE
EARLY-MORNING
Warm water mixed with tinge of saindhav lavan
(It helps in clearing out the mucus from respiratory tract)
BREAKFAST
Broken wheat porridge (Veg Dalia) / Veg oats / Veg Semolina (Upma) / Poha (Rice flakes) / Vermicelli (Veg Sewian) / Stuffed Chapati / Chapati with veg or Dal / 1 - Egg white portion only
(Starting with a light breakfast is very useful in maintaining digestive fire)
MID-MORNING
Have a herbal tea.
Black pepper and mint + honey
Or
Dry Ginger powder and tulsi + honey
(They help in pacification of kapha)
LUNCH
Chapati / Boiled Rice / Vegetable + Dal / Salad
(This kind of lunch is easy to digest and does not aggravate kapha. Instead it balances digestive agni)
EVENING
Sprouts / Soup (Home-made) / Herbal tea
(They help in preventing long hours with an empty stomach. Moreover herbal soups like black gram soup, horse gram soup and ash gourd soup is very beneficial in providing strength to body)
DINNER
Chapati / Boiled Rice / Vegetable + Dal
(Light dinner is very important to avoid unwanted constipation and indigestion)
DIET INSTRUCTIONS
CEREALS
Cereals to be consumed
Brown rice, Soya grains, Wheat, Oats, Rice flakes, Semolina, Tapioca pearls (sabudana), Puffed rice, millets like kodo millets, buckwheat millets, finger and foxtail millets.
(They help in igniting digestive fire and do not cause indigestion resulting in constipation)
Cereals to be avoided
White Rice, White refined flour, Bakery products, Corn and corn flour
(They all aggravate vata, pitta and kapha which inturn increases the intensity of symptoms)
FRUITS
Fruits to be consumed
Pomegranate, Papaya, Apple, Pear, Sugarcane, Muskmelon, Avocado
(They all help in balancing doshas. So consuming them in controlled amounts is beneficial for digestion as they also soothes the digestion)
Fruits to be avoided
Apricots, Orange, watermelon (high in water content hence aggravates kapha) Banana, Peaches, Grapes (sour), pineapple and other citrus fruits are to be avoided
(They all are responsible for dosha imbalance)
VEGETABLES
Vegetables to be consumed
Cauliflower, Pumpkin, Ash gourd, Bottle gourd, Carrot, Broccoli, Green coriander, Garlic, Ginger, Bitter gourd, Ridge gourd, Turnip, Onion, Beetroot, Cabbage, Broccoli, Peas, Zucchini, asparagus
(They all help in balancing digestive agni as they are easy to digest and do not cause any kind of dosha aggravation)
Vegetables to be avoided
Okra, Eggplant, Beans, Potato, Taro roots, Coconut, ladyfinger, taro root (Arbi), potato and kale
(They all are responsible for dosha aggravation in lung disorders hence causing aggravation of symptoms)
PULSES
Pulses to be consumed
Yellow moong lentil, Split pigeon peas (Tuvar dal/ arhar dal), Split black gram, Green moong dal, Horse gram, pink lentils
(All these pulses provide great nutrition to the body and also are light to digest)
Pulses to be avoided
Chickpeas, Kidney beans (Rajmah), Black grams (Udad dal), Dried frozen pulses
(These all responsible for vata aggravation)
DAIRY PRODUCTS
Dairy Products to be consumed
Low-fat milk with turmeric (half tsp. turmeric in a glass of milk)
(Golden milk is very effective and essential in lung conditions as turmeric has analgesic, anti inflammatory and digestive effects)
Dairy Products to be avoided
Whole milk and cream, Full-fat yogurt, Cheese, Cream cheese, Condensed milk, Curd
(These are heavy to digest thus causes agni dushti and agni mandya)
SPICES
Spices to be consumed
Turmeric, Coriander, Cumin, Thyme, Fenugreek, Mint, Fennel, black pepper, Cayenne Pepper, Rock salt (limited), dried mint , fenugreek and coriander leaves
(They behave as fuel for digestive agni. It helps in increasing and improving digestion)
Spices to be avoided
Table Salt, Green chili, Red chilly
(It reduces digestion process and causes constipation)
DRINKS
Drinks to be consumed
Soups, Herbal tea, Pomegranate juice
(They all help in maintaining hydration levels in body)
Drinks to be avoided
Whole milk, Canned Soup and packaged soup, Alcohol, Sweetened drinks, Squashes, Carbonated drinks
(They increase the kapha dosha accumulation due to their liquid guna and thus increases symptoms)
FLESH FOODS
Flesh Foods to be consumed
Eggs, Fish, Chicken soup
(They are hot in potency thus reducing kapha and pacifies vata as well)
Flesh Foods to be avoided
Fried meat, red meat, grilled meat
(They are heavy to diet and heavy food articles tends to increase kapha dosha)
SEEDS AND DRY FRUITS
Dry Fruits to be consumed
Soaked Almond, and Raisins, Flaxseed, Pumpkin seed
(They are quite nutritious and thus provides body with required nutrition)
Dry Fruits to be avoided
Pistachio, Cashew nuts
(They tend to increase kapha and vata dosha)
OILS
Oils to be consumed
Flaxseed oil, Cow ghee, Olive oil
(They are effective in igniting agni and balancing kapha and vata as well)
Oils to be avoided
Hydrogenated oil, Palm oil, coconut oil
(They are potent to cause kapha aggravation and imbalances digestive fire)
OTHER FOODS
Other Foods to be consumed
Homemade only
(Homemade products are best to use and do not contain any kind of preservatives)
Other Foods to be avoided
Oily foods, Cold items, Fried food and bakery items, Junk and Packed foods, bakery products like cakes, pastries, biscuits, namkeen, donuts, pancakes etc.
(These are mainly responsible for diminished agni as they causes accumulation of toxins thus dosha aggravation)
LIFESTYLE AND DIETARY TIPS
Walk for at least 30 min is recommended
Whole fruits should be preferred to fruit juices
Skipping meals should be avoided, especially breakfast.
Water intake should be limited 6-8 glasses per day (luke warm or water at normal temperature preferably)
Flaxseed - 1 tsp/day (empty stomach can be taken)
Herbal Tea - Boil ½ tsp each of fennel, coriander, cumin in 3 cups of water till it's reduced to 1 cup or others can also be used which are mentioned above.
Add pranayam in your routine. Every morning and evening for 15-20 minutes.
Try meditation to calm your mind along with long inhalations and exhalations.
Share On