Diet Plan for Piles
Piles are dilated or swollen veins around the rectum and anal opening.  It is of two types- internal and external. High fiber diet is ideal diet for persons suffering from piles. Fiber create bulk in stools and give relief from hard stools. Avoid spicy, oily food as they trigger gastrointestinal problems and worsen the condition.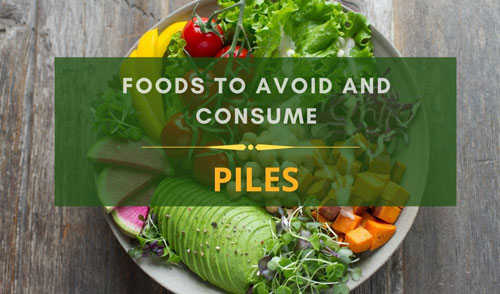 DIET CHART FOR PILES
EARLY-MORNING
Warm water +1 tsp Flax seed / Aloe vera juice/ wheat grass juice
BREAKFAST
Broken wheat porridge / Veg Semolina (veg upma) / Veg Vermicelli  / Veg Idli / Missi Roti /Oats/ Stuffed Chapatti / Chapatti with Veg or Dal
MID-MORNING
Fruit / Fruit juice / Herbal tea / Coconut water/ Coconut milk/Lemon water /Prune juice
LUNCH
Chapatti+Brown  Rice + Salad + Vegetable + Dal / Chicken ( Once in week )
EVENING
Roasted chane / Homemade soup / Vermicelli  / Herbal tea/Green tea/ sprouts
DINNER
Chapatti + Vegetable + Dal
DIET INSTRUCTIONS
CEREALS
Cereals to be consumed
Wheat, White rice, Brown rice, Sorghum, Amaranth, Finger millet, Foxtail millet, Pearl millet, Buckwheat, Little millet
Flour Ratio- Wheat Atta (50%) + Soybean Atta (20%) + Ragi flour (30%)
Cereals to be avoided
Refined flour and its products
FRUITS
Fruits to be consumed
Apple, Banana, Water melon,  Muskmelon, Avocado, Peaches, Pear, Coconut, Pomegranate, All types of berries , Figs, Mango, Litchi, Custard apple, Orange, Sweet lime, Sapodilla, Pineapple, Orange, Grapes
Note: All seasonal fruits can be consumed
Fruits to be avoided
Banana (over use) , Canned fruits and juices 
VEGETABLES
Vegetables to be consumed
Zucchini, Sweet potato, Pumpkin, Ginger, Celery, Eggplant, Tomatoes, Red onion, Coriander, Radish, Broccoli, Cabbage,  Cauliflower, Kale,  Mushrooms, Spinach, Carrot, Peas, Fenugreek leaves, Potato, Yam, Okra, Bottle gourd, Bitter gourd
Note: All seasonal vegetables can be consumed.
Vegetables to be avoided
Canned vegetables and Frozen vegetables
PULSES
Pulses to be consumed
All pulse and legumes
Pulses to be avoided
Nil
DAIRY PRODUCTS
Dairy Products to be consumed
Low-fat milk, Tofu, Cheese, Curd, Yogurt, Buttermilk, Cottage cheese
Dairy Products to be avoided
Whole milk and cream, Full-fat yoghurt, Cream cheese, Condensed milk, unpasteurized cheese.
SPICES
Spices to be consumed
Cumin, Coriander, Turmeric, Ginger, Fennel, Cinnamon, Carom
Spices to be avoided
Red chilies, peppers
DRINKS
Drinks to be consumed
Coconut water, Clear soups, Sugarcane juice, homemade soups, Green juice, Herbal tea, Aloe Vera juice, Wheatgrass juice, Buttermilk, Milk, Shakes, Smoothie, Homemade juices
Drinks to be avoided
Whole milk drinks, Cream based liqueurs, canned soup and packaged soup, Alcohol, Sweetened drinks, Squashes, Carbonated drinks
FLESH FOODS
Flesh Foods to be consumed
Egg white, Roasted chicken, Grilled Fish, Lean meat, Skinless chicken
Flesh Foods to be avoided
 Processed and fried meat, Red meat- (Beef, Lamb, Pork), Fishes –( Tilefish, Shark, Swordfish, King Mackerel, Marlin, Bluefin Tuna).
SEEDS AND DRY FRUITS
Dry Fruits to be consumed
Almond, Raisins, Ground Nuts, Walnut, Hazel nuts  Peanuts, Pistachio, Cashew, Pumpkin Seeds, Chia Seeds, Flax Seeds, Sunflower Seeds, Sesame Seeds.
Dry Fruits to be avoided
Nil
OILS
Oils to be consumed
Cow ghee, Sunflower oil, Canola oil, Olive oil, Mustard oil, Rice bran oil
Oils to be avoided
 Cream, Palm oil, Coconut oil, Butter
OTHER FOODS
Other Foods to be consumed
Jaggery, Honey  
Other Foods to be avoided
Bakery and Processed Foods, Fried Food, Junk Food, Pickles, Artificial Sweeteners, Packed Soups, Refined Sugar
DIETARY TIPS
Follow regular and balance meal pattern.
Consume high fiber and adequate fluid diet.
Whole fruit should be preferred to fruit juices.
Skipping of meals should be avoided, especially the breakfast
Water intake should be increased at least 8-10 glass of water.
HOME REMEDIES
Phylum - It can added in daily diet .Mix two spoons of phylum in warm water and drink this mixture before meal.
Dry figs - Overnight soaked figs can be consumed and you can also drink the water in which figs are soaked.
Radish leaves juice - consume 50 ml of radish leaves juice daily.
Castor oil - is very effective in hemorrhoids due to its anti- fungal, anti- bacterial and anti- inflammatory properties. Castor oil can be added in milk or apply directly on affected area.
Share On
MD (ALT. MEDICINE) View Profile