Pushkarmool / Inula Racemosa
Pushkarmool (Inula Racemosa)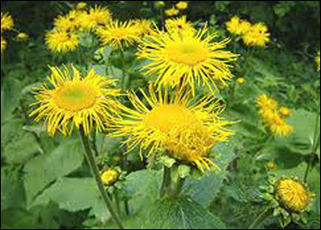 Description of Plant
Inula racemosa is a perennial herb with a height extending from 0.5 to 1.5 meter. The stem is grooved, rough and very hairy. The leaves of this plants are large, elliptical, and 3-6 cm long with 2-3 cm breadth, having long petioles. The fruits being slender achenes, 0.4 cm long, bewhiskered with 0.75 cm long pappus hairs. The flowers are bright yellow in color with many in heads, 0.5-1 cm in diameter.
The fresh root has dull brownish skin with yellowish color inside. It changes to grayish on drying. It has sweet and camphoraceous odor and has a bitter taste.
It blooms from July through September and get dries to a shiny bronze color in early winter. It grows well in waterside or in the meadow garden.
In Kashmir, the roots are used as adulterant of Saussurea lappa.
General Description of Inula racemosa
Pushkaramula is a herb that is useful to pacify Kapha (water) and Vata (air) Doshas (humors) in body. It is widely used in Ayurveda because of its beneficial therapeutic uses: like Aruchi, Adhyaman (gas), Hikka (hiccups), Jvara (fever), Kasa (cough), Svasa (asthma), Parsvashula (chest pain), Sosh (edema), Ardit (facial paralysis), Pandu (low hemoglobin level).
In Ayurvedic practice it is mainly used as an expectorant and bronchodilator since old times. Root powder has strong aromatic odor resembling camphor.
The rhizome of this plant having sweet, bitter and acrid taste with a neutral potency and acts as antiseptic, anti-bacterial, anti-fungal, anti-inflammatory, analgesic and mild diuretic.
Main Chemical found in these plants which bring therapeutic benefits are lantalactone, Isoalantalactone, Inunolide (germacranolide), Dihydro isoalanlactone, Beta –Sitosterd, D- Mannitd, Dihydroinundide, Neo-alantolactone, Inunolise, Sesqiterpene, Lactone (inunol), Alantadiene, Octadecanoic acid.
Classification of Pushkaramula
Kingdom - Plantae
Subkingdom - Tracheobionta
Super division - Spermatophyta
Division - Magnoliophyta
Class - Magnoliopsida
Subclass - Asteridae
Order - Asterales
Family - Asteraceae
Genus - Inula
Species - racemosa
Habitat of Pushkaramula
This herb grows in the temperate and alpine conditions which are found in the Hindu-Kush Himalayan regions.
It is found within India, in Jammu & Kashmir, Himachal Pradesh and Uttar Pradesh at an altitude range of 2800-3200 meters. Also outside India in regions across Afghanistan, Pakistan, Nepal also.
Names of Inula rcemosa in Different Languages
Latin name – Inula Racemosa
Hindi name - Pohkarmool, Pushkarmool
Sanskrit name - Kashmira, Poushkara, Puskara mula, Sugandhikam
Assamese name – Pohakarmul, Puskar
Kannada name - Pushkara Moola
Punjabi - Pokhar Mool
Malayalam name - Puskara
Tamil name - Pushkarmulam
Telugu name - Pushkara Mulamu
Marathi name - Pokhar Mool
Oriya name - Puskara
Persian name – Gharsa
Arabic name - Rasan
Italian name – Azurro, Iride ralvatica
French name – Lis sauvage, Flambe
German name – Blaweiris, Dentsche lisch
Chemical Composition
High quality powder of wild crafted herbs from its natural habitat without chemicals, fertilizer & pesticides contains Inulin, alantolactone, isoalantolactone.
Ayurvedic Properties
Hindi / Sanskrit
English
Rasa
Tikta
Taste
Bitter
Guna
Lagu
Physical Property
Light
Virya
Ushna
Potency
Warm
Vipaka
Katu
Metabolic Property (After Digestion)
Pungent
Effects on Doshas
It balances Vata and Kapha doshas.
Charak Samhita
Sushrut Samhita

Shvasahara - Group of herbs useful in asthma, COPD.
Hikkanigrahana - Group of herbs useful in hiccups.

Hala Varga - Group of fruits.
Vagbhata - Hidhma Nigrahana(A.H)
Ancient Verse about Inula racemosa

The Bhavprakash nighantu edition of 1998: verse 174-175, page no-94- 96
Its name are Pushkaramul, Poshkar, Pushkar, Padmapatra, Kashmirr, and Kushtbhed. It is bitter and pungent in taste and manages Vataj and Kaphaj fever, inflammation, swelling, asthma and anorexia. It is mainly used for managing severe backache.
References
The Bhavprakash nighantu with elaborated Hindi commentary by Padmashri prof. K.C. Chunekar, edited by Dr. G.S. Pandey: edition of 1998: verse 174-175, page no-94- 96.
Properties and Practical Uses of Inula racemosa
Pushkaramula is an herb, widely rich in therapeutic properties. Below is given medicinal properties along with the meaning. It can be used both internally and externally. It is useful in reducing additional Kapha (water) from body.
Properties
Pushkaramula is has so many medicinal uses because of its amazing properties which are Antibacterial, Ant catarrhal, Anti-inflammatory, Antimicrobial: Analgesic, Ant diabetic, Aphrodisiac, Antispasmodic, Antiseptic, Antihistaminic, Diuretic, Expectorant, Cardio- protective, Stomachic, Hypotensive and also rejuvenator a well as immunomodulator.
Because of its hot, pungent and expectorant action its use has been found traditionally in respiratory ailments such as asthma, throat infection (sore throat) cough
Also has useful positive effects in, pleurisy, tuberculosis and chest pain.
It is good wonderful tonic for heart for Heart acting as anti anginal and anti-ischemic.
It suitable to lowers blood pressure.
Externally it is useful in the treatment of sprain, bruises. abscess
The powder of root is useful in dental Problems
It has ability to reduce the edema of any patient as it's a good diuretic
It is good to use in Mental Disorders.
Also provides relief in menstrual disorders as well as in skin disorders.
Beneficial in maintaining the cholesterol, triglyceride and total lipid levels that are already in the normal range.
It is useful in conditions involving nervous system
It provides reliefs by controlling the swelling and pain.
It can also treat Anorexia.
Parts Used
Root
Ayurvedic Product from Inula racemosa by Planet Ayurveda
Product Weight (gms): 100 gm
Dosage: 1/2 to 1 teaspoonful twice daily with plain water after the meals.
Pushkarmoola is one among number of ingredients in classical natural formulation called Punarnava Mandu. Punarnava Mandur comes in tablet form This is free from any chemical, added color or preservative and all Planet Ayurveda's products undergo quality, quantity and potency check before they reach to customers/patients.
Punarnava Mandur can be consumed in the dose of 2 tablets twice or thrice daily or as directed with plain water after half an hour of meal.
Share On