Shenaz Treasury Diagnosed With Prosopagnosia, Let's Know What Ayurveda Says About It?
Shenaz Treasury Diagnosed With Prosopagnosia, Says She "Can't Recognize Faces"- Let's Know The Problem Clearly And What Ayurveda Says About It?
Abstract
Shenaz Treasury, Shahid Kapoor's Ishq Vishq co-star recently revealed that she suffers from Prosopagnosia which is also known as face blindness. Prosopagnosia is a real brain disorder and not anything vague. In this condition people are not able to recognize faces or have struggle in differentiating between faces of strangers and sometimes even struggle to recognize the familiar faces as well. In this article you will get all the information about Prosopagnosia and its Ayurvedic treatment and management.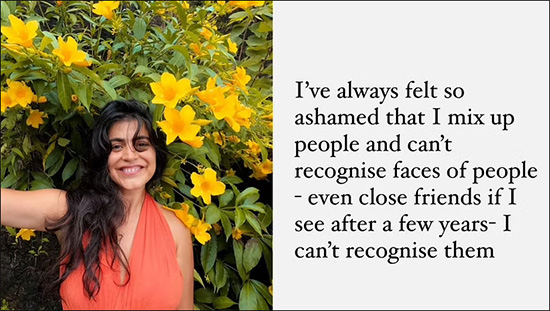 Photo Source - thequint.com
Introduction To Prosopagnosia
Usually there is very little awareness about Prosopagnosia and people consider it to be just other people being snobbish. It is a real brain disorder that needs to be diagnosed and treated correctly. This disorder causes facial identity impairment and people suffering from it have problems in recognizing the faces of close friends, family members and sometimes even themselves. Such people use different routes for recognition but they are not as effective and correct as the face recognition route. Prosopagnosia should be taken seriously and treated because for obvious reasons it can cause serious social issues. This brain disorder can sometimes be also accompanied with other recognition issues like recognizing cars, scenes and emotional facial expressions.
Ayurvedic Aspect Of Prosopagnosia
As per Ayurveda, Neurological problems like Prosopagnosia occur due to the aggravation of the Vata dosha. The three doshas, i.e. Vata, Pitta and Kapha are the vitals of the human body and derangement of any of them causes disorders. Similarly here is Vata dosha involved.
Signs And Symptoms Of Prosopagnosia
Prosopagnosia is not something that usually people have trouble in recognizing some faces that they have seen earlier but is a more severe condition as compared to these everyday problems. The most common symptoms of Prosopagnosia is inability to discriminate between different faces or recognize them. This condition can make both professional and personal relationship building difficult. People suffering from face blindness have a lot of difficulty in identifying the same person when they come up in a different context or setting than usual. Minor face blindness only causes difficulty in recognizing the faces of people that are less known or strangers while in moderate condition they cannot recognize people who are even close to them or they see regularly like their own family. When Prosopagnosia is in very severe condition a person can even not recognize his/her own face that may cause depression or anxiety. Let's learn about some symptoms of Prosopagnosia:
Wait for other people to wave first when meeting at certain gathering
Approaching completely stranger person thinking that they are someone they know while being certain about their identification
Not able to recognize the people they are familiar with like close relatives, neighbors, friends, or family mostly when seeing them in different context
Such people become withdrawn or clingy when in public places
They have difficulty in making friends
They have trouble in following the character's plots while watching a show or movie
They are confident at home but withdrawn in public places or gatherings
Causes Of Prosopagnosia
The exact cause of Prosopagnosia is not known. However there are certain theories that it is caused by impairment, abnormalities or damage to the brain's fold that is called fusiform gyrus. This fold area plays an important role in the coordination of the neural system that affects the perception and facial memory. There are some risk factors for Prosopagnosia like injury to the brain, stroke, or certain neurodegenerative diseases.
Some people can even be born with Prosopagnosia as a congenital disorder. Here the cause seems to be a genetic factor as this disorder runs in the family in such cases. This condition usually is not a major symptom of autism but many people suffering from autism seem to have face blindness or Prosopagnosia. In autism it is thought to be due to the impaired social development.
Diagnosis Of Prosopagnosia
People with face recognition problems will be usually referred to a neurologist by a general physician. Your neurologist will evaluate the problem by certain assessments like:
Person's ability to recognize the faces of strangers or faces of members of family
Ability to differentiate the facial features in different people or compare the similarities in them
Their ability to detect the emotional expressions from different set of faces
Ability to assess the gender or age of different given people
Along with this face blindness can be diagnosed by Warrington recognition memory of faces (RMF) and Benton facial recognition test.
Treatment For Prosopagnosia
Currently this condition conventionally is considered to be incurable. The treatment is given aiming at a coping mechanism which will help the person to identify others better. People are made to learn to focus on verbal or visual clues which will help in identifying people.
Ayurvedic Treatment For Prosopagnosia
In Prosopagnosia Ayurveda aims at restoring the balance of the tridosha, especially the Vata dosha. This is done with the help of herbal remedies and certain other Ayurvedic remedies that are prepared using natural compounds.
Herbal Remedies For Prosopagnosia By Planet Ayurveda
Planet Ayurveda is a renowned herbal pharmaceutical firm that deals in the production of the herbal products and remedies along with their further usage for treating different ailments. For Prosopagnosia Planet Ayurveda offers a combination of herbal remedies that are prepared using authentic and pure herbs that will help in restoring the balance of Vata dosha and help in treating the condition naturally.
Products List
Memory Support
Neurogiene Capsules
Saraswata Ghrit
Products Description
1. Memory Support
Memory Support Capsules are the multi herbal that are composed of various amazing herbs like Vacha (Acorus calamus), Shankhpushpi (Convolvulus pluricaulis), Licorice (Glycyrrhiza glabra), and Brahmi (Bacopa monnieri). These capsules help in improving memory, concentration and boosts mental functions that will eventually help in recognizing the people's faces better.
Dosage - Take 1 capsule twice daily after meals with plain water.
2. Neurogenie Capsules
Neurogenie Capsules are prepared using two therapeutic herbs, i.e. Ashwagandha (Withania somnifera) and Brahmi (Bacopa monnieri). Neurogenie capsules help in treating neurological ailments like Prosopagnosia and helps in maintaining healthy functioning of the brain.
Dosage - Take 1 capsule twice daily after meals with plain water.
3. Saraswata Ghrit
It is an Ayurvedic preparation that is in the form of ghee. Saraswata Ghrit is used to treat diseases or brain and neurological disorders. Hence it can help in treating Prosopagnosia naturally. This formulation improves memory and improves neurological development and coordination. It is prepared using pepper (Piper nigrum), ginger (Zingiber officinale), shigru (Moringa oleifera) patha (Cissampelos pareira) etc.
Dosage - Take 1 teaspoon with water before food.
Conclusion
Prosopagnosia or face blindness is a real neurological disease and more and more people should be aware about it. Awareness will help in diagnosis of the condition in more people and people will be kinder to the suffering person. Ayurveda can always be the answer of your ailments, you just need to look at the correct place.
Share On