Top 7 Superfoods for Healthy Heart
To keep yourself healthy is essential to protect your heart. You need to be regular with exercise and eat healthy for healthy heart. Most of the heart diseases occur due to the wrong eating habits. By eating right kind of food you can prevent the various heart diseases.
Here we will discuss top 7 super foods that help to keep your heart healthy.
Top 7 Superfoods for Your Heart
1. Oranges
Oranges contain beta-cryptoxanthin, beta- and alpha-carotene, lutein (carotenoids) and flavones (flavonoids), potassium, folate which are good for heart. It also contains vitamin C that prevents the heart stroke and boost up immune system.
How to use?
One can eat raw oranges as fruit.
Another way to take orange is to drink orange juice. For taste you can add cinnamon, lime juice and salt as per your taste.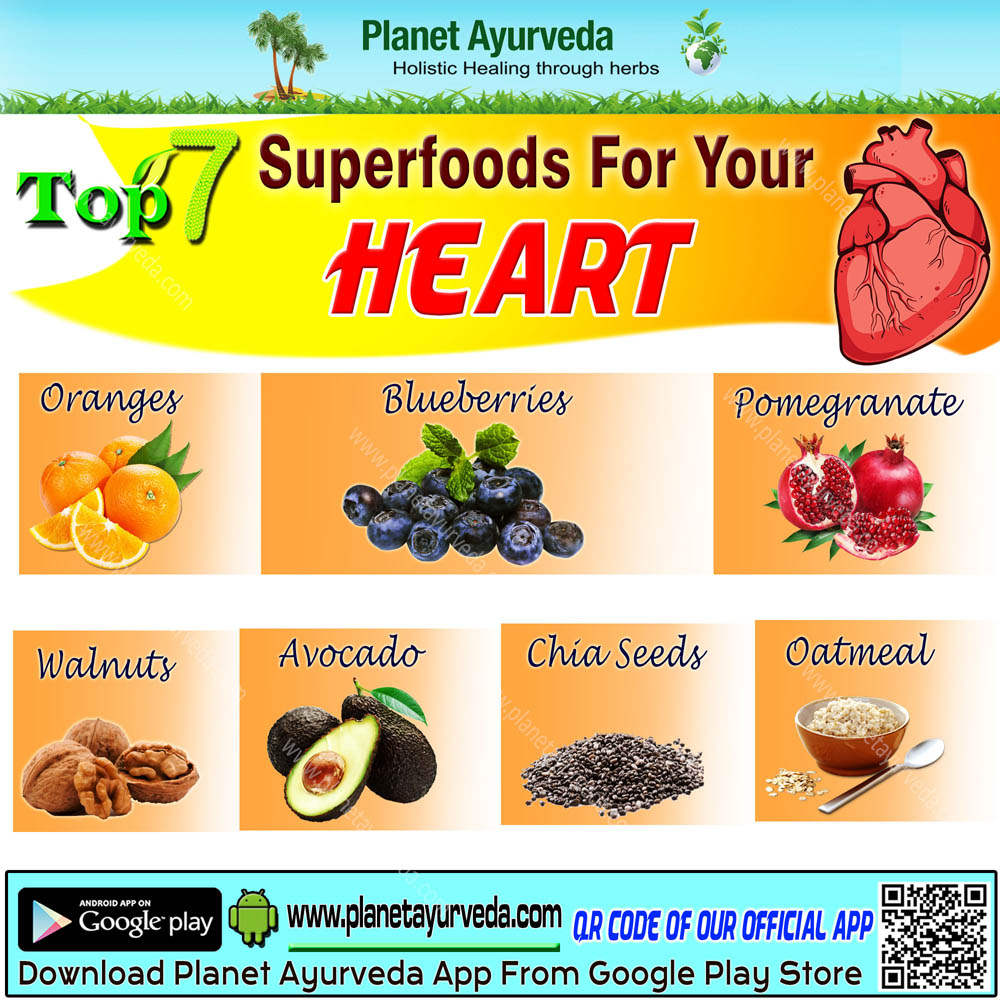 2. Walnuts
These are good source of omega fatty acids, vitamin E, magnesium, folate, heart favorable mono and polyunsaturated fatty acids. These help to improve cholesterol level and prevent from many heart disease.
How to use?
Eat 1-2 pieces of walnuts as snacks.
You can add Walnuts as flavor crunch to salads, pastas, cookies, muffins, even pancakes.
3. Blueberries
All berries are rich in antioxidant but blueberries have the most. Blueberries contain beta-carotene and lutein (carotenoids), anthocyanin (a flavonoid), ellagic acid (a polyphenol), vitamin C, calcium, magnesium, potassium and fiber. Blueberries decrease the risk of cardiovascular diseases.
How to use?
Consume ½ to 1 cup of raw blueberries.
One can take blueberries juice. Take ½ cup of blueberries, ½ bowl pomegranate seeds and half cucumber, add ½ cup water and blend all together to make a smooth puree. Then strain it using fine mesh strainer. Drink the collected juice.
4. Avocado
These fruits are rich source of antioxidants and reduce the risk of heart disease. They are rich in healthy monounsaturated fats which are good for heart.
How to use?
Consume 1-2 avocado daily.
It can also be taken in the form of fruit chat. Take 1 -2 avocado and 1 apple. Cut them into pieces. Add few drops of lemon and for taste you can also add salt into it.
5. Chia Seeds
These are powerhouse of nutrition. Chia seeds help to reduce the bad cholesterol and good for healthy heart. Also help to lower the blood pressure.
How to use?
Consume 1 teaspoonful of chia seeds.
You can soak 1/4 cup (40 grams) of chia seeds in 4 cups (1 liter) of water for 20–30 minutes and drink this water. You can add few drops of lemon or fruits like orange for flavor.
It can be taken with soups or smoothies.
6. Pomegranate
Pomegranate phytochemicals reduce LDL oxidation and effectively helps to maintain normal blood pressure.
How to use?
Consume pomegranate juice daily, 50 ml once is enough to meet the requirements.
You can also have it as it is with other allowed fruits like avocado, apple and papaya, berries and oranges.
Dry pomegranate seeds (anardana) chutney is another wonderful home remedy for healthy heart. It can be prepared by soaking it for some time. Mint leaves, coriander leaves with little salt and required other condiments can be added. Have this with fruits or bread and curry.
7. Oatmeal
Oatmeal is high in soluble fiber that helps to lower the cholesterol. It contains omega-3 fatty acids, magnesium, potassium, niacin, calcium and soluble fiber and good for heart. Its regular consumption helps to lower the level of LDL or bad cholesterol.
How to use?
You can eat plain oatmeal in the breakfast or can eat as snacks throughout the day.
You can add nuts or vegetables according to your taste.
Share On